Things to do on a boating holiday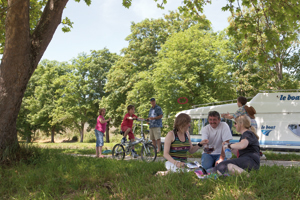 If you want a break that is jampacked with adventure and activity then you're bound to find that boating holidays have it all.
Where can I go on a boating break?
Le Boat has a wide range of boating holiday destinations to choose from.
Whether you fancy a week on the canals of continental Europe or a domestic break cruising along the Norfolk Broads, there is sure to be a variety of boating holiday activities to suit you.
What things can I do while on a boating trip?
During the course of a break spent at one hotel or resort you may find yourself becoming bored in the space of a few days by seeing the same old sights.
However, as there are so many things to do on a boating holiday this need not be the case.
The fact that you're travelling on a boat while on holiday means that you'll always be taking in new sights and sounds. With the landscape constantly changing, there will always be something new to see just around the bend.
And if investigating local culture is something you like to do while on vacation then Amsterdam's high number of museums and galleries – such as the Jewish Historical Museum, Van Gogh Museum and the historic Rijksmuseum – may prove ideal.
History buffs could also find the stunning medieval buildings of Brandenburg, the walled city of Carcassonne in France and the 17th century Flemish tapestries in Oudenaarde to be of interest.
But if you want a slightly more adventurous experience, boating holidays can also cater for this, particularly if you enjoy watersports.
Kayaking and canoeing are just two of the activities you can take part in while visiting Douelle in France, although such pursuits are available in several other European countries too.
If you enjoy fishing why not cast a line while your boat is moored up and see what you can reel in? Cyclists, however, may want to hop on two wheels to take in cities such as Berlin and Venice.
However, if you view shopping as your sport then the numerous retail facilities throughout Europe from farmers' markets to luxury brand stores are sure to satisfy.
Be at one with nature with a boating holiday
Boating holidays can also be an ideal chance for you to get away from the stresses of modern living and return to nature.
And there are several reserves throughout Europe that can be visited by travelling with Le Boat, such as Marina Wolfsbruch in Germany and Ireland's Fermanagh Lakelands, which allow you to watch animals in their natural habit.
Meanwhile, the Po Delta National Park just south of Venice is sure to be a treat. You can take in this piece of natural wildlife splendour by going on Le Boat's Nature Lover's Cruise to Italy.
Herons, flamingos and snipe are just some of the creatures that can be spotted so be sure to take your camera with you so can get some snapshots to show off to your loved ones back home.
Of course you don't always have to go abroad to take in stunning wildlife. Scotland's Caledonian Canal and England's Norfolk Broads are just two of the domestic destinations Le Boat offers trips to where amazing animals and fantastic flora can be seen.
Equine enthusiasts should also find that boating holidays offers plenty of scope to saddle up and go on a horse ride. By taking a canter along the side of canals, you may find this activity makes for a refreshing change from being on a boat. There are a number of boating holiday destinations where you can take part in horse-riding, although France may prove to be a particularly attractive place if you are keen on this pursuit. Betton and Camargue are just two of the areas in which you can combine a boating break with horses. And whether you're an accomplished rider or are just starting out, there is no reason why you won't be able to have as much fun on a four-legged creature as you can while onboard a boat.
But who says that every single second of your trip has to be crammed with things to do? You are on holiday after all and no matter how much – or how little – you do while on your Le Boat holiday you are bound to have a good time.
After a day full of adventure and excitement why not take it easy in your comfortable cabin in the evening? With so many things to do on a boating holiday you may want to have a rest every now again!
---