On the hunt for elephants at Mole National Park, Ghana
Wednesday, 1 June 2011 12:00 AM
"Bye, I'm off to see the elephants!" With a merry wave to my co-workers, I departed my office in London. Three days later I was in Ghana, on a mission to fulfill a dream to see pachyderms in the wild.
As a country, Ghana is a place for the traveller who is happy to make their own adventure. There is an embryonic tourist industry but, by the admission of many Ghanaians to whom I spoke, it's still in development. In a country refreshingly lacking in commercialised must-see sights and pre-planned tours however, Mole National Park is a particularly popular destination for Ghanaian visitors.
First established in 1958, and officially designated a National Park in 1971, Mole covers almost 4900km² of savanna and forest in the north of the country. It is home to lions, leopards, elephants, hyenas, baboons, endless antelopes and an ornithological abundance of birds. This plentiful fauna makes Mole Ghana's premier safari destination, offering both walking and driving safaris.
Our safaris were led by competent (and reassuringly armed!) guards, who walk the park daily, and know its every path and trail. They knew what to look for to track elephants, lions and baboons, and even poachers. The guide who led our two-day elephant hunt was the son of a poacher, but had chosen instead for himself a career of environmental protection rather than exploitation.
On our first walk, our guide explained that there were eight species we could expect to see on safari at Mole; warthogs, three types of monkey (baboons, patas monkeys and green monkeys), three antelope species (kob, bushbok and waterbok), and elephants.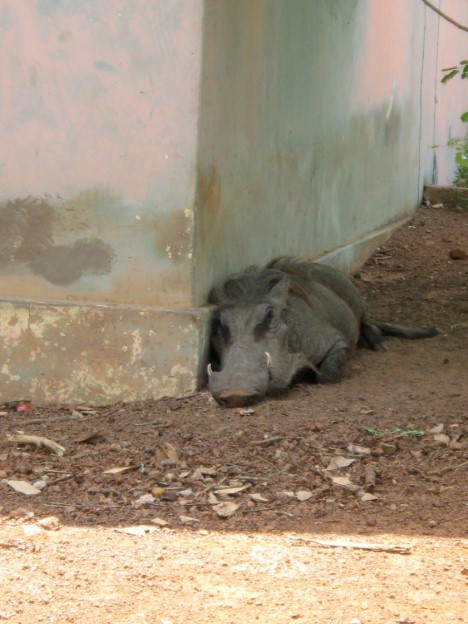 A warthog takes a nap (photo: Flora Tonking)
In excited anticipation we descended the hill on which the visitor's centre sits, scrambling down into the valley below. Within minutes we had disturbed a group of kob, who went leaping away through the trees. Turning another corner we reached the edge of a watering-hole, and, seeing something move on the bank, realised we were just metres from a couple of basking Nile crocodiles.
They did not seem to be remotely bothered by these stumbling tourists, however, and continued to lounge in the afternoon heat. Our first brush with elephants came soon after, as our guide pointed out a dent in the dry earth the size of a dinner plate; "Elephant prints", he gestured nonchalantly.
Just seeing their enormous tracks was an exciting moment. We spent the next two hours walking and occasionally stopping to learn more about the park from our knowledgeable guide. By the time our first safari ended we had yet to glimpse our big, grey quarry, but had been reassured that tomorrow we would spot them. "You cannot come to Mole and not see elephants" our guide consoled us.
Besides safari-ing, the sole option for entertainment is the Mole Motel – the only accommodation within the National Park's boundary. The motel has a range of accommodation options, from bunk-rooms to self-contained "chalets".
We stayed in a chalet, finding it clean and comfortable, and were deeply thankful for the air-conditioning. A swimming pool beneath the dining area provides relief from the intense heat, whilst a hillside viewing platform allows visitors to watch bushbok, kob and, if you're lucky, elephants grazing beside the watering-hole. Baboons and patas monkeys frequently come up to explore the motel too, greedily eyeing guests' breakfasts and playing havoc with the contents of the washing line.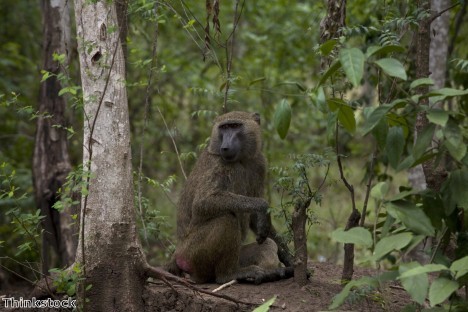 Baboon (photo: Thinkstock)
The motel has a bar and restaurant too, although we had been forewarned about its notoriously slow catering. We were advised to book each subsequent meal at the previous one, i.e. order dinner at lunchtime, and if you stuck to this rule your food was usually on the table within half an hour; which is pretty swift service in Ghana!
The morning of our second day at Mole we dragged ourselves from our beds hideously early, and set off to find our promised elephants. Even by 7am the Ghanaian sun was extremely hot and our spirits flagged as the minutes ticked by and we searched and searched. We spied no elephants but endless kob and bushbok, and a vast snoozing crocodile.
That afternoon we took a driving safari and were lucky enough to spot some rarer types of antelope (hartebeast and possibly a roan – the largest of the antelope family). After a couple of hours our guide demanded we stop the car to investigate some elephant tracks he'd spotted. We all hopped out of the car and crowded round the fresh footprints.
Our guide stared intently at them as we held our breath. "From yesterday," he proclaimed, "they will be far away by now." We drove our car back along the red dust track, pausing to admire a stunning sunset, but bitterly sad that the elephants had won our two day game of hide-and-seek.
The next day we left Mole, disappointed in our elephant hunt, craning our necks out of the windows of our car all the way to the exit in hope of a final glimpse. Yet even without the elephants, we had seen and enjoyed so much.
There was also something oddly reassuring about the ease with which these creatures had eluded us. Unlike many zoos and safari parks where the animals are offered up to visitors like exhibits in a museum, in Mole they still seem to hold the upper hand.
by Flora Tonking