Travel blog: Manchester, Kentucky via the Jack Daniels distillery
Friday, 23 September 2011 12:00 AM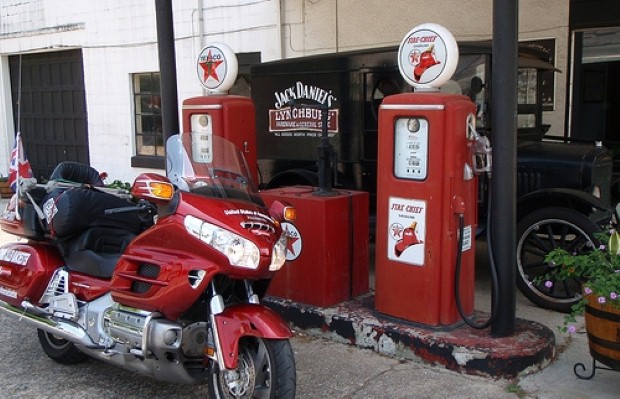 Manchester, Kentucky via the Jack Daniels distillery
My target for today was to reach Manchester Tennessee, followed by Manchester, Kentucky! I wasn't too sure of my route when I set out, so I got in behind a group of Harley riders and when they stopped for shade, I asked them to lend a hand. They soon put me right and before long I arrived at the top destination for many bikers – the famous Jack Daniels distillery! I'd hoped to grab a beer to quench my thirst, but unfortunately this town is dry too – despite the distillery!
I had a nice reunion with a couple I'd met last Friday at Deals Gap before setting off again. I made it to my first Manchester by 3pm, although due to crossing the date line, it was actually just 2pm – that was a weird feeling!
Unfortunately, I couldn't find anyone in Manchester Tennessee, as it's a public holiday here, so I took a few pics and hit the road.
By 5pm I'd reached Madison, Alabama and although I was a bit short of my two-Manchester target I decided to stop for the day, as I've covered a pretty lengthy 314 miles.
I'm now sitting in air-conditioned bliss and preparing for tomorrow's journey.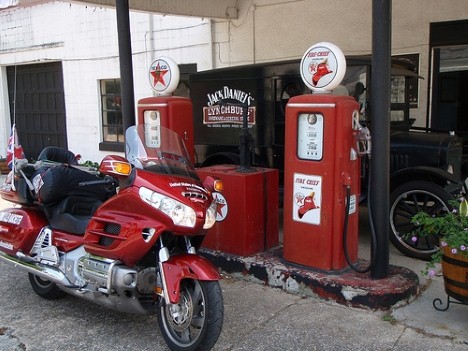 A taste of home…
I got a taste of home today, with interviews for the Manchester Evening news and Rock Radio 106.1FM, both based back in the UK.
After they were done I set off (later than usual at 9.30am) and made my way to Alabama in a balmy 75°F. Unfortunately I'm feeling a little dispirited today, as I have lost the SD cards containing footage from this week. It happened somewhere between Burnside, Kentucky, and Madison, Alabama. I'd downloaded some of the data to my notebook, but the big eight-gig chips with the stuff from Deals Gap and the Dragon's Tail are gone. I'm hopeful someone may find them and get them back to me.
Alabama actually has two Manchesters, but following some local advice, I ended up giving the first one a miss! A friendly local told me the town isn't considered safe for outsiders and issued some pretty grave warnings involving use of shotguns. It may well have been exaggeration or a joke on a tourist, but I decided not to take my chances just in case.
But I did make it to the other Manchester, near Jasper, Alabama. It's a tiny community and there's very little there, so I headed on to a hotel in nearby Jasper. Tomorrow I'm bound for North Indiana and Iowa and I hope it's a little cooler than today, which topped out at 109°F.
On to Indiana
I'm now quite a long way into my trip and I feel I've accomplished quite a lot. Nineteen days ago I set out from Boston and to date have ridden to Massachusetts, New Hampshire, Maine, Vermont, Connecticut, Toronto, Pennsylvania, Maryland, Virginia, North Carolina, Kentucky, Tennessee, Alabama and Georgia. Today I get to add Indiana to that list.
The Manchester here is a small, pleasant town, which reminds me of the Cheshire villages back home.
I'm planning ahead right now, and know I will be spending this weekend with music legend Missy Covill, who has been following my trip since before I even set off.
I'm hoping the weather starts to cool down from here on in, as it finally peaked today – a sweltering 118°F – by far the hottest temperatures I've ever had to cope with.
Unfortunately, while I've been out here in America tragedy has struck for many people, with tornadoes devastating a number of states and leaving many people dead, injured or homeless. My thoughts and sympathies are with the people in those storm-damaged states. In terms of my trip, the scale of this natural disaster means I will need to be flexible over my destinations, as it may not be possible to visit some areas due to damage.
Manchester, Ohio and Manchester, Michigan
Today's first stop was Manchester, Ohio. Like a lot of places on my journey, it's a small town. Built next to a river, it looks exactly how I always imagine old US townships to look. There's a main street with brick-and-timber buildings which show the town's history. It was actually named after a UK Mancunian who went there to survey the area to be given to war heroes and military soldiers as a reward for their services to the country.
The area was showing clear signs of having been affected by the global recession, with shops closed and many households holding yard sales to make ends meet. I visited the town hall and spoke to the mayoress, before heading to the riverbank. There, I got talking to two old-timers in a pick-up, who told me about the demise of the town, the lack of employment, and the stricken economy. It's a charming place and I feel sad that it doesn't benefit from any tourism despite being so close to the beautiful Ohio River.
After Manchester Ohio, I covered 350 miles, arriving in Manchester, Michigan, at around 6.30pm. I've had a long day, but was keen to meet up with a Facebook contact, John Steadman, who got in touch after seeing an article about me in the local newspaper, the Manchester Enterprise.
Well, this turned out to be one of the nicest Manchesters I've seen to date. I met up with John at a great pub with a veranda and received an invitation back to his for steak and a bed for the night. Back at his, I got to watch him make tortilla chips in a big fryer in his back yard – he and his wife will sell the chips along with homemade preserves at the local farmers' market.
I enjoyed my steak and a couple of beer and was fast asleep by 11.30pm, within about four seconds of my head touching the pillow!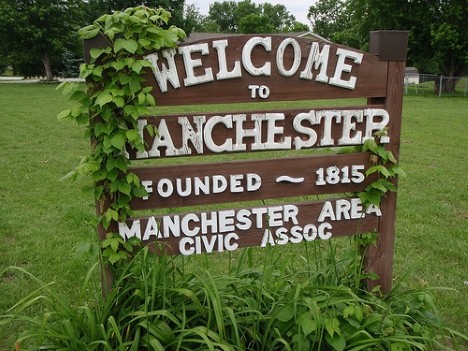 This morning I carried out a few duties for the local Manchester Men's Working Club, a community-led charity which puts on events and ploughs the money back into the village.
After a few hours of filling sandpits for the local kids, there was time to see the area and have a ride around. Then I headed for Missy's for the fun to begin! Missy and I had been chatting for months about bikes, music, and more, and she'd invited me over for a party.
Even her Mum arrived on a Harley and late into the night about 30 of us ate great food, drank more than enough beer, argued about game shooting, and even had the odd wrestling match! After I answered questions on what we hunt in the UK (nothing!) I was handed a ten-gauge shotgun and encouraged to blast away some beer cans into a better place!
The rest of the night was made up of a jamming session on the old harmonica and guitar, seeing lightning bugs, hearing bull frogs and watching chipmunks playing in the yard. I can't thank Missy and her family enough for their hospitality – I had a wonderful night which will always remain a fond memory.
I left Missy's after a great hot breakfast and headed for an old coal-fired ferry which will save me a 300-mile slog through Chicago/Illinois. Called the SS Badger, the ferry will take me 60 miles across Lake Michigan.
It was around a 60 mile drive from Missy' and as it wasn't too far, I took the opportunity to take a ride on a dune buggy – it's probably the best $16 I've ever spent – the buggy was a huge open-top 16-seater bus, which took me right over the massive dunes which line the shore here.
I spent four hours on the boat (a great opportunity to sort out my photos etc!) and will be spending the night in Ludington.
Visit www.bennettsbikerdreams.co.uk for more information.
Follow us @travelbite or 'like' our facebook page to keep up to date with Pete's trip.