If you want to encourage budding musicians to pursue their artistic passion, taking them on a school trip abroad may just do this.
Teenagers who love playing instruments are sure to enjoy music trips.
These provide them with the opportunity to see some world-famous music venues, attend concerts performed by professionals in the field and learn more about how music has changed through the years.
Equity School Travel offers tailor-made music tours so that school groups can have their trips suited to their interests, abilities and needs.
Take a music tour to Paris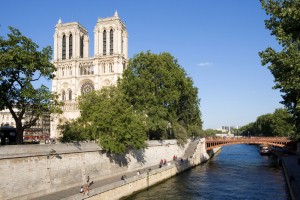 Youngsters with a keen interest in playing an instrument may enjoy music tours to Paris, where they can visit concert venues, including Notre Dame Cathedral and Eglise de la Madeleine.
This is a great opportunity for pupils to watch some of the world's most famous names in music perform – and they might even get the chance to do so themselves.
At Equity School Travel, our music tours manager Nicholas Francis will be able to create an itinerary to fit in the Parisian locations you want to visit.
He has taken school groups away for many years and has a good reputation for understanding conductors' musical requirements, so you can be sure that the locations you visit will be some of the best.
How to organise a school music tour
With the help of Nicholas, you'll be able to arrange a school tour for your music group in no time.
He will be able to take you to smaller venues in Paris, as well as larger ones, such as Eglise de la Sainte-Trinite and Cathedrale St Louis des Invalides.
His years of experience led to him organising the Allied Musical Salute for the 50th anniversary of the Liberation of France, which gave 5,000 young musicians the opportunity to play in 170 concerts around the nation.
If you want to give your school group the chance to learn more about performing in front of large audiences, then you might be interested in taking a trip with Equity School Travel.
We have 20 years' worth of experience creating itineraries for youngsters and are affiliated with ABTA, ATOL and IATA, so you can be sure the trip will be protected.
For more information, contact us today by calling 01273 648 248 or email tours@equity.co.uk.

---