Enjoy sailing holidays in Greece with Sunsail
There are few better places in the world for a sailing holiday than Greece and its islands.
Greece has one of the longest coastlines in the world, along with more than 1,000 islands in the Mediterranean, Ionian and Aegean seas, so there is plenty to discover when you set sail.
Whether you are a complete novice or an experienced captain, Sunsail will be able to help you arrange the right sailing holiday in Greece. Conditions in the seas off the Greek coast are ideal for sailing for beginners, as there are a number of short island hops that can be completed using line of sight navigation, even during the gentle breezes of the morning.
The stronger winds of the afternoon are perfect for more experienced sailors to take on challenging open water voyages. So whether you want to explore the Greek islands and coastline on your own or as part of a group of vessels, you are sure to find the right kind of sailing holiday.
Yacht charter holidays in Greece
If you are keen to schedule your own trip or be free to change your plans if you find a town or village you want to explore further, a yacht charter holiday in Greece may be for you.
Sunsail operates yacht charter from three bases in Greece – Athens, Milina and Vounaki – allowing you to pick up a monohull or catamaran to navigate through the idyllic waters and scenery.
You can begin your holiday by exploring the historic delights of Athens before heading off into the Saronic Gulf and Aegean Sea to visit the islands of Kithnos, Santorini, Syros and Amorgos.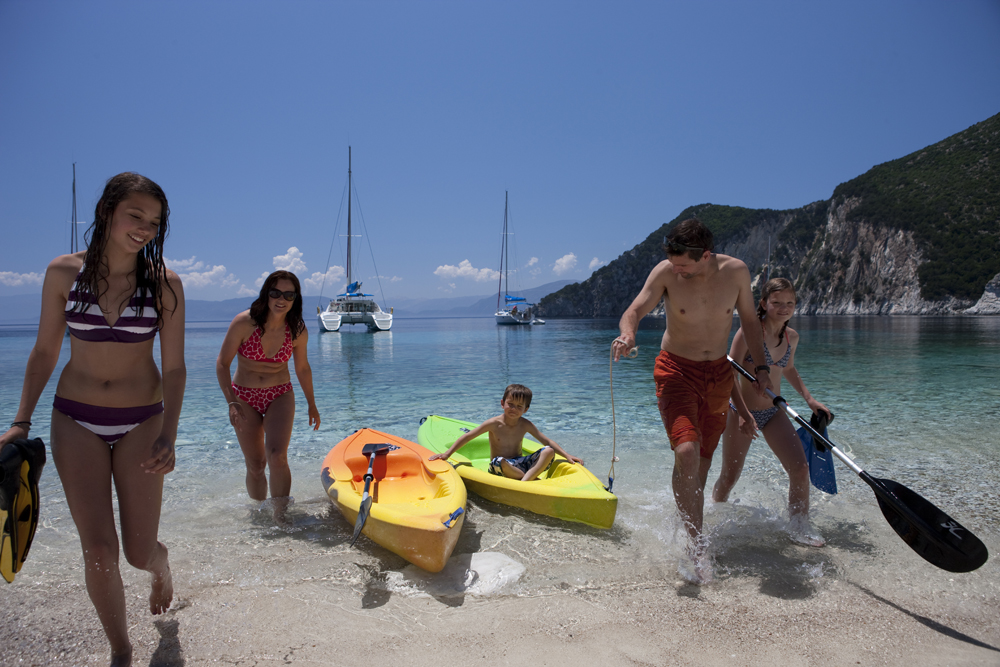 Alternatively, you can start your journey on Milina in the Sporades Islands, giving you access to a host of beautiful secluded beaches and quiet villages. You may also want to drop anchor at Skiathos to enjoy one of the liveliest nights out available in Greece.
If you are a novice your best starting point is likely to be Vounaki, as you will be able to learn how to control a boat in the benign surroundings of the southern Ionian Sea.
There are a host of small islands to visit in the area, together with better-known locations like Kefalonia, historic Ithaca and the party towns on Corfu.
Flotilla sailing holidays in Greece
If you are keen to meet new people while sailing in Greece, a flotilla holiday could be the ideal choice.
These hugely sociable breaks involve groups of up to 14 yachts being guided around the Greek coastline or islands by a lead boat with an experienced crew.
The itineraries ensure you visit some of the region's most beautiful and interesting places, while giving you the opportunity to join in group activities such as beach barbecues and punch parties in the evenings.
You can choose not to attend all the activities and as you and your family will have your own yacht, you will always have a quiet place to rest up. A wide range of itineraries are available for flotilla sailing holidays in Greece, allowing you to experience the attractions of a variety of islands.
Choose a Paxos tour and you will be able to visit the sandy beaches, blue seas, historic sites, tavernas and nightlife on Meganissi, Levkas, Paxos and Corfu, as well as enjoying some days of free sailing.
Why choose Sunsail when booking sailing holidays in Greece?
Here at Sunsail we have been arranging sailing holidays around the world for more than 30 years and our staff can help you to select a break that will suit your experience level.
As we offer everything from sailing lessons for complete novices to bareboat or skippered yacht charter, you are sure to find a holiday that is right for you.
We have an extensive fleet of yachts available for charter and use on flotilla sailing holidays, ranging from monohulls with space for four people to catamarans that can sleep up to 13.
All our vessels undergo regular maintenance checks, so you can be sure you have a safe and comfortable yacht for your holiday.
We will also provide all the practical things you will need when you cast off, including bed linen, towels, snorkelling gear, cooking gas and a dinghy tender.
---