Hot Spot: Radisson Blu Saga Hotel Reykjavik
Tuesday, 15 January 2013 11:13 AM
The Radisson Blu Saga Hotel Reykjavik is a very good hotel, but not a 'great' one. Why, then, does it deserve the coveted 'hot spot' accolade? For three reasons: location, price and facilities, as John Hunt discovers…
The hotel, a big, seven-storey affair, sits on the north-western tip of the city centre, next to the National Museum of Iceland (itself definitely worth a look). It is – quite literally – 10 minutes' walk into town but this 'remoteness' (such as it is) seems to keep the hotel off the list of Reykjavik's most fashionable hotels. This suits visitors just fine because it makes the hotel's four-star accommodation very reasonable, with a double room in March 2013 currently showing at £65/night.
We stayed in a spacious room on the fifth floor with all the usual amenities and a superb power shower in the bathroom. Pivoting/telescoping (ideal for watching in bed!) flat-screen TV, a sofa, chairs and table and a work desk are provided. Free WiFi is offered, but the signal was patchy so I used the wired LAN (7.5mbps) without any difficulties.
The majority of Iceland's activities are of an outdoor variety and, as such, breakfast is by far the most important meal of the day. Radisson breakfasts are usually pretty good anyway and this was also the case here with a massive hot buffet (bacon, sausages, scrambled egg, sautéed potatoes, etc.) and cold options (breads, cereals, cheeses, etc.) as well as an extensive selection of juices. A cooking station with a chef for items not on the buffet (like my obligatory cheese omlette, for example) was also available.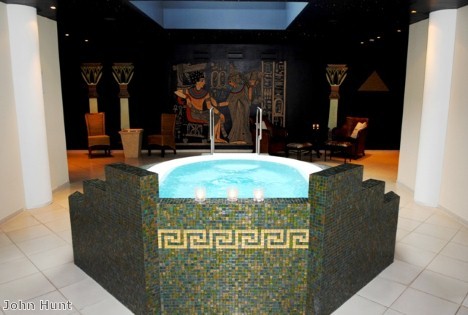 The spa
In the basement, the hotel has a spa facility including a sauna, steam room, gym equipment and a hot tub/Jacuzzi. The latter was particularly welcome after a day on your feet, with the relief palpable as you lowered your aching limbs into the bubbling tub. Adjacent to reception was a decent (and quiet) bar where the WiFi was functional, free and fast (15mbps) so I spent a couple of evenings down here enjoying a beer (Carlsberg, £4.75 for 50cl) and doing a little work.
On our first evening we dined at one of the hotel's two restaurants, a buffet affair in the same location as breakfast is served. A large choice of starters (seafood featured prominently), a 'carvery' style area for mains (a range of meats (lamb, beef, pork)) and a dedicated area held some very enticing sweet options. This was good value at £25 a head as you could go back for more often as you liked but I've never been a huge fan of stuffing yourself just for the sake of it, so while perfectly competent (and certainly filling), we tried something else the following night.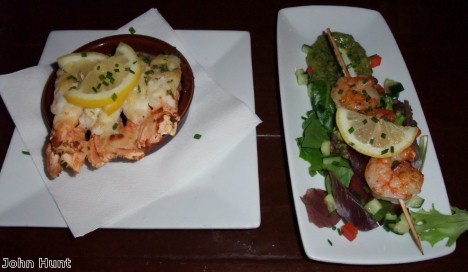 Tapas Barinn
That something else was Tapas Barinn, a tapas restaurant in the city centre. Owned and run by native Spaniards, it really shows, as we enjoyed eight traditional tapas dishes in what could best be described as 'rustic' surroundings. This was sensational. With three drinks included, the total cost came to £70 which is certainly more than you'd pay for the likes of La Tasca. Two things to remember though: this was light years ahead of standard high street fare, and we were also in Reykjavik, a city not known for being cheap.
Overall, the hotel gets solid marks and is worth its four-star rating, especially in terms of value for money, superb breakfast and basement spa. Radisson operates a dynamic pricing policy so if you're thinking of going to Reykjavik then the earlier you get booked, the less you'll spend.
By John Hunt
Fact Box:
A standard double room at Radisson Blu Saga Hotel Reykjavik costs from 100 euro with bed and breakfast. For more information visit the hotel website.
Getting there:
Icelandair, Iceland Express and easyJet fly to Reykjavik, Iceland.
We flew with Icelandair to Keflavik (the main international airport, about 20 miles from Reyjavik) from Glasgow. Flight time was about 90 minutes and the cost was £350pp return for flights booked roughly two months ahead of the travel date. However, on the same day we flew, easyJet were offering flights online (at better flight times times) to Keflavik from Luton for a much more reasonable £120pp return. easyJet have also announced that it will begin flights from Edinburgh to Keflavik from March 2013 – starting at about £100pp return.
http://twitter.com/travelbiteFollow us @travelbite