Learn a language with i-to-i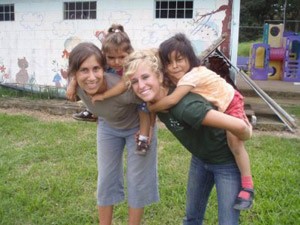 One of the most rewarding things about deciding to volunteer abroad is that you can immerse yourself in another culture and environment.
And the best way to feel as though you are a part of the community you have journeyed a long way to help is to learn how to speak their native language.
Being able to communicate with a society in their mother tongue will help you on your adventure, whether you decide to assist them further in construction projects, teaching children or taking part in conservation initiatives.
You will be able to build good relationships with the communities you are staying with, as well as develop another valuable skill.
So, if you want to involve yourself more in the country you are visiting, why not look into how to learn a language as part of your trip?
All about learning a language abroad
There are many ways you can learn a language but one of the best is to embark on a journey to a country where it is spoken and enhance your linguistic abilities by practising with locals.
You can sign up to language classes abroad for between two and five weeks, which will give you a good introduction in learning how to speak in the native tongue.
As well as taking lessons with other travel enthusiasts, you'll have the chance to get involved in a number of activities that will enable you to help members of the local community.
You could assist in day centres or look after children in nearby schools, which will give you a chance to practise the new words you have learned. Taking care of the kids will be rewarding, as well as helpful in enabling you to hone down errors you regularly make with regards to your new subject.
One project i-to-i offers that you might be interested in is the chance to learn Spanish in Costa Rica by taking a course in San Jose.
Get involved in the local way of living, enhance your Spanish skills and use the weekends to explore the nation's fantastic landscape of forests, volcanoes, beaches and waterfalls.
Before you know it, you won't have just picked up a new ability, but enjoyed a great opportunity to soak up the atmosphere and take in the sights of the Central American country.
How to find a language programme with i-to-i
The first thing you should do when considering learning a language is decide which one you want to develop your skills in.
Whichever tongue you wish to be able to speak at the end of your trip is likely to determine where you go on your course.
With i-to-i, you can pick up the skill by taking part in four hours worth of classes between Monday and Friday. Then, for seven to eight hours you'll be able to enjoy working with children by giving support to local centres and schools that need your help.
Thousands of people have volunteered with i-to-i since we began in 1994 and by booking a travel experience with us, you can rest assured that your adventure is in safe hands as we are a member of ABTA – The Travel Association and our trips are ATOL-protected.
So, if you're interested in doing something new and are aged 18 and over, why not call us today on 0113 205 4620 or visit our website to order a brochure?

---