Top 10 holiday rentals from a global grand tour
Monday, 4 April 2011 12:00 AM
From a traditional conical-shaped trullo in Puglia to a colourful casita in Mexico, travel writers Lara Dunston and Terence Carter reveal their top 10 holiday rentals from their yearlong grand tour.
Lara Dunston and Terence Carter stayed in 36 holiday rentals during their grand tour, which they have recently returned from, and they chronicled their findings on their travel blog Grantourismo.
See below for their top 10 picks of the year:

View from palazzo apartment on Venice's Grand Canal (photo: Terence Carter)
1. Palazzo apartment in Venice
Slap bang on Venice's Grand Canal, with stunning views of the gondolas gliding by, this atmospheric old apartment is located in a 17th century palazzo at the end of a lane leading to the vaporetto stop. It's a 15-minute stroll to the Rialto's fabulous fish and fresh food markets and a 25-minute walk to St Marco, early in the morning or late evening, when the streets are tranquil. The San Polo neighbourhood is one of Venice's most down-to-earth – home to a university – and nearby Campo Santa Margherita, lined with bars, gets busy with students drinking beers most nights. It's a fun spot to settle in for a while! Read more.
2. Penthouse in Mexico City
The location in Mexico City's historic centre could not have been better and this elegant penthouse, in one of the city's most architecturally important buildings, was very hard to leave! Filled with light, the apartment has a wrap-around terrace bursting with plants and fascinating vistas over the old city. There are original works of art on the walls, Mexican handicrafts decorating the place, fresh flowers, baskets of fruit and a housekeeper. The owner can organise cooking lessons, language classes and tours. We really didn't want to leave this one. Read more.

Traditional Balinese villa with infinity pool(photo: Terence Carter)
3. Garden villa in Bali
Looking like something out of a 'Bali Style' coffee table book, this beautiful villa is set within verdant tropical gardens with towering palm trees, still ponds and stone statues dappled with mould. A deck overlooks the infinity pool and there's a dining table and chairs for moonlit dining and a day bed that's ideal for dozing. The villa has high ceilings and polished floorboards and it's decorated with heavy teak furniture and Indonesian textiles and carvings. There's full-time staff, including an excellent chef who gave us cooking lessons! Read more.
4. Beach House in Costa Rica
We stayed at most properties for two weeks at a time, but in Costa Rica we had a week at each of two properties. I loved this beautiful two-storey villa on the beach, where we literally walked down a path and straight onto the sand. It had a swimming pool and Jacuzzi; Terence went surfing every day while I swam laps in the pool. You can ride horses on the beach and have daily massages out in front of the house. There's an excellent kitchen, a spacious living area, a master bedroom with tropical garden views and daily monkey visits! Read more.

Multi-level Costa Rica villa with infinity pool overlooking jungle (photo: Terence Carter)
5. Jungle Villa in Costa Rica
Our other Costa Rica house, a spectacular four-storey 'al fresco' villa, had no exterior walls – only walls for the bedrooms, making for a unique experience. We felt thoroughly in touch with nature, especially when a family of monkeys trooped through the place! The top floor – home to the kitchen, dining area, infinity pool and terrace – overlooks the jungle canopy; the second level, where the living room and two bedrooms are looks into the jungle, while the bottom floor, home to three more bedrooms, has views of the jungle floor. The ground level belongs to staff. That's right, the villa has staff too, including a live-in caretaker, cleaner and concierge who can arrange all sorts of activities, from bird-watching tours to massages at 'home'. Read more.

Traditional trullo in Puglia, Italy (photo: Terence Carter)
6. A Trullo in Puglia
The historic conical-shaped trulli are an integral part of the landscape in the southern Italian region of Puglia, so if you visit without staying in one you're really missing out on a special experience. Our trullo was around 5kms outside of UNESCO World Heritage-listed Alberobello, accessible from a dirt road. Surrounded by olive groves and vineyards, it has a stunning swimming pool and a barbecue area with an outdoor pizza oven. The interior is full of rustic charm, especially the cute kitchen. You can hire a car, which is a must for families, but we organised a transfer and rented bicycles to get about. Read more.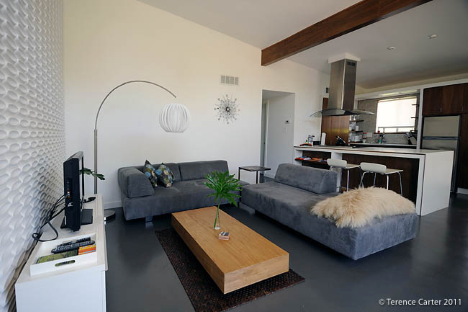 Retro house in Austin, Texas(photo: Terence Carter)
7. Retro Texan Bungalow
We also split our stay in Austin, Texas, between two stylish properties and I especially loved this hip renovated retro house, with its 50s/60s-inspired furnishings. It has an excellent kitchen, spacious living area, two lovely bedrooms and an outdoor deck area with barbecue. Outside summer, which can be scorching, it's a pleasant stroll or cycle (there are two sleek pushbikes) to South Congress Avenue's hip shops, restaurants, and bars. The rest of the year you can rent a car or there's an excellent local taxi service that we used most nights to get to all of Austin's many live music venues scattered around town. By the end of our stay the taxi company's switchboard operators knew our name and the drivers were sharing insider tips with us! Read more.
8. Cape Town Family Home
In Cape Town we stayed in a big family home a few minutes' walk from beautiful Camps Bay beach. It had four huge light-filled bedrooms, plus several separate studio apartments, making it perfect for family reunions or a group of friends. The house is made for entertaining. There's an elegant living and dining area, TV room, sunny garden with small pool, and outdoor dining area with barbecue. The kitchen cupboards are jam-packed with every kind of appliance, loads of dinnerware and glassware and shelves crammed with cookbooks. There's also a piano, plenty of gorgeous books and stunning Cable Mountain views. Loved this place! Read more.

Cape Town property(photo: Terence Carter)
9. Riad in the Marrakech Medina
This romantic riad in Marrakech's medina may be tricky to locate, hidden down an alleyway in a dimly lit alcove, but it's worth the effort. Dar Rocmarra, as it's called, is a dream! Its tranquil courtyard has an olive tree and trickling fountain, there are fresh roses in vases and in the stylish rooms, rose petals are scattered on the bed. You can book the riad as a whole; otherwise it operates more on a 'bed and breakfast' set-up. The riad manager-cum-cook, Jamila, is a terrific cook and even though we love to eat out, we couldn't resist staying in to savour her food on a couple of occasions. Read more.
10. Luxury London Penthouse
This light-filled three-storey penthouse in south London has a brilliant kitchen, two living spaces, a big terrace with Thames views and three glam bedrooms set over two floors. The kitchen is well equipped with everything from a great stove and big fridge to a Dualit toaster and Krups espresso machine. There's also a big dining table making it ideal for dinner parties. We really loved this place – it's where we had our Grantourismo launch party just over one year ago and it was excellent for entertaining. Now, we just need to find an excuse to go back. Read more.
By Lara Dunston
BIO: Travel writers Lara Dunston and Terence Carter have written some 50 travel guidebooks and hundreds of articles for the world's best publishers. In February 2010, they embarked on a yearlong experiment in slow and sustainable travel, local travel, and experiential travel, trading hotel rooms for holiday homes provided by their project sponsor HomeAway Holiday-Rentals.
Follow us @travelbite