Florida unexpected: St Petersburg Clearwater
Monday, 21 January 2013 1:50 PM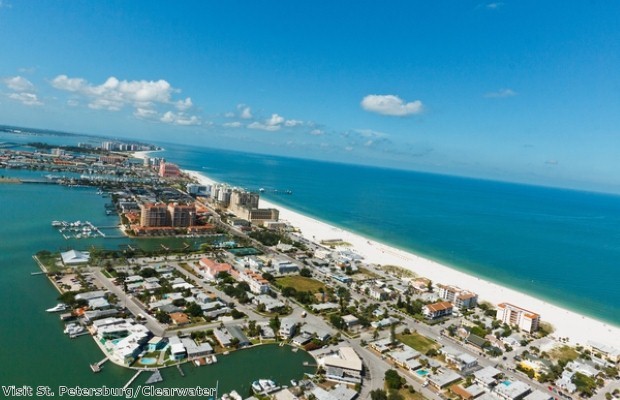 Although Florida may have a reputation for flashy theme parks and glitzy beach parties, St Petersburg Clearwater offers a very different experience, as Esme Fox discovers…
"I'd like to tell you that they're in a feeding frenzy," said Captain Will "But, how can I put this delicately… they're mating".
I was sailing around Clearwater Harbour on the west coast Florida, and was taking part in one of the most classic Floridian activities – no, not visiting Disney World – but, dolphin watching.
Two bottlenose dolphins were frolicking and thrashing around in the water below, playing out my own private wildlife documentary in front of my eyes.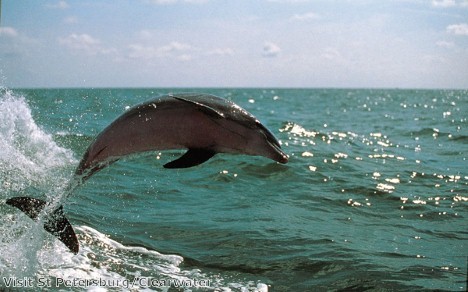 This was in fact my second dolphin sighting of the trip, having witnessed a lone dolphin fin rise just above the surface of the water, in front of one of the region's famous tangerine-coloured sunsets on Honeymoon Island, a few days before.
Although Florida may have a reputation for flashy theme parks, glitzy beach parties and general all-American tackiness, this couldn't be further from the truth in the western part of the state, known as St. Petersburg and Clearwater.
I had already seen more wildlife on my trip than I could have imagined: two bald eagles gracefully gliding through the sky; pelicans swooping in perfect unison over the water; raccoons bounding through the undergrowth and armadillos snuffling their way along the ground.
I was staying on Clearwater Beach, in one of the most eye-catching hotels on the strip – the colossal pink coloured Hyatt Regency Clearwater Beach Resort and Spa (pictured below). If you're going to stay anywhere in Clearwater, it might as well be here. The room was at least twice the size of other hotel rooms I'd stayed in, with a balcony the same size as a large swimming pool, and one of the best views of the beach you could ask for.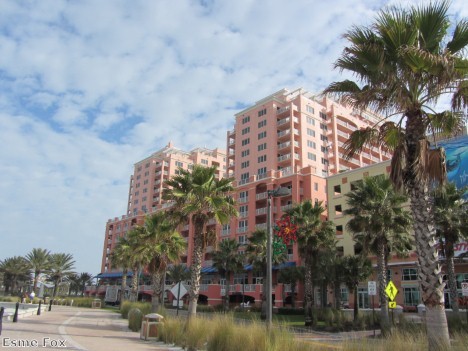 After a drink on my private balcony, the sea fog began to drift in from the Gulf of Mexico, curling its ghostly fingers around sliver of land that is Clearwater Beach, until nothing was visible apart from the space a few meters in front of my hand. Rather than staying in the room, I decided to check out the hotel's roof top hot tubs where the warm bubbling water took the chill off the sea fog edging further in.
After the soak it was time to check out one of the best local eateries in town – Crabby Bill's seafood restaurant a large multi-coloured wooden beach-style building, serving the likes of grilled grouper sandwiches, snow crab legs (very tricky to eat), and of course classic American burgers.
For something a bit more upmarket, try the SHOR seafood grill at the Hyatt. Here I tried the far superior black grouper, served with pureed sweet potato and grilled artichoke pasta with rainbow chard and lemon white wine sauce.
A trip to Clearwater isn't complete without a visit to see its most famous resident – Winter the dolphin the star of hit movie Dolphin's Tale, also featuring Morgan Freeman and Ashley Judd. You can see Winter – the only dolphin in the world to have lost its tail and survived – at the Clearwater Marine Aquarium, where you'll learn all about her prosthetic tail and even see her wear it. Other characters you'll come across are: Rufus the pelican, Cooper the otter, Bailey the sea turtle, stingrays and sharks, as well as other rescued dolphins – Panama, Hope and Nicholas. For kids this is definitely the best attraction in the area. Make sure they see the movie before you visit too.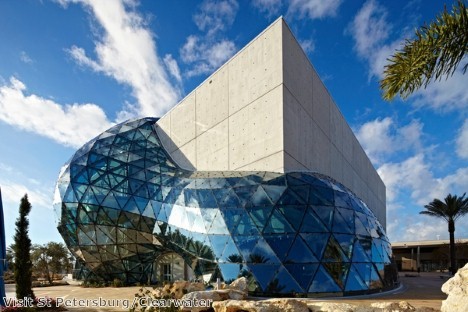 St Petersburg, 30 minutes to the southeast, is in fact one of the most creative and arty parts of Florida, being home to many galleries and museums including the Dali Museum (pictured left), Museum of Fine Arts, Florida Holocaust Museum and St. Petersburg Museum of History. The Dali Museum showcases one of the flamboyant artist's most extensive collections of work, and although covering only one floor, it has now become one of my favourite art museums in the world. Try to go on a guided tour to learn some fascinating facts about the artist and his life, and to discover other images hidden within his paintings.
Although often referred to as one area, the small region of St. Petersburg/Clearwater is about as diverse as you can get, incorporating, large cultural cities, built up beach resorts, state parks, one-road southern style villages, small artsy towns and ethnic communities, all within easy reach of each other.
On the last day of my trip, as I sat on the soft white sand of Clearwater Beach, that once enjoyed 768 days of sunshine in a row, I found that my view of the state had completely changed and it incorporated much more than I'd ever expected.
By Esme Fox
Fact box:
For more information visit www.visitstpeteclearwater.com
For more information about visit Hyatt Regency Clearwater Beach Resort and Spa visit www.clearwaterbeach.hyatt.com
Follow us @travelbite