Chile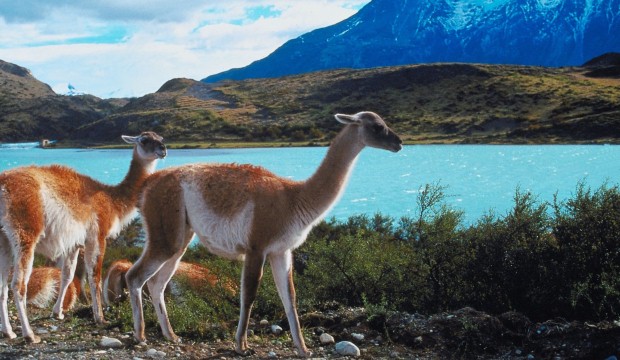 ---
Travellers flock to Chile for its stunning natural beauty, from the Atacama Desert's Valley of the Moon in the north to the wonders of glacial Patagonia in the far south of the continent.
Chile – a long sliver of a country – extends down over half of South America and boasts an incredible variety of landscapes and surroundings. The north of Chile – bordering Bolivia – is primarily a dry, desert landscape and is home to the salt flats, lagoons and geysers of the Atacama Desert (some of which involve crossing into Bolivia).
San Pedro de Atacama, is one of the more popular spots in northern Chile. Once a small desert town, San Pedro de Atacama is now bustling with shops, restaurants and a plethora of sandboarding tour operators. The Atacama Desert is the draw for holidaymakers and backpackers who wish to experience sandboarding down the abundant sand dunes. The Valley of the Moon is a highlight in the area – an expanse of red, pock-marked desert alike to the surface of the Moon. Watching the sun set over the sand ridges and volcanoes is a must-do.
Chile is also a hotspot for astronomy-lovers, with some of the best areas in the world for stargazing; the lack of light pollution and the clear skies make ideal conditions. There are plenty of star tours available from San Pedro de Atacama.
Right at the other end of the country, the Torres del Paine National Park in Patagonia – comprising of craggy, granite peaks and glacier-fed lakes – offers an equally stunning landscape to discover. Declared a biosphere reserve by UNESCO in 1978, the Torres del Paine National Park (situated in the Magallanes 12th region in Chile) is internationally recognised as one of the most beautiful, unique and uncontaminated places on the planet – perfect for adventure-seekers and hikers. The most famous peaks of the park are called the 'Cuernos' (horns) and 'Torres' (towers) of Paine. Each have three peaks: the north, principal and east horns, and the south, central and north towers.
The mysterious and unique Easter Island, with its iconic moai statues, is another hugely popular Chilean tourist destination; located in the South Pacific, 3,600 km (2,037 miles) west from continental Chile. It is still uncertain what their function was, making them all the more beguilling.
The cosmopolitan city of Santiago – Chile's capital – is thriving with bars, restaurants and shops for those who want to swap natural landscapes with the delights of a bustling capital city.
Chile Essential Information:
Capital: Santiago
Major cities: Valparaiso, Punta Arenas, Puerto Montt
Places of interest: San Pedro de Atacama, Torres del Paine National Park – Patagonia
Time Zone: GMT -4
Language: Spanish. Learn the basics of Spanish at www.bbc.co.uk
Currency: Chile uses the Peso (CLP). For up-to-date exchange rates see: www.xe.com/ucc
International dialling code: +56
British Embassy: visit the website for information