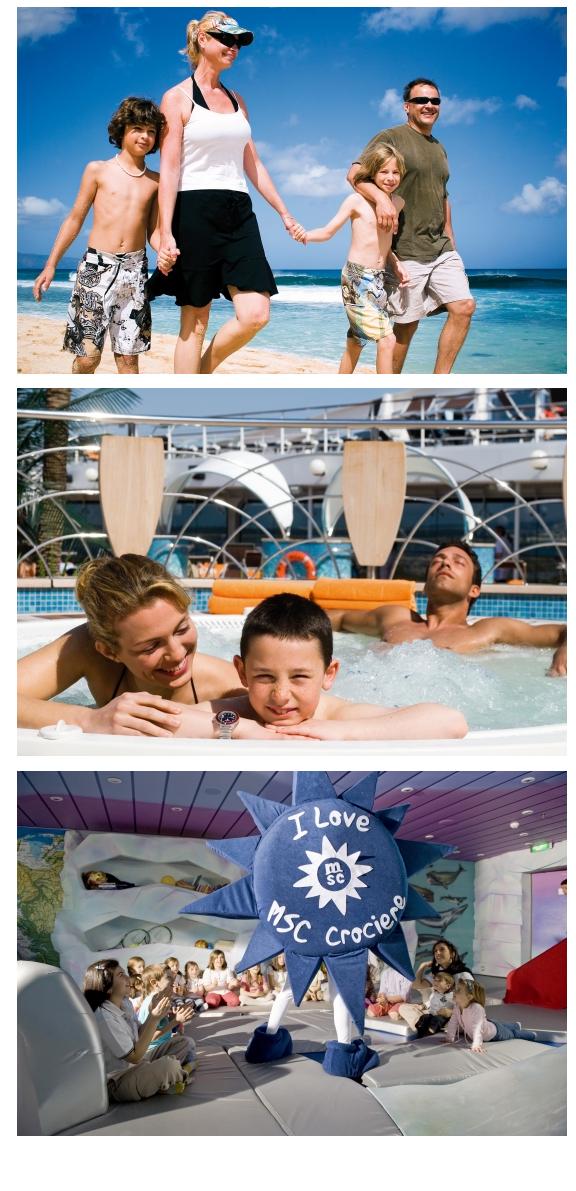 Family cruises can be a great way for you to spend time with your loved ones, not only do they provide lots of things to see and do for people of all ages and interests, but they also offer excellent value for money.
Here at MSC Cruises, we are experts in providing this kind of cruise so by booking with us you can be confident that every member of your family will have a great time.
Our crew onboard are dedicated to making sure that the needs of all our travellers are catered to, so as our ships travel to their next destination you and your family can relax in total comfort.
What do family cruises offer?
We offer a range of family cruises, so whatever you're looking for from this kind of holiday we are bound to have something that interests you.
You can choose from an array of family cabins, including those that come with a connecting door, perfect for providing both you and your children with an element of privacy when you need it and kids cruise free when they share a cabin with adults providing great value for money.
Meanwhile, our prepaid Teen Card allows you to give your children the freedom to make purchases, while you can keep an eye on how much they are spending.
What activities are there for families on cruises?
Children will certainly find there are a wide range of things to see and do on our cruises, so while they may typically complain about being bored while on holiday, when travelling with MSC Cruises their only trouble will be fitting in all that there is on offer!
There is something for everyone on our cruises, so you may be inclined to try and get a strike at our ten-pin bowling alleys or play the latest computer game consoles Sporty kids are sure to enjoy a game of tennis, while heading to the 4D cinema could be ideal if you want to spend a few hours curled up watching a film.
However, if you want to stay active why not go for a run along the jogging track, while your children play a game of shuffleboard?
Alternatively, they might wish to splash around and have fun in the kids' pool, which comes complete with the likes of whirlpools and fountains, leaving you free to take it easy in the adult swimming area.
There are also arts and craft sessions and parties, as well as discos for teenagers, so there are lots of things to for young people to do on MSC Cruises.
We provide children's programmes from 09:00 to 22:00, so you can be sure they will be entertained all day long and well into the night.
And when it comes to eating, kids are also catered for. We offer a range of special menus, designed to ensure they eat food that not only tastes great but is also healthy.
When it comes to fun-filled family cruises we cannot be beaten.
Contact us so you can start planning your dream break.
---