Choose from a variety of holiday options with The Moorings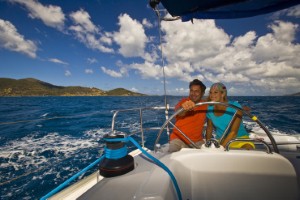 When you are going away with a number of people it can be hard to find a trip that has something you all enjoy – but The Moorings has a variety of sailing holiday options to suit all interests and sailing ability.
By booking a holiday with us, you can be sure everyone will enjoy an idyllic trip.
What holiday options are available with The Moorings?
At The Moorings there is sailing for all levels of experience so whether you're a beginner or consider yourself a skipper, there'll be a choice for you.
For those who are not so confident about setting sail by themselves, you might be interested in taking a holiday on a luxury crewed yacht charter. This enables you to enjoy a restful break on the vessel, while having the benefit of a professional crew.
This luxurious option means you can swim and snorkel in the sea, or go sightseeing after anchoring at an island, while your personal chef cooks a delicious meal.
Or, if you have a bit of experience with sailing, a bareboat yacht charter trip could be the option for you. You can be the skipper of the boat, while enjoying the company of your friends and family on this luxury vessel. You can book a skipper to accompany you if you require some extra tuition or don't fancy taking the helm for the whole holiday.
And a powerboat charter could be ideal for those who want the chance to sail in custom 37 and 47-foot catamarans, enabling you to have a great adventure cruising through the sea as your family basks in the comfort of this large boat.
What experience is needed for a sailing boat trip?
Depending on what type of boat trip you are planning to go on, you will need to have different levels of sailing experience.
You don't require any formal qualifications to sail in most areas of the world, but if you fill out The Moorings' Sailboat Resume, we can find out which sailing holiday is best for you.
Indeed, you can sign up to one of our adventures even if you're new to sailing. You might wish to hire a captain so you can spend your holiday relaxing as you are taken to beautiful tropical locations.
Our team of experts can help you decide which trip will suit you the most so you can enjoy your adventure sooner than you think.
And you can rest assured that your holiday will go smoothly as The Moorings is affiliated with ABTA – The Travel Association and all our holidays are ATOL-protected.
So why not find out more about the ideal options for you by calling 0844 463 6386 and speaking to one of our specialists today?

---