Cycling in Jersey is the perfect way to explore the island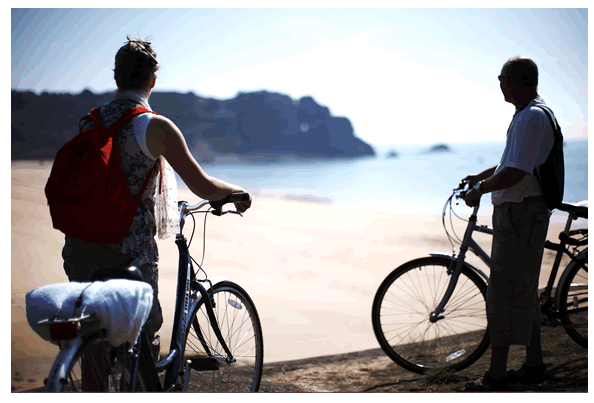 Jersey is the largest of the Channel Islands and one of Europe's most beautiful tourist resorts – with loads on offer to see and do.
Perhaps one of the best ways to explore this pretty island is to hop on two wheels and cycle around it.
Measuring just nine miles by five, the isle is best explored out in the fresh air so that you can enjoy its temperate climate and those long hours of sunshine.
Whether you just want to spend a day cycling or if you are planning an entire holiday in the saddle, you will be well-catered for.
A cycling break in Jersey is the ideal trip for groups, couples and those travelling alone, not only because of the beautiful scenery and well-kept cycle routes, but also because of all the fun sights and activities you will find along the way.
Cycling in Jersey – an ideal getaway
At Jersey.com, you will find plenty of useful hints and tips about cycling in Jersey so make sure you check out all the information we have before you get here.
Cyclists are well-catered for on the island and much has been done to accommodate people travelling by pedal power, allowing you to simply relax and enjoy those views.
Whether you fancy just a few hours in the saddle or want to be challenged, you will find a route that is perfect for you and you may even wish to travel from coast to coast using the island-wide cycle network.
Do it your way on self guided cycle routes
Self guided cycle routes are perfect if you want to get out on your own or with your friends or family and discover everything beautiful Jersey has to offer.
There are many popular routes on the isle for you to choose from and they are all well signposted, with many taking in miles of Green Lanes, where you will have priority over any cars.
Route A is your ticket around the west of the island, passing St Aubin's Harbour, Grosnez Castle and St Ouen's Manor.
Meanwhile, Route B will lead you round the west-central area of Jersey – a woodland route that passes through Waterworks Valley.
Route C guides you past a number of attractions, including Pallot's Steam, Motor and General Museum and the Durrell Wildlife Conservation Trust, while Route D highlights – around the north-central part of the isle – include the dam at Queen's Valley Reservoir.
Finally, Route E will lead you close to many more interesting sites, including La Hougue Bie and La Rocque Harbour – make sure you stop for a cream tea on your journey!
For more details on any of these routes, visit Jersey.com.
Do your own thing
Remember, if you want to set your own agenda for your cycling tour around Jersey you can – you do not have to follow a set route.
Because the island has such an efficient cycle network that is very clearly signposted, there is little chance of you getting lost and you could just rely on your instincts and follow the trails that appeal to you the most as you approach them.
If you want to find out more about cycle hire or tours on the island then you can get the information you need at Jersey.com.
So what are you waiting for? Start planning your holiday today!
---