Community volunteering: An experience you'll never forget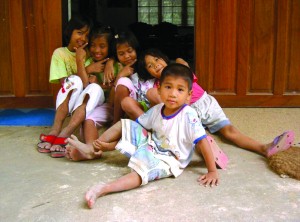 When you head off on volunteer holidays, you can be certain you are embarking on the adventure of a lifetime.
Here at Inspired Breaks, we believe that no matter what your age gap year travel should be a time in your life that you remember forever – and for all the right reasons.
It is our philosophy that you can achieve this by choosing to volunteer abroad during your time away from education or employment, as it helps you to make a positive contribution to the communities you are visiting.
So, to find out just what makes a break like this stand out from the crowd, read on.
Lend a hand around the world
When you travel the world, the places you visit and the locals who you meet are what ensure you will never forget the experience.
So many countries provide the travellers who head there with the warmest of welcomes and the people will go out of their way to ensure your stay is enjoyable.
That's why it is so important to give something back, as a way of saying thank you for the adventure.
However, there are plenty of other reasons why volunteering overseas is such a beneficial way to spend a gap year. It allows you to build skills that you may be able to call upon in the future, as well as introducing you to new people – some of whom could become lifelong friends.
And the things you get to do when you are volunteering are no less unique, from helping with panda conservation in China or rehabilitating vervet monkeys in South Africa to caring for disadvantaged kids in Vietnam or working alongside local builders in Guatemala.
Volunteer in Nepal
One country that is sure to provide you with a travelling experience you will never forget is Nepal.
This is a breathtakingly beautiful country that is home to several of the planet's largest peaks, including Mount Everest, so you will literally feel as though you are on top of the world.
It is also deeply spiritual, being home to the Pashupatinath Temple – a UNESCO World Heritage site and a centre of pilgrimage for Hindus.
However, the republic is also desperately poor, so when you choose to volunteer in Nepal you really are making a difference.
There are so many ways that you can help out while you are here and your efforts are certain to be appreciated.
You could teach English at one of the schools – which may help enhance the pupils' future employment prospects – or work in one of the children's homes.
Alternatively you can help out on community building projects constructing orphanages and residential properties or even teach at one of the monasteries.
Whatever you do, you will be making a real difference.
About Inspired Breaks
When you arrange your travel through Inspired Breaks you can be sure that your trip is in good hands.
However long you plan to go away for – from a few weeks to a year – we will help you to arrange your adventure to make sure it all goes according to plan, while we can also offer plenty of expert advice.
And with offices around the world we are always on-hand whenever you need us.
Start planning the adventure of a lifetime and contact us today by calling 08445 734 101 or emailing info@inspiredbreaks.co.uk.

---