A weekend in…Chicago
---
Chicago – a popular stopover city and a major airport hub for United Airlines – may not be the first place holidaymakers think of when travelling to the US. It is however, an extraordinary city which deserves much more than just a cursory glance as you pass through.
It has a fascinating history for a start, from being the stomping ground of Al Capone during the famous prohibition era to the city becoming synonymous with the iconic blues music scene. Not to mention it's right on the doorstep of Lake Michigan, the fifth largest lake in the world.
Perhaps then, an example of what you could get up to in just 48 hours might whet your appetite for a longer, closer look in the not too distant future…
Stay:
The Fairmont is a mid range hotel very close to the wide open spaces of Millennium Park and just steps from elegant Michigan Avenue.
Further north, on the other side of the river is the luxurious and just renovated Four Seasons Hotel, a few steps away from the Magnificent Mile shopping district.
Day 1
Breakfast:
Kick off your first morning with breakfast at Eggy's Diner, one of Chicago's best new eateries near the Fairmont in East Lakeshore Park. There's plenty of options for every taste.
Now, take the morning to explore the city in a variety of ways. Chicago Architecture River Cruises run by the Chicago Architecture Foundation, will guide you on a 90 minute tour of over 50 towering skyscrapers on either side of the Chicago River. The Foundation also conducts daily tours of Wright's home and studio. Alternatively you could try a downtown walking tour with a local guide who will take you to many of the city's hidden gems, such as Marshall Fields' historic department store, the underground pedway system and the fascinating Block 37. Chicago DeTours.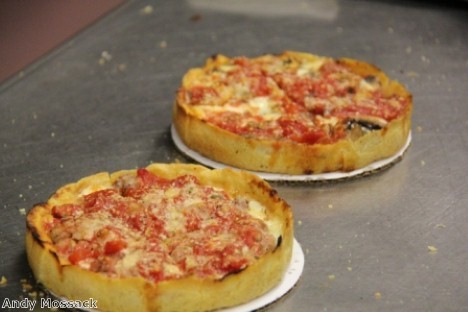 Lou Malnati's Pizzeria
Lunch:
Stop for lunch at Lou Malnati's Pizzeria. This chain of family owned deep dish pizza restaurants is an institution in Chicago. Lou opened in 1971 and his restaurants have used the same recipes and suppliers ever since. They will be the best pizzas you will ever have tasted!
Spend the afternoon exploring 350 acres of Millennium Park and Michigan Avenue which runs all the way down one side. At the top end nearest the river, you'll find Anish Kapoor's extraordinary "Bean" sculpture or Cloud Gate to give it its proper name. You'll also see the 50 foot high Crown Fountains near here, made from a thousand Chicago citizens who blink smile and wink at you then spout out water from their mouths!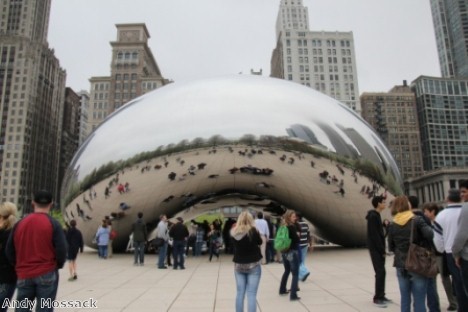 The Bean Sculpture
As you stroll further down Michigan, you can grab a spot of culture at the Art Institute; it's the building guarded by two green lion sculptures. Right opposite here is the beginning of the famous Route 66, there's a small plaque marking the spot and a little further down, is the Blackstone Hotel where Al Capone visited twice a week to have his hair styled.
Lastly, just at the far end, make sure you see the haunting headless and armless Agora Statues, created by Polish holocaust survivor Magdalena Abakanowicz. If you don't fancy walking this route, you could have a guided Segway tour instead. Segway's are great fun, simple to learn and very easy to ride.
If you have time and energy left, the Field Museum has a huge mix of exhibits from the life of Ghenkis Khan to the history of chocolate, but top billing goes to Sue, the best preserved and most complete T-Rex ever found – 67 million years old and over 40 foot long.
Dinner:
Try out a wonderful selection of fish options prepared by master chef Yoshi Katsumura at Yoshi's Café in Chicago's Lakeview neighborhood on Halsted Street. Or enjoy contemporary gastro-pub fare at The Gage, just steps from Millennium Park on Michigan Avenue.
Nightlife:
Cap off a packed day with a taste of the real Chicago blues at Buddy Guy's Legends blues club, a venue that has been the stage for pretty much every famous blues musician on earth. If you're lucky, Buddy just might be on the bill.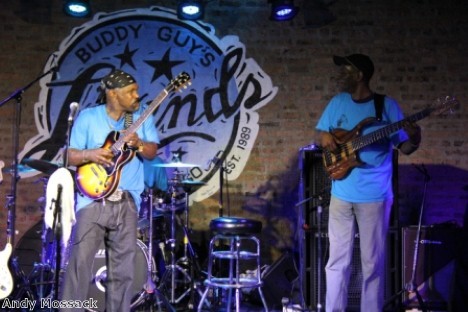 Buddy Guy's
Day 2
Breakfast:
For sheer quality and a mesmerising amount of choices, a Sunday Brunch at 16 on the sixteenth floor of the Trump Hotel will be hard to beat. 30 foot high windows give you a great view of Lake Michigan too. Otherwise Allium at The Four Seasons; Chef Kevin Hickey pays tribute to some old Chicago classics from his days growing up in Chicago's Bridgeport neighborhood including cheese lavosh.
The Chicago History Museum is a must for your second day; the brand new Shalom Chicago exhibition reveals the history of Chicago's influential Jewish immigrants as seen through the eyes of real family members.
Lunch:
Enjoy a quick lunch at Lincoln Park favourite, RJ Grunt's, a quirky homage to the 60s and 70s. Then shop 'till you drop on Armitage Avenue where notable stores include: Lori's Shoes, Art Effect and Thread Lounge Inc.
After lunch take a ride on the famous L train or Loop, a raised section of track offering great views of the downtown area. You'll see a few locations from the Blues Brothers movie too. Then jump on the red line to Clark and Division to Lincoln Park and take a stroll around the free entrance zoo.
For the very best bird's eye view not just of Chicago, but Illinois, Indiana, Michigan and Wisconsin, The Sky Deck is not to be missed. It takes 60 seconds to rise 1,400 feet up 103 floors of the Willis Tower and then you walk out onto a transparent box jutting out of the building. It really feels like you're standing in the sky!
Dinner:
The brand new City Winery in Chicago's trendy West Loop dining district is mix of fine wines, music and culinary arts all under one roof; a fresh approach to dinner theatre. It's the brainchild of Michael Dorf, founder of The Knitting Factory, one New York's longest running music venues.
Alternatively treat yourself to a fine dining experience at Chef Anthony Martin's Tru which offers a $98 prix-fixe menu featuring an array of mainly fish specialties.
Nightlife:
Up for some late-night comedy? The Second City is an improv comedy club and the training ground for Mike Myers, John Belushi, Tina Fey, Steve Carell and Bill Murray to name just a few.
This is just snapshot of what Chicago has to offer. As Michael Douglas once said "Hollywood is hype, New York is talk, Chicago just works."
For more information visit www.choosechicago.com.
By Andy Mossack
Follow us @travelbite
---