The Hungarian capital of Budapest is a fascinating city. It welcomes millions of primarily European visitors each year. The main tourist season runs from April to October. However, the city's hot selling points continue to attract a growing number of guests outside of these times too. Aside from being Hungary's most popular destination by far, it is also among the most visited spots in the EU too.
Budapest is a brilliant destination for families, backpackers, and couples. Meanwhile, its position of power in business and stock exchange markets make it a commonplace for commercial visits. So, if you're planning to take a trip, here's what you need to know about staying in the famous city.
The Basics Of Budapest
Budapest is located towards the northern central region of Hungary. The city accounts for roughly one-third of the country's entire population. It is a fascinating capital, and its name derives from the fact it connects the hills of Buda with the flat terrains of Pest. The Chain Bridge, which was built in the 19th century, is what links the two areas to create the capital city.
Despite being in the EU, Hungary still uses the Hungarian forint as its currency. While talks to adopt the Euro started nearly 15 years ago, there is no date for that change to happen. As the country's main city, though, finding places to exchange Euros, US dollars, and British pounds isn't tough. Alternatively, ATMs are pretty commonplace.
Budapest falls into the Central European Time Zone while Hungarian is its only official language. But with nearly one in five Hungarians speaking English (that rate is even higher in Budapest) you should be able to get around with relative ease. Alternatively, if you can speak German than this should come in useful too.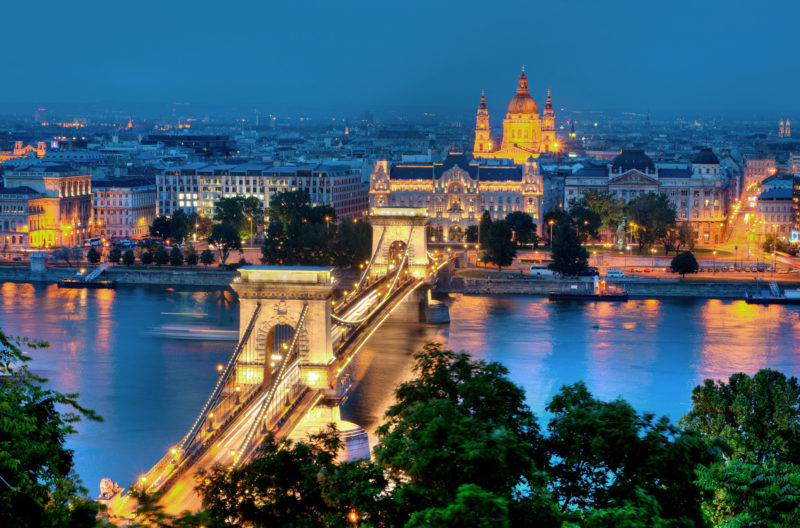 Getting To Budapest
While non-commercial airports exist, Budapest's international tourism is served by one airport. Budapest Ferenc Liszt International Airport primarily handles European flights. But it does fly to/from parts of Africa and North America too.
BUD is located 10 miles from the city centre, towards the southeast. The most comfortable way to travel from Budapest airport to city centre is via taxi. Bus shuttles are another option but will take a lot more time while train services are probably more hassle than they are worth. Private care hires are an alternative idea. However, given the city's quality internal transport facilities, it would be a waste.
Aviation isn't the only option. Many mainland Europeans actually arrive in Budapest via car while train links to Austria and Slovakia are also pretty good. So, if you are taking in Budapest as part of a tour, it's worth taking this factor into account.
City Travel
As a city comprised of two parts in Buda and Pest, you would be forgiven for thinking that getting around would be difficult. However, the public transport facilities are among the most advanced in Europe.
A network of trams, buses, and underground metro lines all operate under the Centre for Budapest Transport. This offers quick access to all corners of the capital. The company also provides day tickets that can be used across multiple transport types. Meanwhile, taxis and bicycle hiring offer alternative options at ground level.
The river Danube isn't traditionally used for transport within the city. However, passenger boat rides and cruises do offer a fantastic activity for seeing both sides of the city like never before. Alternatively, private helicopter rides offer a panoramic view of a truly incredible city too.
What To Do
Good travel links are only worthwhile when there's something worth seeing at the end of the journey. Budapest boasts a varied and vibrant nightlife. Whether you wish to catch a show at the Erkel Theatre (or one of the others) or hit the town's clubs is up to you. Either way, you will not get bored with those offerings. The city also boasts three fantastic casinos and Kincse racetrack.
Budapest boasts a rich history in the realms of sport, music, and fashion too. Given that those aspects of life are constantly changing, you'll have to conduct further research closer to your trip. Still, these environments are sure to provide plenty of entertainment.
The Hungarian capital also boasts a lot of historical significance, not least due to its role in the Austro-Hungarian Empire. However, it's Celtic and Roman influences are also visible. This manifest itself most evidently through an array of wonderful architecture. The parliament buildings are sure to impress any visitor while Matthias Church and other important buildings are a joy to behold.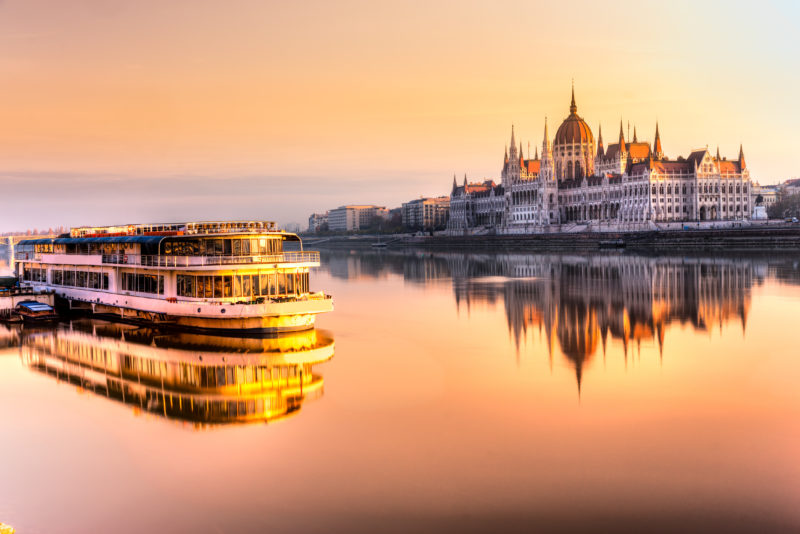 Budapest also pays homage to pivotal moments in history. From Heroes' Square to the Holocaust Memorial, there's a fantastic chance to learn and reflect while enjoying the delights of the capital. Meanwhile, an afternoon at Fisherman's Bastion is a must for anyone that loves history, architecture, or stunning sceneries.
It's not all about historical landmarks, though. The chocolate museum is just one example of Budapest's fun side. A plethora of aquariums, national parks, and activities are sure to keep everyone from children to grandparents happy. Equally great family adventures await at Aquaworld waterpark and Vidam's theme park.
For those simply seeking a little relaxation during their stay, the city's spa tours at Gellert and Szechenyi Baths are ideal solutions. Budapest is a city blessed with wonderful culture, history, and entertainment. Regardless of what you want from a short stay or the duration of it, there should be no problem filling your time in a productive fashion.
Where To Stay
The first major dilemma is whether to stay in the hilly Buda or the flat Pest. The flat side is probably better for those wanting to enjoy the busy nightlife. Conversely, those wanting picturesque views will prefer the hills. Moreover, you'll want to consider practical features such as physical limitations. Either way, it's important to remember that the attractions are split across the two sides of the river.
There is a range of great places to stay on either side. Whether it's five-star luxury or a cheap and cheerful B&B is up to you. Meanwhile, private apartments are another option to consider. When doing your research, it's worth looking at hiring homes through the appropriate agents. Either way, booking solo is often advised over using a travel agent.
Those who wish to play it safe will stick to chains like Ibis. However, there's no doubt that Budapest is a city decorated with quaint and unique accommodation also. Frankly, only you know what type of place you'll prefer. As long as you consider all elements, you should have very little hassle.
Where To Eat   
As a major city, it's hardly surprising to learn about Budapest's array of franchised restaurants and fast food joints. While they can serve a purpose when you are on the go, it would be a shame to miss out on the delicacies of Hungary.
Goulash is the national dish. Even if you've tried it in other parts of eastern Europe, a stay in Budapest isn't complete without trying this dish at a local restaurant. Fine dining can include caviar in simply stunning surroundings fit for an important business district. However, there are wonderful options for people of all budgets and taste preferences. Szimpla Kert is one that's always worth a visit.
As far as treats are concerned, Langos should be top of the agenda. However, Budapest is also known for Dobos torta sponge cake too. If you have a sweet tooth, you'll be in Hungarian heaven.