Venice is a destination that oozes with picturesque scenes, culture and food to die for. Located in Northern Italy, Venice is made up by a group of over a hundred smaller islands that are connected by canals and bridges. It's a location renowned for its architecture and parts of the city are listed as heritage sites. Venice is a brilliant holiday location for a number of different reasons.
It looks and feels as you would expect. Venice is a city that is well-known for its picturesque scenery and beautiful architecture. It's a city that has been mostly left untouched, and you can experience the beauty of it all with your own two eyes.
Explore the canals up close. The canals are what makes Venice unique. They separate the cities and are as common as the roads themselves. This makes Venice special because you traverse it differently, and it's common to see locals take life a little slower because of it.
Famous locations all over the city. With popular movie locations and hundreds of tourist attractions, there's no shortage of unique destinations to visit.
Venice is slowly sinking. Although we probably won't see it disappear in our lifetime, Venice is slowly sinking a couple of millimetres per year which leads to increased flooding and high tides. If you want to experience Venice before the water ruins it, then you'd better book your flights soon!
Suitable for backpackers and budget travellers. Venice is friendly for budget travellers and backpackers thanks to the value you can find. While it's not the cheapest place to visit in Italy, it's far from the most expensive and there are plenty of cheap rooms and budget eats to indulge in.
Extensive transport to help you get around. Venice is a one-of-a-kind city that has a unique transportation system. Although there are usual buses and taxis, you'll find that getting around on the water is actually one of the most unique aspects of Venice. Travel can get expensive, so try and book passes that last several days, or choose to walk and enjoy the sights as you explore.
Perfect for people that love to explore. If you love to head out into the great outdoors, then Venice is the place for you. Between all the museums and cultural destinations to visit, Venice offers countless destinations that you can visit on foot.
Gondola tours. One of the best ways to experience Venice is on the water, and there's no better way to traverse it than in style on a gondola. Be prepared to fork out a lot of cash for a premium gondola tour in Venice, however, because it's one of the most popular attractions of the city.
Enjoy true Venetian cuisine. Venice is surrounded by water which gives it a unique culinary background. There are plenty of Italian dishes, but they're fused with the freshwater fish that you can get in Venice. If you're a demanding foodie, then Venice will satisfy your adventurous taste buds and leave you salivating for more.
Amazing arts scene. Venice has a bustling arts scene thanks to its history. You'll be able to visit plenty of museums and galleries that showcase some of the world's most interesting displays of contemporary art.
Gelato. Gelato is famous all across Italy, but some of the best is arguably from a tiny outlet located in Venice: the Boutique del Gelato. There are always huge crowds waiting to sample the delicious gelato, and it's well worth the wait if you want to try out their unique flavours.
Museums galore. The Peggy Guggenheim Collection, the Palazzo Grassi and the Ca' Pesaro Gallery of Modern Art are among some of the most famous museums that you'll find in Venice. There's no shortage of them and you'll be hard-pressed to visit them all within a single holiday.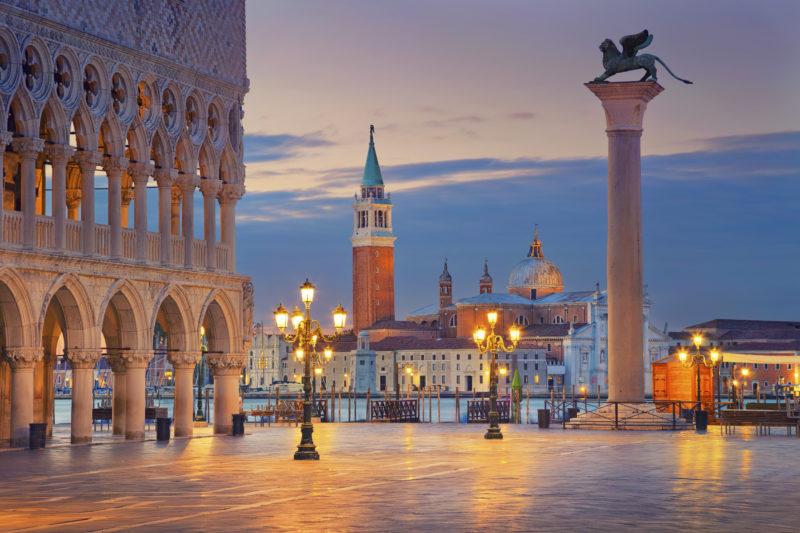 Travel Tips for Venice
The Best Time to Visit Venice
Venice is fantastic all-year round. The weather is great no matter when you go, and it doesn't affect the attractions that Venice has to offer. The only time you would plan for a certain timeframe is if there are exhibitions or festivals that you want to attend. If you prefer to avoid the crowds and hot weather, the avoid the summer months and visit during winter, spring or autumn instead. The winter can occasionally be quite chilly, so if you don't want to wrap yourself up in clothes, spring to autumn would be the best.
Traveling in Venice
Getting around Venice is made easy with the vaporetto, the name given to small passenger ferries that do the bulk of Venice's transportation. Rides can be fairly pricey if you only use them a couple of times, so it's much better to get an unlimited pass that lasts for the entire duration of your holiday. Passes are offered in 1, 2, 3 and 7-day varieties, so you may want to plan your stay accordingly. Alternatively, there are smaller public gondola services called Traghetto that is cheaper, but only offered in certain locations.
There are also private gondola services, but these are intended for tourism and not so much daily travel. Rates are usually calculated by time, and tips are expected by most operators. If you want to be serenaded, then it's going to cost you extra. Luckily, gondolas can carry multiple people, so you can split the savings with travel companions to make it more affordable. Lastly, there are water taxis. You can use a Venice airport water taxi service to get to and from Marco Polo, the main airport in Venice. It's arguably the most convenient way to get to your hotel, but water taxis can also be used for a variety of different transportation needs.
Other Various Tips
Venice is a city that is a far cry from what you're used to, so here are a few additional tips for newcomers:
Tap water is potable. Fresh potable water is available in a number of different places, so don't waste your cash on bottled water.
Cycling is banned in central Venice. Cycling is a great way to get around Venice, but it's banned in the central areas.
Toilets could surprise you. You might encounter toilets that are holes in the floor with places to put your feet. This usually isn't the case with hotels, but it could be a problem in local areas like bars.
Canals can be slippery. Watch your step when getting on and off water transportation, especially when there are high tides and heavy rain.
Venice is not childproof. Although Venice is a great family destination, you need to keep in mind that Venice is not childproof. There are few railings on canal banks and bridges, and many architectural landmarks will have dangerous-looking designs.
Things to Do in Venice
Venice Carnivals
Venice Carnivals are vibrant, colourful and fun events that take place 40 days before Easter. Don your very own mask, dance around, pose and take plenty of unique pictures to send back to relatives or to keep as memories of your time in Venice. It's a surreal event that highlights some of Venice's most unique aspects. It's not to be missed if you're visiting Venice during the spring season.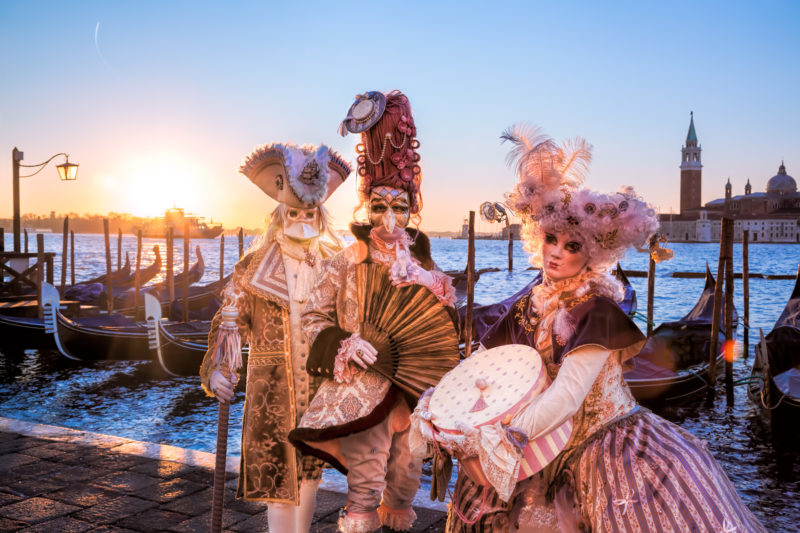 Basilica di San Marco
Saint Mark's Basilica is one of the most iconic destinations to visit in the whole of Venice. It's an elaborate church that contains a variety of different architectural styles and boasts beautiful mosaic designs all over. It doesn't cost anything to enter the church which makes it great for budget travellers. If you visit during the autumn season, you'll be offered free guided tours that explain some of the meanings behind the mosaics.
Gondola Rides
Gondolas are some of the most amazing attractions in the whole of Venice. You've probably seen them plenty of times in movies, but experiencing the real thing up-close is a far cry from the fictional depictions. Gondola rides will take you through the canals of Venice in style. It can be fairly expensive if you want a long Gondola tour and additional services such as singing and music playing will cost more, but Gondolas can fit several people which can reduce the overall cost per person.
Ponte di Rialto
The Rialto Bridge is one of four bridges that coverS the Grand Canal in Venice and it's the oldest bridge that allows passage over the canal. Many people consider this to be the true heart of Venice because it's an iconic landmark. Thanks to its beautiful design and central location, there's no excuse not to see it at least once before you leave vEnice.
Piazza San Marco
Also known as St Mark's Square, Piazza San Marco is the largest square in Venice and is the largest and emptiest plane of space you'll find in the city. Piazza San Marco is an iconic landmark and is regularly used as a meeting point for businesses and locals alike. It's surrounded by historic buildings, making it a great starting point for your day if you want to see as much of Venice's culture and tradition as possible. You can save a lot of time by purchasing a San Marco Square Pass which gives you access to a number of major locations around Piazza San Marco.
Teatro La Fenice
Teatro La Fenice is a famous opera house in Venice. It's another popular tourist destination because of its history of Italian theatre and it represents much of what opera today is built on. The modern aesthetic and beautifully complex designs make it a stunning sight to behold. For many tourists that come here for the first time, they'll be completely blown away by the sheer size of the opera house and how intricate the design is. If you have even the slightest interest in opera, then you owe it to yourself to visit Teatro La Fenice during your holiday to Venice.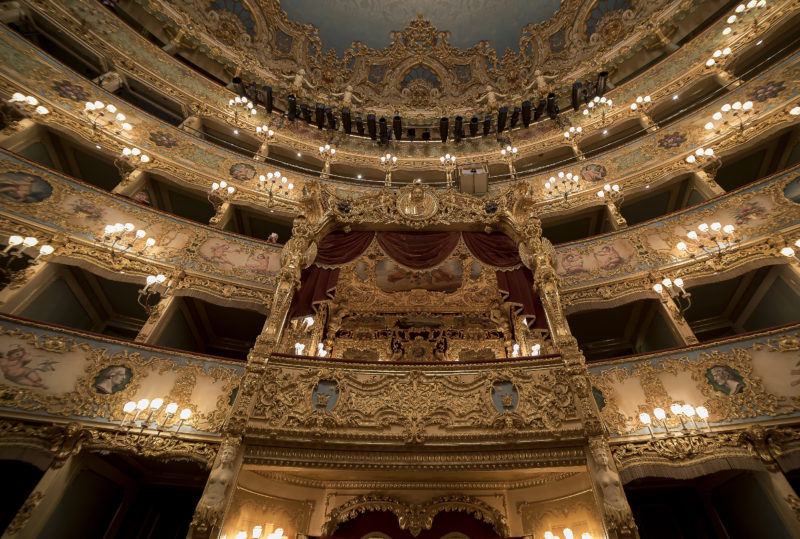 Doge's Palace
Also known as Palazzo Ducale, Doge's Palace is a gothic palace that is located in St Mark's Square. It's one of the main landmarks and tourist destinations of Venice, and it's regularly packed with visitors that are interested in its history. On a busy day, it will be jam-packed full of tourists and locals, making it difficult to get around and enjoy it to its fullest. It's best explored with a guide that can give you in-depth descriptions of everything inside. This will greatly enhance the experience and give you a much better understanding of the history of this beautiful palace.
Burano Island
Burano is one of the islands in Venice. Due to its close proximity to central Venice, it makes the perfect day trip if you're able to pull yourself away from all the sights and experiences you can get in the centre. Burano is yet another picturesque location of Venice that offers countless photograph and video opportunities, but not because of the old architecture. While the buildings are beautiful and there are still canals running through the island, it's unique because of the brightly coloured buildings. Its location makes it a culinary hotspot and you'll be served delicious meals straight from the waters of Venice. The seafood is incredibly fresh and almost every restaurant here is an experience worth travelling for.
Peggy Guggenheim Collection
Venice is filled with museums and galleries, but if you're interested in the arts then a trip to the Peggy Guggenheim Collection is not to be missed. It's a modern art museum that is filled with priceless pieces of artwork. It's one of the most important museums in the whole of Italy thanks to the amazing collection that Peggy Guggenheim amassed.
Just Explore
Venice is a city made to be traversed by explorers. At every turn, on every corner and across every bridge there is something waiting for you to discover. If you have a few spare days in Venice, spend them walking around and covering ground. You'll find countless hidden gems if you're willing to look, and there's no better way to experience Venice than to be free to roam the streets.