Amsterdam; one of Europe's most beautiful cities and a fantastic place to visit. It's the type of place you can go to for a short weekend break or a long two-week holiday. There is so much to enjoy in this fair city, so allow us to guide you through it all.
We've got tips, sightseeing advice, and even some help with getting around. Feast your eyes on all of this, right here:
Top Amsterdam Tourist Tips
Before we start detailing all the cool and fun things to do and see, it's important you learn a few vital tourist tips before your trip. They'll help keep you safe, as well as allowing you to get the most out of your stay in this beautiful city.
Watch out for pickpockets in Centraal station
Amsterdam's Centraal Station is one of the main public transport hubs in the city. No doubt you'll spend a lot of time here, but you must keep your wits about you. Pickpockets often roam the station, so ensure you always have hold of your possessions and never let your guard down.
Be aware of bike lanes
If you've ever done any research into Amsterdam, you'll know it's a city famous for a few things. There's the red light district, Dutch pancakes, waffles, and bikes! Yes, Amsterdam has a high concentration of cyclists and plenty of bike lanes to help them get around. Now, imagine everything that makes someone a bad cyclist, and you've pretty much summed up all the bike riders here! They rarely pay attention to the rules and will cycle down the wrong bike lanes without a care in the world. Loads of tourists get hurt in bike accidents, so be aware of any bike lanes and check both ways even if the lane states it's one-way.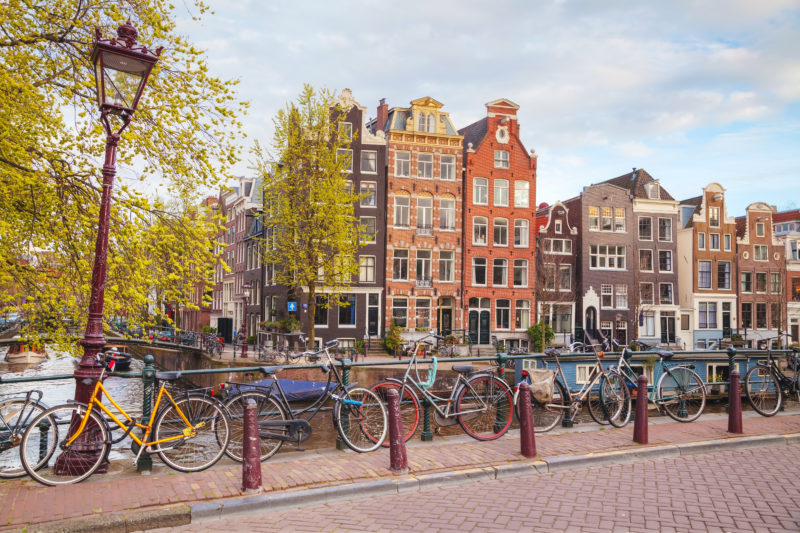 Bring mosquito repellent
Amsterdam is not somewhere you tend to go when you're looking for some sun and beaches. As such, you don't expect there to be mosquitos flying about in a relatively mild climate. However, there are loads of the little blighters, particularly during summer time. Our advice is to bring mosquito repellent, so you're not eaten alive.
Don't leave without trying local food (kroketten)
If there's one tourist tip I value above all else, it's this one. Food is always a fun thing to try when you go abroad, and Amsterdam is home to some amazing Dutch dishes. We suggest you try kroketten, which is Dutch for croquettes – they're unlike anything you've ever tasted. Also, make sure you double check the ingredients when buying any baked goods from a shop here!
Avoid taking photos in the red light district
The red light district has become an iconic part of Amsterdam. It's somewhere everyone wants to go, just to have a look around. One tip here is to avoid taking photos in this area of the city. You can take some of the main street areas, but don't try taking any of shop windows, etc. It's a surefire way to attract attention from some burly security guards.
Top Things To Do And See In Amsterdam
Here, we have everyone's favourite travel guide section; what are the best things to see and do? We've got plenty of suggestions, take your pick, or try and tick each one off your travel itinerary!
Anne Frank's House
It's a travesty if you come to Amsterdam and don't take the time to visit Anne Frank's house. This is probably the most iconic thing in a city full of iconic things. Everyone knows the story of Anne Frank, and it's incredibly poignant going to the place where everything actually happened. There's a museum there now, detailing different information about World War 2 and the struggles the family went through. Even if you're not a history buff, you have to go here.
Museumplein
Museumplein is a large public space located in one of Amsterdams most arty districts. As the name suggests, it's home to plenty of museums. The whole area has undergone major developments to make it a place of cultural wonder. There's the legendary Rijksmuseum which is home to loads of great exhibits and a plethora of art. Close by you will find the Van Gogh Museum that showcases some iconic work from Amsterdam's most famous artist of all time. You'll find a few other museums dotted nearby too, as well as a large open space to walk around and enjoy. Come here during the winter, and you'll even be treated to an ice rink!
Amsterdam's Canals
Some say you cannot leave Amsterdam without taking a tour around the many canals throughout the city. There are boats offering tours all over the place; it's a really good way of seeing more of the city at a nice slow pace. If you want, you can even rent a pedal boat and steer your own way around these delightful waterways.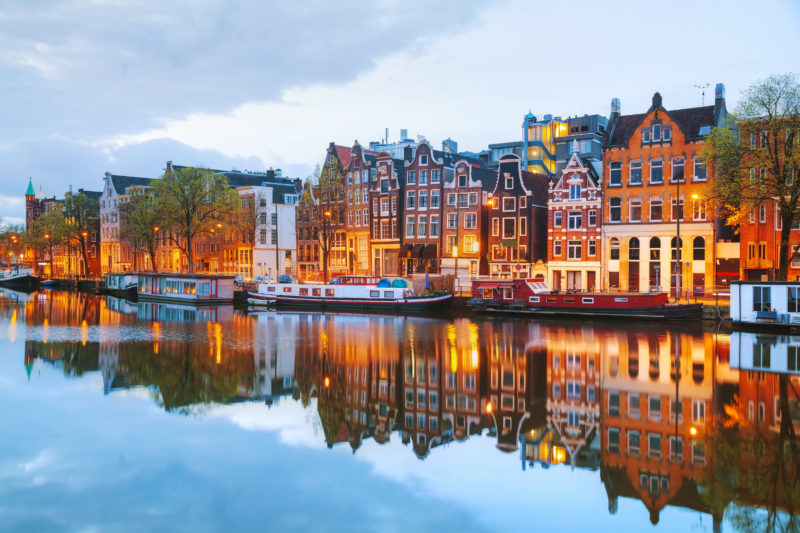 Red Light District
We mentioned it earlier, and the Red Light District has to feature on this list of things to do and see in Amsterdam. It's gained a fairly bad reputation – for quite obvious reasons – but it's nowhere near as bad as you think. It's become a place tourists go to just look around and laugh at how extraordinary it is. To be honest, you can't not go here, even if it's just for ten seconds to see one of the most historic places in all of Western Europe.
Jordaan
Towards the centre of Amsterdam, you'll find a quaint little neighbourhood known as Jordaan. From humble beginnings this area has worked, it's way to the top of every tourist's 'must-see' list. It's packed full of artsy culture, with loads of independent hipster shops and coffee houses for you to enjoy. Not to mention the fact all the houses look cute, and the architecture is phenomenal. It's somewhere you can go to just get lost in the city and really get a feel for the roots of Amsterdam.
Transport Options In Amsterdam
One of the main transport options in Amsterdam is a bike. You can rent one and use it to get around the city without having to pay for any public transport. We recommend this, but be wary of other cyclists and pedestrians!
As far as public transport goes, there's a complete network of trams, buses, trains, and a metro system. Everything can be paid for using an OV-chipkaart, which is their card system for loading up credit. You can also purchase a range of different tickets lasting from one day to one week.
What transport options are there to get from Amsterdam airport to city centre, and vice versa? You'll be pleased to know there's a train that runs directly from Centraal Station to Schiphol International airport. This is by far your easiest and fastest option, the train is available every 15 minutes or so, and you can get it from 6 am to 1 am.
There are also airport taxi services as well as Airport Shuttles that can take you to one of the many hotels throughout the city. The shuttles run every ten minutes or so, and are easily signposted in the airport. Regardless of your choice of transport, we recommend booking in advance to avoid the rush.
You won't regret your decision to choose Amsterdam as your next travel location. There's almost too much to see and do here; it will definitely require a follow-up trip! Use this guide to help plan your trip, so you're more organised, safe, and get to experience all the great things this city has to offer.