If you like the idea of a cruise but want to take charge of where you sail and where you stop, then a self-drive boating holiday from Le Boat may well be for you. Le Boat is the (biggest) No 1 boating holiday company in Europe and offers a wide range of self-drive cruising breaks in a variety of destinations between March and October. Its fleet ranges from affordable and traditional boats to those with a more luxurious feel, catering for all budgets in the process. Anyone over the age of 18 can drive a boat, whether you've done it before or are completely new to the boating holiday experience.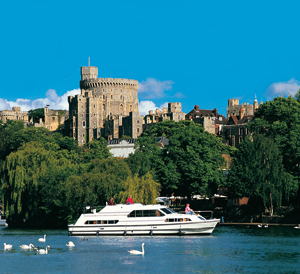 Boating holidays for beginners
So what do boating holidays actually involve? You hire a boat directly from Le Boat and step aboard at one of the company's bases in the regions it offers holidays in. Then you will receive a thorough briefing on how to operate your vessel before you take to the waterways of your chosen destination for the holiday of a lifetime! It's as simple as that – and with Le Boat offering comprehensive customer service, help is never far away should you run into any problems. Boats are available in a range of sizes, making Le Boat's holidays perfect for all kinds of travelling parties, whether you're heading off on a family holiday, a large group trip or romantic trips for two. Le Boat's getaways cover a number of European destinations, including England, Scotland, Ireland, France, Italy, Belgium, Holland and Germany. So whether you want to take to the canals, rivers and lakes on your doorstep or the more exotic waterways of continental Europe, Le Boat likely has the holiday for you.
Types of boating holidays
Le Boat's offerings cover a wide range of boating holiday activities, meaning that there is something for everyone. Just a few examples include family-friendly boating holidays where the cruising route is dotted with attractions like museums, fun parks, outdoor swimming pools and more besides, as well as historic sights such as castles and other fascinating old buildings. If you're heading on an active boating holiday, there's plenty of scope to indulge your love of fishing, golf, water sports, cycling, horse riding and other pursuits along the waterways. History buffs will be able to cruise along routes well-known for their heritage attractions – imagine heading to Venice to take in some of the finest examples of Italian Renaissance architecture and art, or seeing France's spectacular castles and palaces, such as, the famous Carcassonne. If you're keen to soak up new cultures and experiences, cosmopolitan hotspots such as Berlin could be ideal. Meanwhile, lovers of all things edible will be interested in the possibility of taking gastronomy-themed boating holidays in delicious destinations. Why not sample Brittany's crepes and cider, or perhaps sail through Aquitane stopping off to try the local delicacy Foie Gras? You can take cruises that specifically take in food-related attractions like markets, top restaurants and farms, ensuring that you have a particularly tasty boating holiday!
The boats
When it comes to the boats themselves, you're sure to be more than pleased with Le Boat's offerings. The company has more than 1,000 boats, with around 50 models in total to choose from. It builds, operates and maintains its own fleet. If you opt for one of Le Boat's range, you can expect sleek, contemporary cruisers boasting a front fore-cabin and a large central saloon area, as well as upper or rear sundecks with fixed seating. Alternative boats are built in a more traditional style and include two main models: Flybridge and Sliding Roof. The former offers the entire roof space for seating and outdoor entertainment, while the latter features a movable roof that slides back over the saloon area. Le Boat gives an anchor rating of between two and five to each boat to offer an idea of how affordable or luxurious the vessels are. Boats with a two-anchor rating are ideal for those on a small budget, as they are the cheapest to hire whilst offering all of the basic functionality you might need. The more anchors a boat has, the more features and space it boasts.
Boating holidays with Le Boat
Whatever type of boating holiday you're looking for, Le Boat may well have the getaway for you. With a wide range of breaks and boats to choose from as well as a host of boating holiday offers, you're sure to find the perfect cruise and ideal short break at the best price for you.
---