Boating holidays in Scotland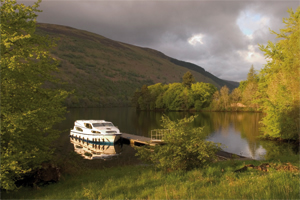 If you have never taken to Britain's inland waterways then it could be time for you to consider booking one of the many boating holidays that Le Boat has to offer.
With numerous boating holiday destinations around the UK and in Europe to choose from, you are guaranteed to find something which takes your fancy, whether it is a cultured break travelling between cities or a journey to take in some natural spectacles.
And you don't need to look far from home to find some fantastic locations for boating holidays, thanks to Le Boat's range of British trips.
Head for the highlands on Scotland boating holidays
Scotland may not be the first place you think of when you conjure up images of a leisurely trip along canals and rivers but the country boasts some of the most spectacular riverside scenery in northern Europe.
With the Caledonian Canal running from Inverness all the way down to Fort William, you have a whole host of different options when it comes to selecting boating holidays in Scotland.
You can choose to follow this feat of human engineering the length of the Great Glen or simply pick a section of the route which appeals to you. Along the way you can be sure that you will travel through some stunning scenery, from rolling mountains and hills to some of Scotland's most famous lochs.
If you decide to navigate the full length of the Caledonian Canal on your Scotland boating holidays then you will travel 60 miles along a combination of man-made and natural waterways.
One of the four lochs you will need to float across during your journey is Loch Ness, home to the mythical underwater creature, so be sure to keep your eyes open for anything unusual breaking the surface of the water!
The Caledonian Canal – a feat of engineering
Constructed in the 19th century, the canal took 17 years to complete, before undergoing a further three years of construction to make it what it is today.
Traversing Scotland and negotiating its mountainous terrain was a challenge at the time and one which is no less impressive today.
Featuring 29 locks along its route, you will be able to get a sense of the enormity of the task faced by the engineers more than 150 years ago as you travel the length of the Caledonian Canal as part of your boating holiday in Scotland.
There are plenty of places to stop off along the way, with Fort Augustus providing an excellent vantage point from which to see the canal and its locks in action.
Fort Augustus will also offer you an opportunity to find out more about Highland culture if you visit the Clansman Centre.
This museum features living shows about how people lived, as well as demonstrations of clan weaponry.
If you want to find out more about the stunning waterway along which you are travelling during your boating holiday then a visit to the Caledonian Canal Visitor Centre could be in order.
Other attractions on the Caledonian Canal
The spectacular scenery that lines the Caledonian Canal cannot be missed during a boating holiday in Scotland and one of the most impressive sights along the route could be the view of Ben Nevis' north face, with its imposing 2,000 foot-high cliffs.
If you are travelling with children who are fans of teenage wizard Harry Potter then a stop off in Fort William and a trip on the West Highland Railway could be an essential part of any boating holidays in the region.
This famous train journey was featured as part of the route to Hogwarts in the recent films and in 2009, it was voted the top railway journey in the world by readers of Wanderlust travel magazine. Crossing the viaduct that consists of 21 arches is undoubtedly the highlight of this railway trip and will surely provide a whole host of unforgettable memories of your boating holiday in Scotland.
Alternative Scottish canals to explore
If you thought that your choice of boating holidays in Scotland was restricted to the Caledonian Canal then think again!
There are a number of different waterway networks around the country which you could choose to explore as part of your Scotland boating holidays. Among them are the Crinan Canal – which joins Loch Fyne to the Sound of Jura – the Forth and Clyde Canal – which will take you from Clyde through Glasgow and on to the Grangemouth and the Forth – and the Union Canal, which will take you into the heart of Edinburgh via the Falkirk Wheel.
If you don't know where to begin when booking boating holidays in Scotland from Le Boat then take a look at our suggested routes. You can always contact us for further advice if you are still having difficulty making your mind up between the range of Scotland boating holidays Le Boat offers.
So, whether you want nature, culture or fantastic scenery, boating holidays in Scotland from Le Boat tick all the boxes.
---