Boating holidays in Ireland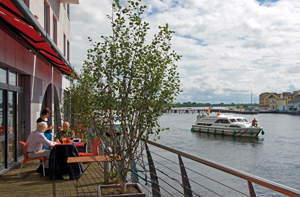 If you are new to boating holidays and want to explore somewhere without going too far from home then Ireland is a perfect place to begin and Le Boat can help you pick the break that best meets your needs.
One of the premier boating holiday destinations in Europe, it offers spectacular scenery, friendly locals and a host of cultural cities just waiting to be discovered.
The canals and rivers around the country are set up for cruises, with a system of sophisticated locks and hundreds of moorings making it really easy to get started, so with a helping hand from Le Boat, you'll be on your way in no time.
Taking your first boating holiday in Ireland
But where do you start if you've never taken a boating holiday before?
Well, Ireland is the ideal spot for beginners. As with all of Le Boat's holidays, we'll give you all the information and instruction you need to be confident manoeuvring the boat along the waterways ahead of you and the large lakes in Ireland are a good place to get to grips with your new skills.
The rivers Shannon and Erne are well-frequented by boating enthusiasts and no wonder!
Surrounded by beautiful countryside, quaint villages and punctuated by calm lakes, they are a great place to get a feel for life on the water.
Boating holidays in Ireland generally take a very leisurely pace and where you go and what you see is entirely up to you!
Here at Le Boat, we can help you plan a route and offer advice about the best places to stop off along the way or you can just sit back, relax and see where the water takes you.
One option is to travel the length of the longest inland cruising system in Europe or you can pick a section that particularly appeals and potter about at your own speed.
One thing is for sure, whichever you select, you'll have a great time exploring the Emerald Isle.
Highlights of the River Shannon
With the River Shannon running through four counties, Ireland boat holidays which track this waterway will provide you with plenty to see and do.
Among the attractions waiting to be discovered in the Shannon region are the Cliffs of Moher, which are found on the Atlantic coast of Clare. These cliffs are 214 metres tall and stretch for eight kilometres. Although you won't be able to take your boat out into the ocean, they are well worth a visit from the land.
Moor your boat up at one of the many villages which are dotted along the banks of the river and take a day trip to see the spectacular seaside landscape for yourself.
One attraction which is further inland is the Portumna National Park. Located in County Galway, it's the ideal place to visit if you want to experience some of Ireland's heritage during your boating holiday.
The Portumna castle and gardens date back to the 17th century and the ground floor of this impressive building is open to the public. As well as exploring the castle's interior, you should also spend some time wandering around its gardens. These range from a geometrically-designed garden to the north of the property to a recently restored 17th century walled kitchen garden.
Surrounding the historic building is the Portumna Forest Park and the town itself will provide an interesting diversion for an afternoon.
Explore the lakes on an Ireland boat holiday
If you want to take a leisurely pace on your boating holiday in Ireland then you may be content to explore one of the lakes – or loughs – that are easily accessible from the River Shannon.
Angling is a popular pastime on these calm waters so why not hire a dinghy and leave your boat for a peaceful afternoon of fishing and see if you can hook yourself a perch, salmon or even pike!
If you want to spend a bit more time on dry land then much of the area around this part of Ireland is ideal for hiking. With lush green hills, forests and historic ruins to be explored, you can spend a day happily walking through the countryside before returning to your boat and settling down for a relaxing evening and a good meal.
Any boat holiday to Ireland would not be complete without a visit to at least one of Ireland's many country pubs, where as well as getting to know the friendly locals, you can sample a pint of Guinness.
So, if you think that you could get used to spending a week or two on the water then take a look at Le Boat's wide range of Irish boating holiday options.
With help on hand to make sure you get the most out of your Le Boat break, you're sure to have a wonderful holiday and return relaxed and refreshed, ready to set sail on another boating holiday as soon as you get back on dry land!
---