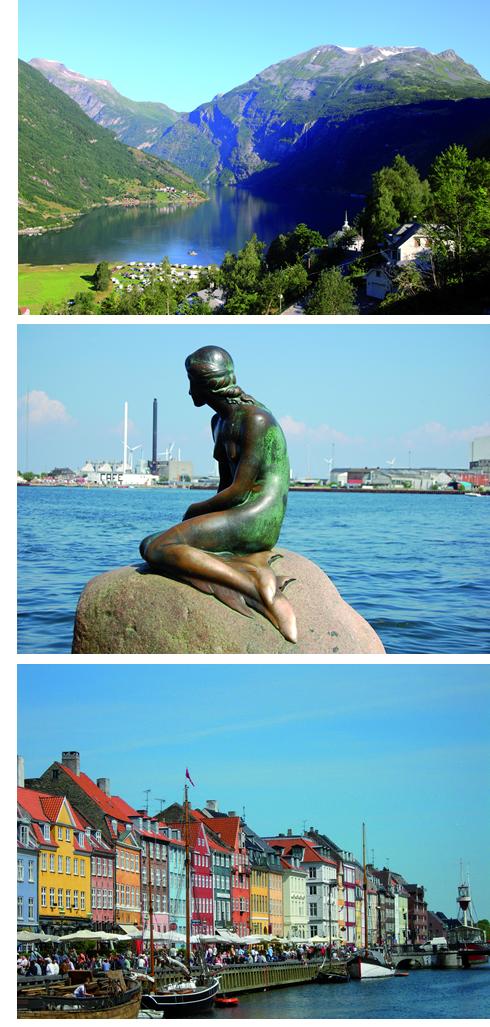 From fascinating, prehistoric cultures to modern, vibrant cities, Baltic cruises provide numerous opportunities for interesting and fascinating adventures.
Whatever the itinerary, cruisers will find a diversity of activities and sights within short distances, with striking contrasts of modern architecture alongside medieval city centres.
Outside the cities, the view varies from rolling hills to dramatic cliffs and endless archipelagos.
Along the Baltic Sea coastline the nationalities, traditions and customs change from country to country and port to port, but the people inhabiting this region display a friendly hospitality towards all guests visiting their countries.
With an increased number of cruise lines offering Baltic Sea itineraries and a massive growth in cruise passengers, the Baltic Sea Region is now one of the fastest growing and most popular cruise destinations in the world.
There aren't many cruise regions which can offer such diversity and opportunity for an enriching cruise experience, with average summer temperatures of 20-25°C, English is widely spoken and understood and a strong infrastructure to support the cruiselines.
Most of the Baltic Sea ports are close to the city centres and main attractions which makes shore excursions a pleasure.
Travellers should consider a cruise in this region if they are looking for spectacular nature, the contrasts of ancient and modern culture, mouth watering cuisine and an unlimited choice of activities.
The geographical and historical relationship between the countries in the Baltic Sea Region makes a cruise holiday here a fascinating journey in the footsteps of vikings, knights, crusaders and merchants.
And recent history is no less interesting – in every port there are plentiful sights and adventures to enjoy.
The region enjoys long summer days where the sun only sets for a few hours and in the early spring and autumn it is possible to experience one of nature's more spectacular phenomena, the northern lights. If you are fortunate enough to catch a glimpse of the flickering curtains of dancing light across the sky, you are witnessing a fantastic sight.
The Baltic Sea Region has given us some of the world's greatest architects and designers who's design is evident in city centres, museums and galleries. The characteristic modernistic style, known as Scandinavian Modern, has been a huge inspiration to designers and architects all over the world.
In all the big cities you'll find furniture and design shops where last century's classics stand next to the classics of the future.
If you want to take a day out of town on a shore excursion, you'll find a variety of golf courses, mountain bike tracks and hiking trails and your cruiseline will be able to suggest countless activities to enjoy.
However, if travellers just want to relax, there are numerous outdoor cafés and restaurants to be found everywhere in the region and at every port of call.
On a Baltic Cruise, time should be scheduled to indulge in some shopping and also the regions' delicious gastronomy including traditional specialties such as smorgas, schnapps, game, pickled herring and borscht.
Cruisers will also find trendy, experimental eating places, ethnic restaurants and Michelin-starred restaurants with internationally renowned chefs.
A Baltic cruise is an ideal way to explore this fascinating and increasingly popular region. With many different itineraries on offer from several cruise lines, cruise passengers are almost spoilt for choice when selecting their holiday.
Travellers considering a cruise in this region should contact a cruise specialist, travel agent or cruiseline to ensure the best possible itinerary for their requirements.
---