Barcelona is one of the most popular destinations to visit in Europe. Many people think of it as the ultimate party destination thanks to its nightlife and beaches, but it's also a place to explore history, art and to also give your taste buds a good workout.
Exciting bike tours. One of the best ways to get around Barcelona is via bike, and there are plenty of tour guides that offer guided bike tours to give you a rundown on the main attractions and landmarks in Barcelona.
A city oozing with art. Many of the monuments in Barcelona are designed by Antoni Gaudi, a popular artist that was born in Reus in Spain. Gaudi was an architect that played a huge part in the growth of Barcelona. The Casa Vicens, Parc Guell and Palau Guell were all designed by Gaudi. If you've got a keen eye for art, then you will quickly be able to identify more Gaudi buildings by simply walking around.
Bustling nightlife. Barcelona is a hotspot for partygoers. If you can't resist jumping into a club late at night and partying till the early morning, then Barcelona is a place you do not want to miss. Although it may lack some diversity compared to London or Berlin, it still packs a lot of excitement that has to be experienced.
Fantastic weather. Of course, we can't forget about the weather in Barcelona. The summers are scorching hot, making it perfect to take a swim or relax on the beach.
Golden beaches. As a city on the edge of the sea, there's no shortage of coastline that touches the crystal blue waters. With warm sands, a shining sun and gentle waves, could you ask for more for a beach holiday?
Soccer hotspot. Love soccer? Then you don't want to miss out on watching the games here. Barcelona's home team is incredibly popular and successful, currently sitting at the top of the La Liga standings. You'll get to watch plenty of games during your stay (as long as it's during the season) and you'll be hard-pressed to find someone a local doesn't enjoy a good game of soccer.
Delicious food. The Mediterranean diet is one that includes a lot of vegetables, seafood and olive oil. Whether it's fresh seafood plucked straight from the waters or fresh vegetables that were grown on the soil you're walking on, Barcelona has a thriving foodie community that is becoming a huge hit with tourists.
Popular fashion destination. If you've got an interest in fashion, then you'll be glad to hear that Barcelona is still a popular fashion destination.
A shopper's paradise. Thanks to the bustling fashion scene in Barcelona, there are plenty of big-name brands that operate in Barcelona. Whether it's clothes, electronics or even art that you want to purchase, you'll find it in Barcelona's markets and malls.
Activities no matter where you go. Barcelona is a city that is filled with countless activities. No matter where you go, no matter what time it is, there's always something to do and enjoy in Barcelona.
Varied entertainment. One moment you could be on the beach enjoying a drink and soaking in the sun, and the next you'll be touring a local museum to learn about the history of Barcelona. There's varied entertainment in Barcelona, and you'll find it difficult to choose where to go.
Contemporary art. Barcelona has a thriving contemporary art scene thanks to artists like Salvador Dali that have boosted the city's reputation as an artistic one. The contemporary art scene is solid here and there are many reputable museums and galleries for you to visit. But in addition to the luxurious museums, there's also a thriving street art scene that has attracted people all over the world.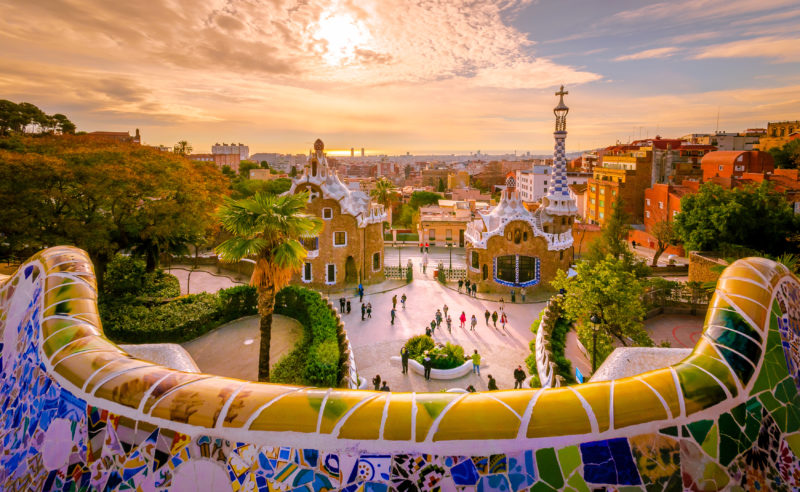 Survival Tips to Help You Enjoy Barcelona
Arriving in Barcelona
In most cases, you'll arrive at El Prat Airport which is one of the main airports for Barcelona. You may want to consider Barcelona airport transfers to the city when you arrive. There will be customer service desks where you can hire a taxi to travel to your chosen accommodation, but you could also take the bus from the airport terminal. If you're using a budget airline, then you will likely end up in Girona-Costa Brava airport or Reus airport.
Transport Options
Once you've arrived at your hotel or accommodation of choice, you'll be greeted with many different options for getting around Barcelona. To start, the metro is perhaps the most convenient option that runs until midnight. You can purchase passes that have a certain amount of uses, and it's fairly cheap to use the metro in conjunction with walking to get around. If you prefer a more scenic route, then there are buses that will be handy for people that want to explore the sights and sounds of Barcelona. If you prefer a private transport option, then consider riding a taxi to your destination. Bicycle hire is always common and there are plenty of bike lanes around the city that make it safe. You can even take your bike onto a train to mix the two together. Alternatively, you could always walk around on foot.
Free WiFi
Barcelona contains over 400 free WiFi access spots, making it simple for you to stay connected and get free internet access to look for new places to visit or to help you find your way around town. Simply look for the big blue W sign and, assuming you're within range, connect to the WiFi hotspot and you'll have internet access. Keep in mind that the public WiFi spots usually close after 10:00 pm.
Petty Crime
Although violent crimes aren't common in Barcelona, petty crimes like stolen goods and pickpocketing are common thanks to Barcelona's reputation as a popular tourist destination. Keep your belongings safe and don't take any risks when lugging your bags around to find your hotel.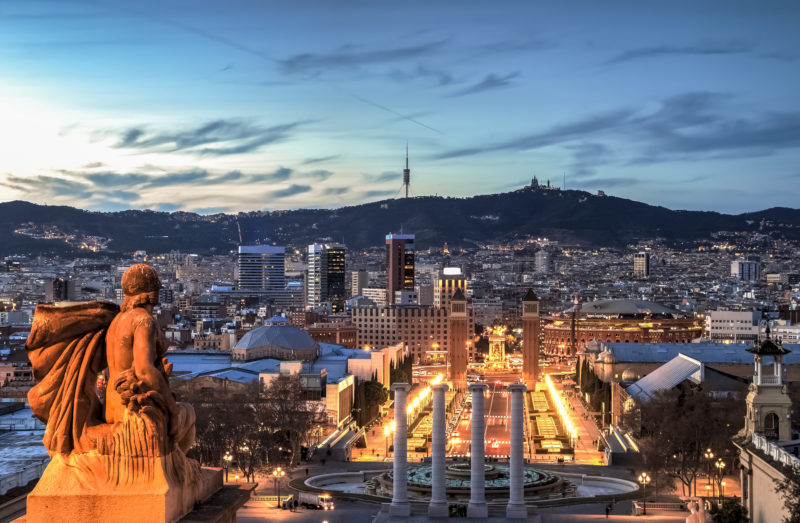 Things to Do in Barcelona
Las Ramblas
Las Ramblas is the name given to a street in Barcelona. It's directly in the centre of the city, meaning it gets plenty of attention both tourists and locals. The draw to Las Ramblas is that it has a reputation of housing some of the most amazing stores and attractions that you can find in the whole of Barcelona. To make exploring Las Ramblas a little easier, here are some of the most popular attractions.
La Boqueria – La Boqueria is a huge market with plenty of stalls that sell some of the freshest fruits, vegetables, seafood and snacks that you'll find in Barcelona. It's a popular destination for the locals to get their ingredients from, but there are also some food stalls and tasting opportunities to bed had if you're feeling adventurous. This is a fantastic place to start your journey in Barcelona.
The Miro Mural – This beautiful mural was designed and made by Joan Miro directly onto the street. It's a beautiful piece of art that many of the locals simply walk past because they're so used to seeing it. However, for a tourist, it's a beautiful sight that demands your attention.
Bike Rental – Las Ramblas can be explored on both foot and bike. If you want to cover more ground, then consider renting a bike to make it a little more relaxing and to save your feet. Just be careful that you don't bump into anyone.
Human Statues – Some may find them eerie, others will call them fascinating. Whatever your opinion on them, there's no denying that street performers add a touristy touch to Las Ramblas and make it feel much more lively. If you're impressed, then feel free to throw some coins into their boxes as a token of appreciation or a sign of respect for their craft. There are other stress performers, but human statues are the most common.
Theater Shows – Liceu Theater is located in Las Ramblas and offers plenty of live performances. Like any theatre, the choice on offer will change often so it's a good idea to book your tickets in advance.
Museu Picasso
Pablo Picasso is one of the most famous names that you'll ever hear when it comes to art. This young genius created thousands of works that have been immortalized in this iconic art gallery. With over 4,200 works in this museum alone, there's no shortage of wonders to discover and there are plenty of learning opportunities for you to discover more about Picasso's relationship with Barcelona.
Palau de la Musica Catalana
If it's music and concerts you love, then don't miss out on the Palau de la Musica Catalana. The schedule is constantly changing, so make sure you check the website for information on who is performing and when to help you plan a fantastic trip to this heritage site.
Camp Nou Stadium
As mentioned before, Barcelona is one of the most popular destinations for soccer fans thanks to the country's deep involvement in the sport. It's one of the largest soccer stadiums in the world and can seat close to 100,000 fans. If you visit during the football season, then you're guaranteed to be able to catch a few games during your stay.
Barcelona Cathedral
The Barcelona Cathedral, also known in full as The Cathedral of the Holy Cross and Saint Eulalia, is a gothic masterpiece located in the heart of Barcelona. The stained windows date back over 500 years, and the architecture shows that this was once a bustling church that served many devout followers. Nowadays, it's a popular tourist attraction that simply can't be missed if you love historical sites.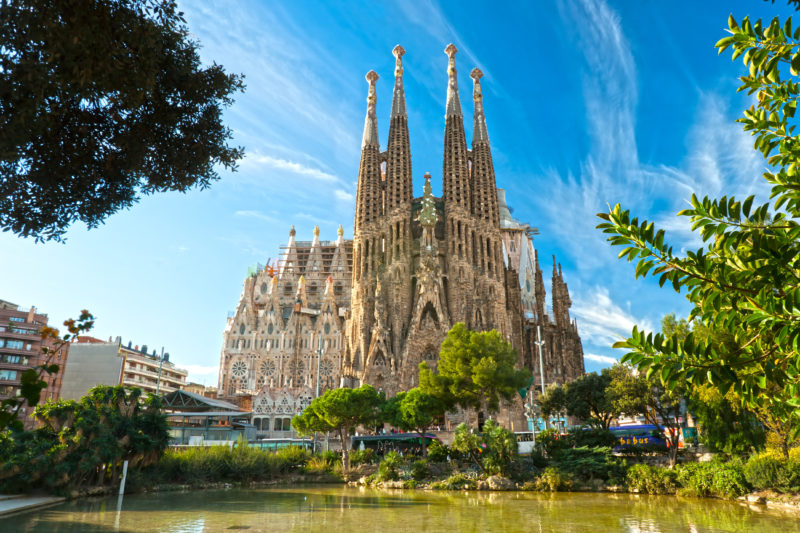 Park Guell
Park Guell is considered one of the masterpieces of Antoni Gaudi. Considered a UNESCO World Heritage Site, it's a beautiful urban park that features plenty of greenery in addition to mosaics and sculptures that were designed by Antoni Gaudi himself. It doesn't cost much to enter but it can be rather packed during busy holiday seasons.
Palau Guell
Another project that was designed by Antoni Gaudi, this beautiful palace was once home to Eusebi Guell. If you love Gaudi's work, then you'll be excited to explore one of his earliest architectural designs. There are tours available which will help to enhance the experience with descriptions and additional information, and they are recommended over wandering in by yourself.
Barri Gotic
Barri Gotic is a unique gothic location that features interesting restaurants, bars and clubs that come together in a medieval style. Many of the buildings in this location are still standing from when the Romans inhabited Barcelona which gives it a different look to the rest of the city. It gives you a unique glimpse into what life would've been like many years ago. Nowadays, it has been repurposed into a fun and exciting medieval destination that offers plenty of food, souvenirs and hidden alleys to explore.
Santa Maria del Mar
This spectacular gothic-styled church is the last surviving one to be built in this pure Catalan style. It took roughly 55 years to build in the 1300s, and it has a tall and imposing design that can make anyone feel small and insignificant. The architectural style is a marvel and the proportions make it seem almost otherworldly had it not been built by human hands. Tours are common and the Santa Maria del Mar is typically packed with tourists and locals during the holiday season. There are also rooftop tours that will give you a unique perspective of this gothic masterpiece.
La Sagrada Familia
This large unfinished Roman Catholic church is yet another design by Antoni Gaudi. It was sustained by donations when the project started in 1882, and although construction moved along at a steady pace, it was interrupted by the Spanish Civil war. It's expected that the church will finish construction in 2026—100 years after Gaudi's death. It's a must-visit location for anyone in Barcelona, but be sure to prebook to avoid huge queues. Tickets are usually sold out weeks in advance, so make sure you book it around the time you plan your flight to avoid disappointment.