Most tourists leave Mykonos delighted with their vacations here. Many of them are already planning their next visit to the island even before they leave. Mykonos is a fantastic place, and you can easily fall in love with it.
As in all touristic destinations, you need to be prepared and choose carefully the places you will see, stay, eat or spend some time. Mykonos covers all tastes, but you have to decide which areas suits you best. Here is a small guide on where to stay, where to eat and where to go for a drink.
Staying (5-star hotels and luxury villas)
Mykonos offers accommodation for any budget. However, the most exclusive places to stay are the five-star hotels and Mykonos Luxury Villas.
Five-star hotels and resorts offer guests luxurious accommodation and excellent access to anything they might need. They usually have their own restaurants, bars, spa and shops and in some cases even their private beach. VIP services are great and communal areas like swimming pools and gardens are many and spacious.
Mykonos Villas are the top choice for accommodation among celebrities. The reason is that they offer the ultimate luxury and privacy. They can sleep from 8 to 35 guests, and they are decorated with extreme elegance. They usually have great views of the ocean, and their gardens are very well maintained. Swimming pools, barbeques and comfortable sitting areas will give you many hours of fun with your friends or family.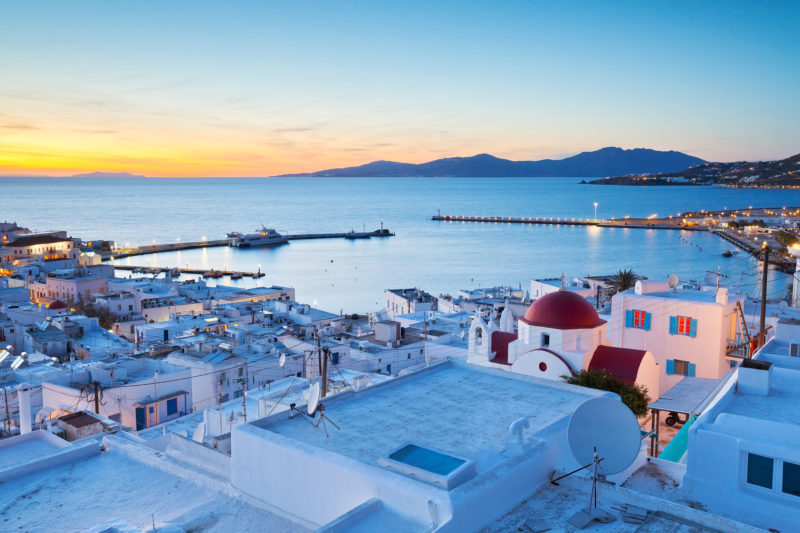 Eating (Katrin, Scorpios, Nammos, Koursaros)
In Mykonos, you can choose among different cuisines and different styles of eateries. You will find out that there is a wide variety of menus – from eastern to European and local ones.
Let's see some of the best restaurants in Mykonos where you can enjoy a delicious meal in a beautiful environment.
La Maison de Katrin
A boutique restaurant that many locals prefer, offering authentic French and Greek dishes. It is located in the centre of Mykonos Town, near the Old Port. The decoration is traditional Cycladic with white walls, paintings and rustic furniture. If you sit on one of the few outside tables you will be able to enjoy the pleasant atmosphere of the narrow street with the typical Mykonian houses.
Scorpios
A boho style, open-air restaurant that will remind you of a Hindu meditation centre. Large tables can be shared among different groups of friends, encouraging communication and creating a communal atmosphere. The menu is vegetarian with organic vegetables and locally picked fresh fish. The kitchen is open from 1 pm to 1 am, but the other facilities of Scorpios (bar, boutique, relaxation areas) are open all day.
Nammos
It became famous for its parties, but Nammos is much more than a beach club. Its facilities include a gourmet restaurant with sophisticated dishes based on the traditional Mediterranean and eastern recipes. Nammos has one of the most impressive wine lists including rare champagne labels some of which are expensive. You will find it at Psarou, one of the most attractive beaches in Mykonos.
Koursaros
The decoration imitates the interior of a ship and the bottom of the sea. An elegant environment where guests can enjoy a delicious meal based on fresh fish and seafood. It is located on Meletopoulou Street, at the centre of Mykonos Town.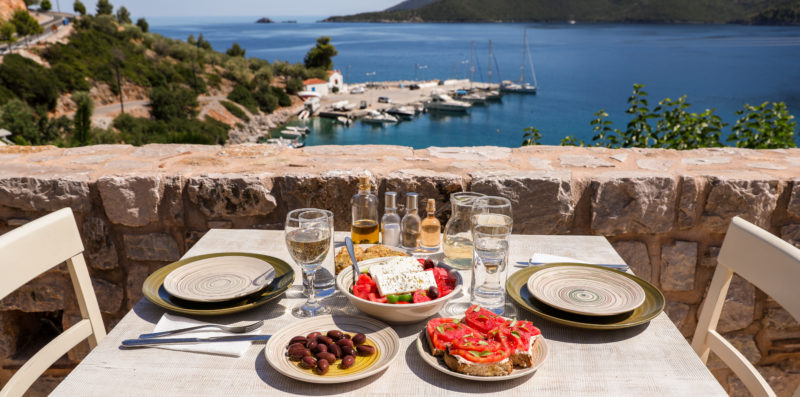 Drinking (Astra, Moni bar, Scarpa, Jackie O)
Mykonos' vibrant nightlife includes plenty of alcohol. Therefore, you will find an enormous number of clubs and bars worth mentioning. A few of them are Astra on Matogianni Street, Moni at Agia Moni Square, Scarpa at Little Venice and Jackie O near the Old Port. All of them are located in Mykonos Town. Jackie O has recently opened a second bar at Super Paradise beach.
Each bar has its style and history. For example, Astra has a unique rock style, and some celebrities have visited Jackie O. Mykonos' night clubs, and bars are in a small distance from each other making easy for guests to visit many bars in one night. Most of them are open until early in the morning, offering many hours of fun, drinking and dancing to their visitors.