A weekend in…Sydney
---
Sydney is the obvious destination choice when visiting Australia, but you don't need to be restricted to the city-based tourist attractions; beaches, islands, mountains and more are all within easy reach and make for great days out. Eleanor Graff gives us her top tips:
Getting there:
We flew with Malaysia Airlines to Sydney from Edinburgh, via Heathrow, with a stopover in Kuala Lumpur both out and back. Service on board was fuss-free and in-flight entertainment was par for the course on a long-haul flight. Flights were about £900 each.
What to see:
Our first stop in Sydney was to explore the Circular Quay area and buy the travel passes (good value) which cover train, bus and ferry transportation. Much of the city is doable on foot but to truly explore the area you will need to venture further afield and thus use public transport.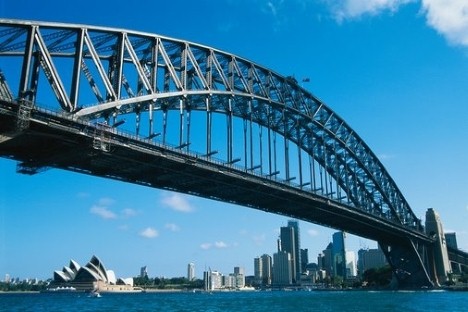 Right round the corner from the quay is Sydney Opera House with the backdrop of the Harbour Bridge (pictured left). Having acquainted ourselves with these iconic features we decided to get a bird's eye view of the city from the Sydney Tower.
This 1,014ft -high construction offers a 360-degree panoramic view. For those with a sense of adventure, you can choose to do the 'Sky Walk' where you venture out to the open-air viewing platform. Entry £17; Sky Walk £43.50.
Next on our list was Taronga Zoo, a sprawling expanse of all creatures great and small. The zoo has a keen focus on its breeding programmes so visit at the right time of year and you might be as lucky as we were to see baby animals such as gorillas and elephants. The zoo has plenty to be explored along with animal shows for when your feet need a rest. £29.50 adults; £15 children.
If creatures of the deep are your thing, then the Sydney Aquarium at Darling Harbour is a must-see. It's by far the best aquarium I have ever been to, along with the usual small individual tanks of sea life, there are two underwater walkways through enormous tanks – one teeming with fish found in Sydney Harbour, and the other full of stingrays, sharks, colourful fish and the magnificent dugongs which have to be seen to be believed! £23.50 adults; £12 children.
Continuing our wildlife theme, we took a trip out to Featherdale Wildlife Park. Easily accessible by train and bus, this small wildlife centre allows a hands-on experience, with kangaroos, wallabies and ostriches wandering around freely, allowing you to pet them. Koalas also take their turn at being available for photo opportunities. It's illegal in NSW to allow koalas to be 'cuddled' by tourists but you can get up close to them on their perch and stroke them. £16.75 adults; £10 children.
A visit to the area wouldn't be complete without a wine tour of the Hunter Valley. We toured with in a small group and visited several wineries where we had plenty of time to sample and peruse the wares. At one vineyard we were lucky enough to be allowed to wander among the grape vines and eat fruit off the bush as it was too late to be harvested, which was a rare treat.
The Blue Mountains (pictured below) can be reached by train to Katoomba and are well worth the trip. We walked along the magnificent cliff tops and got the train back to the city from Luera. The views and sights you will see as you walk among the mountains are spectacular.
Other day's adventures included a visit to Manly Bay where you can watch surfers riding the waves and walk around the headland to Spit. Sadly, our trip to Bondi Beach was curtailed by the only day we had of rain.
Where to eat:
Food in Sydney is not cheap. However, when eating out as a special treat, we found the quality to be fantastic.
We went to the renowned Marigold in the city's China Town to sample their dim sum menu of which they boast over 100 varieties. We were treated to a vast array of dishes including scallops dumplings, shredded duck and barbeque pork. All were top notch.
Blues Point Road offers an array of independent restaurants and we visited Piato. I had an extremely rich and cheesy cannelloni, a touch too heavy for my liking, however the tricolor of ice-creams that I had for dessert was a delicious light ending to the meal.
Where to stay:
Our base in Sydney was at Medina Executive Apartments, located next to Central Station and walking distance from the main shopping district, Darling Harbour and China Town.
Our one-bedroom apartment was spacious with a well-equipped kitchen area and a washing machine. Don't be tempted to use any of the washing powder or consume any of the treats that are supplied by the hotel in your room; your wallet won't thank you for it!
Supermarkets Coles and Woolworths are a few blocks up the road so stock up there instead. Internet charges were also extortionate (£17 a day! Behave yourself) but internet cafes are ubiquitous. The hotel has a very small gym, sauna and also outdoor pool and Jacuzzi.
For our stopovers in Kuala Lumpur (KL), we stayed at the Hilton Doubletree and the Pan Pacific at KL International Airport. The Doubletree was situated within walking distance of the iconic Petronas Towers and offered a free shuttle service to the main shopping districts. The hotel had a beautiful outdoor pool area and the added touch of a large welcoming cookie on arrival.
The Pan Pacific is ideally located for a shorter stopover stay and there is a buggy service from the airport terminal right to the hotel lobby. Executive rooms have the added novelty of an in-room leg massager, great after a long-haul flight! Kuala Lumpur is not an expensive city and you get a fair bit for your money as a rule. This meant that both of the above properties came in at about £80/night for a double room with breakfast, which is pretty good for what were four/five-star properties.
By Eleanor Graff
Photos in order of appearance: Thinkstock; Liquid Library; wiki commons
Follow us @travelbite

---