Botswana safari: an unforgettable experience
Situated in Southern Africa, the Republic of Botswana is a former protectorate of Britain, but became an independent commonwealth country in 1966. The country's official language is English, while the local language, Setswana, is widely spoken.
Those looking for the best safari experience would be well advised to consider a trip to Botswana. It's widely regarded as one of the highest quality safari experiences, offering visitors plenty of wildlife and an unspoiled landscape.
Here at Africa Travel Resource, we can help you organise your dream trip to Botswana. Our experts are on hand to discuss your specific requirements and create a tailor-made journey that matches your every requirement.
The Okavango wetland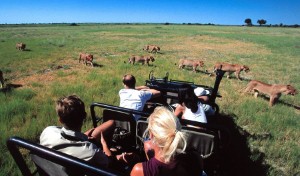 For those looking to go on a Botswana safari, the Okavango region could be the ideal option.
This enormous wetland area covers 721,000 kilometres and is ripe for exploration, especially between May and October, when animals migrate here to escape the dryness of the Kalahari Desert.
Most of the Okavango is privately managed, meaning that visitors will need to make careful arrangements well ahead of time. In many cases, transportation via light aircraft can often be the only way to arrive at your camp.
The Linyanti is another wetland area that visitors may want to consider visiting. In addition, the Makgadikgadi salt pans and grasslands can also be a good choice. Located to the southeast, they are situated on the border of the delta and the desert.
During the dry months, the Makgadikgadi area is devoid of most animal life, making it perfect for exploration and learning about the Bushmen's way of life. Alternatively, the rainy season brings back the animals for those interested in game viewing.
The Kalahari Desert
Approximately 70 per cent of Botswana is covered by the Kalahari Desert, and desertification is slowly causing this semi-arid landscape to spread further across the country.
The Kalahari is famous for its bright red sands and its name means 'the great thirst'. However, seasonal rains enable the desert to support a variety of life.
For example, it is home to bushmen – or San – indigenous people who have lived in the region for more than 20,000 years. Traditionally hunter-gatherers, they now primarily rely on farming for subsistence.
The Kalahari is also a great destination for those on Botswana safaris.
Animals such as meerkats and the African wild dog can also be found in the area, as well as lions, hyenas, giraffes, warthogs and antelope. Meanwhile, plant life includes acacia trees and various melons and root plants, which provide a good source of water.
The Central Kalahari Game Reserve is the second largest protected game reserve in the world and spans about 52,800 square kilometres.
Start making plans with help from Africa Travel Resource
With Africa Travel Resource, we make it easy for you to organise the trip of a lifetime. We have more than a decade of experience and our team is dedicated to helping customers experience the real Africa.
To find out more, or start making arrangements, simply get in touch by calling us on 01306 880 770.
Our advice and assistance is free – instead of charging you, we earn commission from the lodges we recommend.
We have also worked hard to create a trustworthy list of accommodation and transportation suppliers, as well as tour guides, so you can rest assured that you'll have a great journey that matches your every desire.

---