What to eat along Route 66
Saturday, 23 February 2013 11:04 AM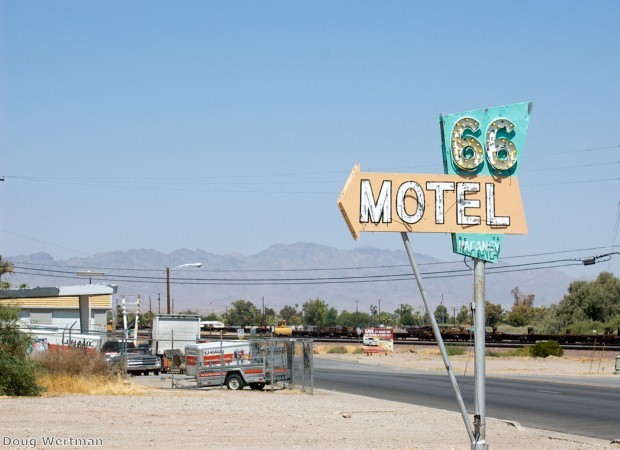 ---
Route 66 is the road trip destination in the US. If you have always dreamed of going on a road trip in America, holidays to Route 66 really cannot be beaten. There's a lot to see along the way, but we think the restaurants are definitely one of the main highlights.
Indeed, there are a host of iconic eateries dotted along Route 66. Often, these are covered in loud-and-proud highway memorabilia, so as well as being top places to eat, they're also among the best spots to pick up a cheesy souvenir. Below, you'll find some of the absolute best places to eat during your long drive from Chicago to Los Angeles.
Cozy Dog Drive-In
A snack that's sold all over the US, cozy dogs are deep-fried corn dogs served on sticks. The Cozy Dog Drive-In claims to be the place where the calorific treat was invented, with owner Ed Waldmire having made the first during his time in the Air Force in Texas. No matter where the first one was made, the dogs at the Cozy Dog Drive-In have become one of the top food-based attractions on Route 66.
Situated on South Sixth Street in Springfield, Illinois, the restaurant is not only famed for its food. Indeed, it's covered in Route 66-themed mementoes, including old signs, so coming here is a real experience. Plus, you can purchase souvenirs here, too.
Sweetie Pie's Kitchen
Over in St Louis, you should definitely stop at Sweetie Pie's Kitchen. There are actually several Sweetie Pie restaurants in St Louis now, all run by original owner Robbie Montgomery. These eateries are famous for serving soul food, with Robbie having learned to cook with her mother from a young age.
Indeed, the dishes served here today are the recipes she cooked as a child in Mississippi, before moving to St Louis. While being well-known for the food she serves, Robbie is also locally famous for having been a back-up singer for Ike Turner in the 60s.
Mid-Point Cafe & Gift Shop
Once you hit the halfway point of your journey, you can celebrate with a stop at the Mid-Point Cafe & Gift Shop in Adrian, Texas. As you will have guessed from its name, this restaurant is located almost exactly halfway along Route 66, being 1,139 miles from both Los Angeles and Chicago. This isn't its only claim to fame – it is also known for being the inspiration behind one of the cafes used in animated adventure Cars.
If you do come here, treating yourself to one of the cafe's speciality Ugly Crust Pies is a must. Their name comes from a member of staff who, having offered to help make the pies using her grandmother's pastry recipe, couldn't make them neatly. Instead of learning, she decided to name them Ugly Crust Pies – and they have been known as this ever since.
The Big Texan Steak Ranch
Another must-visit is the Big Texan Steak Ranch, which is in Amarillo, Texas. This huge restaurant and motel is famous for its 72 oz steaks, which are served free of charge – provided you can eat the whole thing in an hour or less! Whether or not you plan to take on this iconic challenge, the food here is delicious, and the Old West-themed decor makes for a unique dining experience.