Is there a city draped with more history than Athens? This place is the home of Greek mythology and offers so much for tourists to take in. From the ancient Greek ruins to the phenomenally delicious feta cheese and souvlaki; there's something for every traveller to love.
If you're planning a trip to Athens, then we've got you covered. Think of us as your personal tour guide, showing you all the best places to go, and all the tips you need to know before you travel. Read on if you want to learn more about travelling to this great Greek city.
Top Tourist Information Tips About Athens
We think it's important to arm yourself with as much tourist information as possible before your trip. Our tips will help you understand the city, learn how to stay safe, and guarantee you don't waste half your time trying to figure simple things out.
Get A Greek SIM Card
Most mobile phone networks allow you to use your internet outside of your home country without extra charges. While this is great, the service you get is normally the issue. Bearing that in mind, there are loads of little SIM card stalls set up around Athens. You'll find them outside the main transport stations, and you can bag yourself a very cheap card with bags of data on it. Now, use it to load up Google Maps or order your train tickets online – simple!
Learn A Bit Of Greek
When you live in Athens, you become very proud of your Greek heritage. As such, the locals take pride in all things Greek, including the language. While you shouldn't struggle with a language barrier – most people speak some English because of all the tourism – knowing a little Greek can go a long way. You'll gain the respect of the locals, even if you only say 'Hello' or order a coffee in Greek. They'll love that you made an effort, and you could get rewarded with an even better service.
Sample Greek Cuisine
If you've never eaten Greek food before, now is the time to start. Athens is host to loads of different restaurants, ranging from fine-dining feasts to little independent cafes. Try a whole host of Greek delights such as souvlaki, gyros, moussaka, feta cheese, and classic Greek yoghurt. You might think you've tried Greek yoghurt before, if you've eaten it at home, but it's on a whole other level here in Athens, trust me!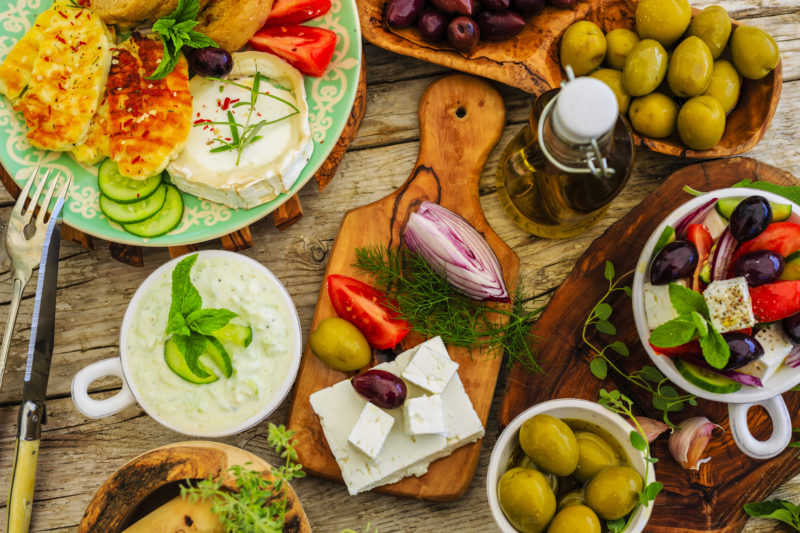 Watch Out For Protests
As amazing as Athens is, it's the capital city of a country undergoing some political and economic unrest at the moment. The issues with the Greek economy are well documented, and this means protests, strikes, and demonstrations are fairly common. If you see a crowd of people all chanting or marching in a main area of town, keep your distance! You don't want to end up in the middle of a protest, particularly as you don't live here and have nothing to protest about.
Bring Footwear With Good Grip
The cool thing about Athens is that the streets are like no other. While most places deal with boring old concrete floor and steps, Athens is covered in marble. This creates a stunning look, but it's also somewhat dangerous. Marble can be slippery, so ensure you bring footwear with a good grip to stop yourself from sliding all over the place.
Top Things To See & Do In Athens
Athens is one of those places where you're encouraged to stay as long as possible because there are too many things to see and do. Even if you're there for a week, you'll struggle to see everything. In this section, we've listed the best of the best things to experience in Greece's capital city.
Acropolis of Athens
You'll notice a lot of the things on this list revolve around Ancient Greece. There are simply so many amazing sights here that showcase the classical architecture of the Greek empire. The Acropolis needs to be the first stop on your trip, it's a monument that sits pretty on a hilltop, surveying all of Athens. You'll have no trouble finding is as you can see it from almost anywhere in the city.  Go on a short hike up there, and you'll see some unbelievable ruins that make you feel as though you're in a movie about Greek mythology.
Parthenon
The Parthenon is a beautiful piece of architecture that will leave your mouth hanging wide open. It's a huge temple built entirely out of white marble. Marvel at its grandeur, and take a look inside at the different statues living there. Again, the perfect way to immerse yourself in Ancient Greece.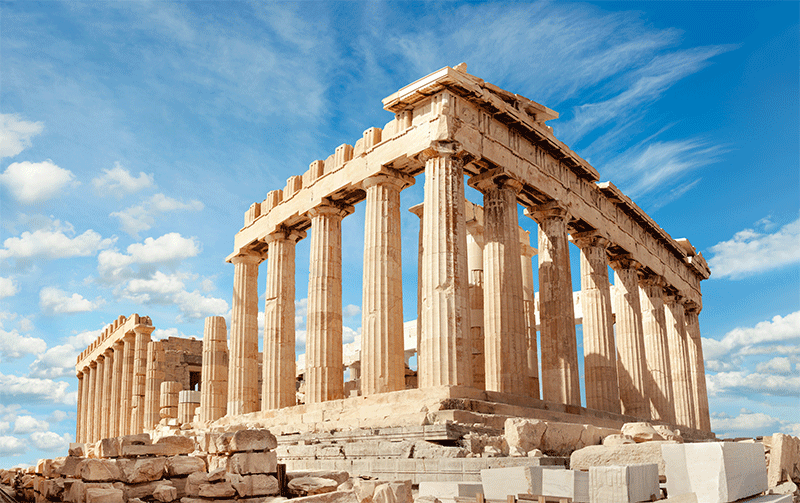 Temple of Hephaestus
It's almost worrying how well this temple has held up over the years. There's a certain mystical feeling around it; it defies belief. As far as temples go, this one is impeccably preserved close to its original form. Well worth seeing, if only to add another picture to a growing Instagram collection.
Museums In Athens
As well as historical sites, there are plenty of great museums to enjoy in Athens too. One of the main ones is the Benaki Museum which mainly shows off Greek art through the ages. It's a beautiful place, and the artwork is simply stunning too. As well as this there's the Acropolis Museum, which is all about archaeology. Honestly, who knew rocks could be so interesting?! A fascinating visit for any Athens travellers.
Temple of Olympian Zeus
Imagine visiting the home of Greek mythology and not seeing the Temple of Olympian Zeus. Perhaps the most iconic Greek God of all, his temple is the largest in the entire country. Seriously, it's huge. It's also right in the middle of the city, which makes the size seem all the more impressive. Again, just a beautiful sight to behold.
Plaka District
Amongst all the museums and historical ruins, there's still some simple beauty in this great city. The Plaka District is a cute neighbourhood full of history. You'll find it on your way to the Acropolis; it's hard to miss. The streets are so narrow, and colourful flowers juxtapose the old floor tiles. You won't find any cars here, so you're free to walk around and admire all the little shops and buildings you see. It's the oldest area of the city, and we strongly advise you spend a good few hours wandering these tiny streets.
Transportation In Athens
A lot of people don't realise how big Athens is as a city. As such, many arrive here and have trouble getting around as they assumed they could walk everywhere. Don't worry, we've got some public transport tips to help your visit run smoothly.
Firstly, there's a decent metro system in place that's been around since the 2004 summer Olympics. We suggest that you download and look at the metro map before your visit. It's easy enough to understand; there are three lines in three different colours. On this map you'll also see a fourth line that's a lot thinner, this is the tram network.
When it comes to airport transportation, you can take the metro directly to and from Athens Airport, and there's also a suburban rail link from Central Station too. There are plenty of bus services running to and from the city as well, and Athens taxi booking is available for quick and more private airport transfers.
There you have it, you're now ready for an exciting trip to Athens! Bookmark this guide and refer back to it, so you have a good plan for your visit. Make the most of your stay as this is a city you really need to appreciate.