Venezuela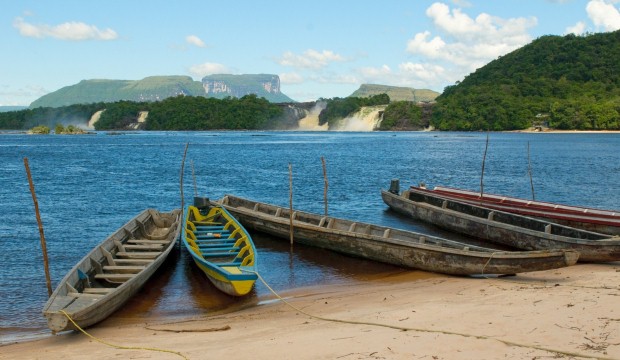 ---
The famous Angel Falls are probably Venezuela's most well-known attraction in a country with an abundance of natural wonders.
As well as the world's highest waterfall – Angel Falls – which plummets 979m from the top of a tepui (flat-topped mountain) in Parque Nacional Canaima, Venezuela also boasts the longest stretch of Caribbean coastline to be found in any single nation.
The Ichun Falls are also worth a visit – to witness the Paragua River tumbling 250 metres into the lake, foaming like a thick white carpet due to the tanin from local plants.
Stay on a cocoa plantation or laze away a few days on Venezuela's most beautiful beach: Playa Medina on the Paria Peninsula.
Other natural highlights include the Orinoco Delta and the rich wildlife of the Llanos wetlands.
Venezuela Essential Information:
Capital: Caracas
Places of interest: Angel Falls, Ichun Falls, Playa Medina on the Paria Peninsula
Time Zone: GMT -4.30
Language: Spanish. Learn the basics of Spanish at www.bbc.co.uk
Currency: Venezuela uses the Bolivar Fuerte (VEF). For up-to-date exchange rates see: www.xe.com/ucc
International dialling code: +58
British Embassy: visit the website for information