Travel blog: Surfing in Pichilemu, Chile
Saturday, 14 February 2009 12:00 AM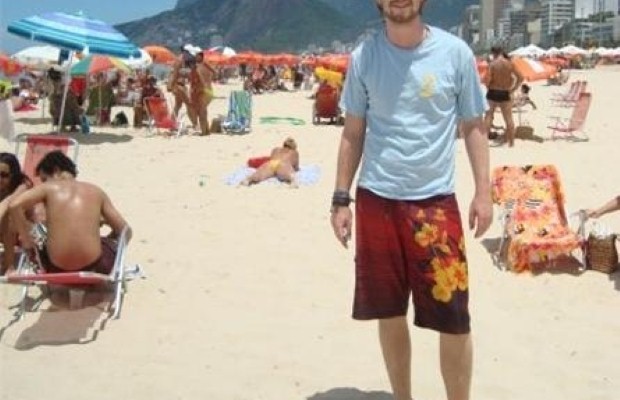 In an attempt to avoid the credit crunch, the bleak prospect of winter and another final of X Factor, Greg Ash has gone to South America for 6 months. In his blog 'Searching for Waves and Other Friendly Hand Gestures', Greg travels through this vast continent, starting in Argentina and tracing the coastline as far round as his budget will let him.
Along the way, he describes the strange sights, wonderful peoples and the inevitable sunburns of an pale Brit passing himself off as a beach boy. This is his seventh blog:
I shouldn't really be a surfer. I sunburn too easily. Perhaps in the eyes of some people I'm not. I have stood up on and quickly fallen off surfboards in Bali, Ireland and Devon. In that order. Slowly getting less exotic and less impressive.
For a long time I thought Kely Slater was a woman.
But the way I see it, no matter how little you've surfed, if you have stood up on a board for even just few seconds, then you're a surfer. You can confidently wear boardshorts to barbeques and other summer functions, and strut around telling people you surf.
And I do occasionally do it, I enjoy it. I love the immense power of the waves, the battle against the elements, and the brief, occasional moments of joy as you and nature converse and you skim effortlessly across the water. And another thing I love is that it doesn't hurt when you fall off.
So its time to add another location to my list of surfs conquered for the barbeque. I have come to Pichilemu, on the coast of Chile about two hours south of Santiago. As the bus pulls into the town, things look good.
It's a bank holiday Monday, and the huge beach is packed. I see in the distance, surfers paddling out for waves. There's even one of those inflatable banana floats being dragged out to sea, children screaming with delight as they bob along behind the boat. Just like in Jaws, I chuckle.
Pichilemu, and nearby beach Punta De Lobos, is something of a surfing Mecca; a host of World Surfing Championships. In fact, there are signs up as I arrive, for the Ripcurl Masters. Maybe this is my chance to be welcomed into the surfing community? Out on the waves all day, bonfires on the beach, someone gets out a guitar.
It could belike Point Break without the bank robbery – but with the Richard Nixon masks.
When I check into my hostel though this dream begins to fade. It is listed as 'the place' to stay for surfers, and it has the posters and stickers on the wall to back this up. But the signing-in book looks suspiciously empty. There are no 'Chads', 'Brets' or other surfer aliases. Back out along the beach the bank holiday crowds have disappeared and the place now has the distinct sense of the run down seaside town.
Faded paintwork advertising for no longer existing attractions. Shops with their shutters down. I am always slightly unsettled by places like this. A few kids are racing each other in peddle powered frames that Fred Flintstone wouldn't be seen dead in.
The next day things are even quieter, but I'm over the initial discomfort, and I actually start to enjoy Pichilemu. Although the crowds may only come in summer, the one thing the place does offer, all year round, is great surf. And that is why I am here.
I discover I can hire a board and wetsuit for around £6, which sounds good to me. First I decide I need to get some sustenance. I learned one valuable lesson that day, which is never eat a pizza, or indeed, half a pizza before surfing.
I repeatedly fail to hoist my bloated frame onto the board. I feel like an eight-year-old trying to get served at a bar. I spend the next couple of hours bobbing around in the water desperately trying to digest my lunch, but it's to no avail. I head in, and walk back to my hostel, followed home by four boisterous stray dogs.
At first I figure they can probably just sense I am an animal lover. Then I realise that they can just smell the leftover pizza stashed in my bag. I break into a jog. So do they. I run a bit harder. So do they. Eventually they appear to encroach on another dog's turf and reluctantly stop their pursuit.
The next day I eat much earlier, and when I get out on the water I instantly feel a lot lighter. I venture out to where the waves are bigger and even manage to catch a couple for a few seconds. After a short time I look up and notice I'm a way from the shore.
I'm a little out of my depth. Suddenly to my right I see a dark form bob out of the water. My heart races. 'Shark!'
The vision of the banana boat flashes through my mind. My eyes focus on the shape, which looks at me quizzically before ducking back into the water. Just a seal. A stupid seal. I breathe a sigh of relief. Thank God. But wait. Don't sharks hunt seals? I paddle in to shore slowly trying to look as little like a seal as possible.
I think it's time for a few beers. I now have my first shark story.
The Chilean beer is called Cristal. I doubt it's the same stuff P Diddy drinks, but after a couple of those I head back out to the waves and am on pretty good form. I catch a couple of good waves and even try carving in and out. The beers have gone through me quickly giving me both inflated confidence and an inflated bladder.
But I'm out on the open waves. I'm in touch with nature!
It is not until later, while I'm getting changed back at the surf hut, I learn another important lesson. Stepping out of the rubber, I can smell the distinctive smell of urine. Wetsuits, it turns out, are as effective at keeping liquids in, as they are out.
Meekly I hand my distinctly fragranced suit to the rental shop owner. He looks at me and shouts something in Spanish to his five-year-old son. My Spanish is still not great, but I imagine it is something like 'Come and wash this urine scented suit immediately', because the boy grabs it and takes it to a sink to wash.
I walk home feeling a mixture of pride and guilt. It seems the stray dogs are less willing to follow me home tonight.
Greg Ash