Travel blog: Cycling into Kyrgyzstan
Tuesday, 26 October 2010 12:00 AM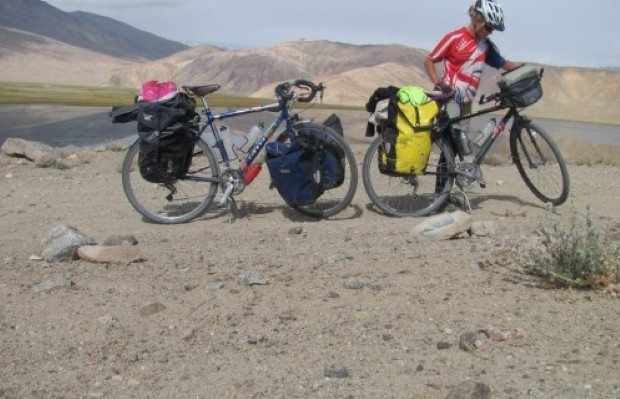 This year we're following the odyssey of Peter and Christine Helliwell as they undertake an entirely self-funded bike ride from London to Sydney to raise money for charities Medicins Sans Frontiers and Mary's Meals. The intrepid couple will be sharing their experiences in a blog for Travelbite.co.uk and here is their 31st blog entry:
After we passed the Tajikistan border post and into Kyrgyzstan we descended slowly down the Kizil Art pass, which was in a terrible state – muddy, rocky and steep. We had 20km or so of no-mans land before the Kyrgyzstan border post and, seeing as our Kyrgyzstan visas did not start until the next day, we planned to camp about 15km after the pass.
It was fairly early – around 4pm – so when we saw a chaikana (tea house) at the bottom of the pass we decided to stop, in the hope that they might have something other than bread, butter and tea on offer. Not only were we disappointed in this – we got a miserly amount of tea and some rock hard bread to enjoy – the woman running the tea house took it upon herself to try and completely rip us off, asking for payment of 30 somoni (around $10). Not likely!!
We were really irritated by this, especially as they had seemed very kind when we first arrived, so kind that in fact we had already given them a gift of some colouring pens. We felt like snatching the pens back. After an argument we ended up paying 20 somoni as that was all the change we had, still way too much but we were sufficiently tired and fed up that we just wanted to get out of there.
To be fair this was probably the first time in Central Asia – or indeed for a long time – that somebody had tried to so brazenly rip us off, but it was not a good welcome to Kyrgyzstan.
Anyway we got over it and cycled on down the valley, negotiating some boulder fields and having to push our bikes through at least one stream in the process – slow going. After a while we discovered Dean camped by the side of the road (he has a bright orange tent so is always easy to spot!) so stopped and camped with him.
After an early, insufficiently satisfying (although it was all the food we had left) dinner of noodles and tomato sauce we had an early night, in anticipation of a long ride the next day to get to the chinese border.
Dean was even keener than we were to get going, and left really early while we were still sleeping. Despite having lost almost 1000m of height since the pass it was still a really cold night – Dean later said it was -7c when he got up. We were camped in a valley and were in the shade when we got up and got going, and so had a very, very cold ride down to the Kyrgyzstan border, particularly when we had to get wet feet crossing a river running across the road, brrr!
Entering into Kyrgyzstan proved to be fairly quick and straightforward, and we were soon on our way towards the first town, Sari Tash. We knew that this small town had at least a couple of guesthouses and cafes, as well as shops that would no doubt be much better supplied than those in Tajikistan due to the proximity of this area to the Chinese border, and so were excited about the prospect of getting a meal and some decent supplies in.
Therefore it felt like a long 25km, especially as we could see the town in the distance the whole way, but it took a long time before it seemed to get any bigger.
Eventually we got there and with delight headed straight into a cafe. Here we ran into a problem – there had been no-one at the border to change money, so we blithely assumed it would be easy to do in Sari Tash, seeing as this is the closest town to the border. That's how money exchange around borders usually works anyway.
Not here – there was no official exchange place and we were told in the cafe that they would take Tajikistan money, but only at half the official exchange rate. "You have to go to Osh to get a better rate" they gleefully told us, knowing we had no alternative. Osh was 250km out of our way so we were hardly going to do that.
Grudgingly we gave in and had an absolutely wonderful meal of 4 fried eggs, bread and tea each. We also bought some supplies such as decent pasta, apple juice, and more chocolate bars. Despite the rip-off exchange rate, it was thankfully still pretty cheap. We drank the apple juice almost straight away and it tasted wonderful after a month of bland flavoured food and drink.
By this time it was almost 11am, and we still had 80km to cycle on unknown terrain, so we headed off as soon as we could. We had previously heard that the road to the Irkeshtam pass (which marks the border with China) was in an absolutely terrible condition, so we were a little apprehensive about how long it would take us.
It was Thursday, and we were well aware that the border closes at 3pm Chinese time – that's 1pm Kyrgyzstan time – every day, and was liable to close early on a Friday before being shut for the entire weekend. The last thing we wanted was to get there too late on the Friday and to have to either wait there until Monday, or even worse return to Sari Tash, should there be no facilities at the border. So we were in a rush.
Thankfully it turns out that Chinese road crews have recently been upgrading the road, and the first 40km were racing track smooth tarmac, with very little traffic. Combined with stunning views of the mountains in Tajikistan that we had just left (including a view of nearby Pik Lenin, which stands at over 7,100m), this made for unexpectedly good riding.
The main downside was that the road gradually ascended, not steeply, but continuously, which doesn't help when you are trying to go quickly. After around 40km we came to a junction where the new road could be seen to continue uphill, and the old unpaved continued straight on.
We weren't sure which way to go so asked a nearby Chinese worker. He insisted that to get to China we should continue on the new road, so much to our discontent we continued uphill, ascending another 300m or so. Much to our annoyance we realised near the top that we had been led on a bit – most traffic was sticking to the lower, flatter road, because the road we were on was still being constructed and it was not long before the tarmac ended and we had a bumpy, dusty downhill before we rejoined the old road.
The next 20km of road was still to be upgraded and was in a terrible condition, making for some very slow going. The road was also very hilly, climbing the sides of ravines then descending again to cross rivers, then going back up again.
However we persevered and were rewarded when by 5pm we found ourselves back on good tarmac, at the small village that we knew was just a few kilometres before the border. We passed the village and camped a couple of kilometres further on, in a nice meadow by the river.
Although we had only spent a day in Kyrgyzstan (a very expensive day at that, seeing as we still had to get a visa at a cost of $110 each) we were really excited to be on the edge of China, which really seemed like a long way to have come on a bicycle!
Peter & Christine Helliwell
If you want to sponsor Peter and Christine in their charitable fundraising efforts please go to their website.
Copyright Peter & Christine Helliwell 2010 All Rights Reserved
Read more from this travel blogger
Follow us @travelbite