Touring America – a voyage of discovery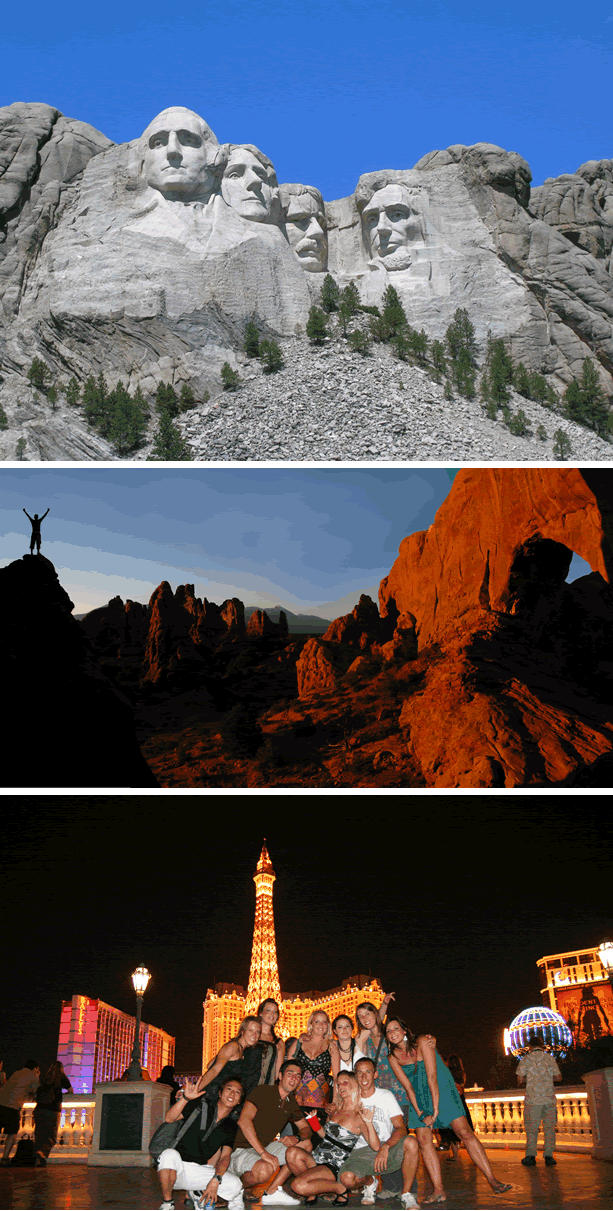 From the wilderness of Alaska and Canada in the north to the tropical temperatures of Brazil and Argentina in the south and a whole host of varying landscape in between, the continents of North and South America offer a dazzling array of experiences and environments for travellers.
With bustling cities, majestic mountains, stunning coastlines and expansive deserts to be explored, people will find that fitting in everything they wish to see is likely to be a challenge – albeit a pleasant one. However, by going on USA adventures, travellers should find they are able to get a good grasp of what is on offer.
Cities and culture
For city lovers, America is surely the place to be, with the USA alone containing some of the world's largest and most famous urban environments. The country's east coast is home to Boston and New York, while history buffs may wish to check out Washington DC – the nation's capital – home to landmarks such as the Smithsonian Museum and Capitol Hill.
Visitors might also want to see if the president is in by stopping off to visit the White House. Art and culture enthusiasts are sure to find plenty for them in the duration of their tour of America whether it is the famous Museum Mile in the New York borough of Manhattan, watching a Las Vegas show or taking in a music performance in Chicago, a city famous for blues and jazz.
Perhaps an effective way to see some of these stunning cities is by going on a classic US roadtrip. Traversing seemingly endless highways – including the legendary Route 66 – taking in a cross-country tour with TrekAmerica could see visitors see Seattle, Denver and Memphis, the home of musical icon Elvis Presley.
Into the wilderness
Those looking for a break from the cities could find that one of the country's numerous national parks helps them get back to nature. And with such facilities located in each of the 50 US states, visiting one should be easy to incorporate into a tour. One park that may prove particularly enchanting is the Grand Canyon National Park in Arizona.
Featuring some stunning natural scenery, activities such as hiking and white-water rafting are on offer to those whose USA adventure travel take in the park. Of course there is the Grand Canyon itself, which stretches 227 miles long and is as much as one mile deep in places.
However, there is a lot more than just the USA to take in on America holidays, as heading north across the Canadian border will uncover an array of delights that are equally as dazzling. Nature lovers may want to ensure that their tour of America takes in the Canadian west coast, where from the town of Tofina, British Columbia they can go on whale-watching cruises, to spot the grey and killer varieties of the great mammal.
However, there is a whole host of other marine life that can be spotted while onboard including seals, porpoise and sea lions. After such natural delights, travellers can then go on the majestic city of Victoria.
Located on Vancouver Island, the metropolis holds a number of theatres, art galleries and the Beacon Hill Park which contains woodland trails, a petting zoo and totem pole. Of course, a visit to Canada would not be complete without viewing the Rockies, a majestic array of mountains including Mount Columbia and Mount Robson the highest in the range – which are 3,747 and 3,954 metres high respectively.
National parks are in abundance throughout Canada with the Jasper National Park including the Maligne Lake – the largest natural lake in the Canadian Rockies – and the Miette Hotsprings.
Those looking for a taste of central America while on a tour may wish to head to Mexico.
TrekAmerica offers visitors the chance to take in a number of the country's major archaeological sites. Among these are Palenque – home to several palaces and ancient burial temples – and Chichen Itza, which contains the Kukulkan Pyramid, voted one of the seven new wonders of the world in 2007.
Incorporating Mexico into an American adventure experience also offers people the opportunity to take part in activities such as horse-riding and scuba-diving. However, adventurers may also want to make South America a part of their travels. And TrekAmerica sister company Footloose does not disappoint.
Travellers will be able to go on a hike along the ancient Inca trails of Peru, where starting off in Lima they will be able to witness the world-famous Machu Picchu. Touring the continent also gives people the chance to experience the Pantanal wetlands in Brazil, the Andes mountain range in Bolivia and the hustle and bustle of Argentina's capital Buenos Aires.
With so much on offer, it may be advisable for travellers to first do some research into what it is they want to see to make sure they do not miss out.
In fact, they may find planning their travel experience is almost as enjoyable as getting out there and doing it. And whatever it is they wish to do, or wherever they want to go, TrekAmerica is sure to serve up the perfect adventure travel getaway.
---