Hungary: The simple things in life
Tuesday, 4 August 2009 12:00 AM
To get to grips with the real Hungary you have to get out of Budapest. Matthew Gardner heads east from the capital to discover a deeply traditional side to this east European nation for travelbite.co.uk.
In my view, in order to experience the real Hungary you should make Budapest only a minor part of your holiday. For all the great selling points of the fascinating Hungarian capital, without a trip to the east of the country, going as far as the borders with Ukraine and Romania, you'll never get a real understanding of Hungary or its people.
You see, eastern Hungary prides itself on tradition. It's the home of the production of pottery, wine and other local – if not strictly necessary – trades such as hat-making. Budapest is now a solidly European city and while it makes a great city break, it has long departed from its real heritage. If you want to get off the beaten track and discover the real Hungary, you will be well rewarded by travelling two or three hours out Budapest on the motorway or train.
Tokaj
The rolling mountains of Tokaj are a sight to behold. This small town on the River Tisza – Hungary's second largest river after the Danube – is in the heart of an area rich in bird life, with storks and kestrels regularly seen swooping overhead. But the main attraction lies in its ability to produce some of the finest wines available in Hungary, if not Europe.
Called tokaji, the sweet blend of over-ripe grapes produces alcohol with a remarkably high sugar content, making it a must for Hungarian presidents and international royalty who are among the region's most valued customers.
Tokaji has not only won royal and political recognition. The Tokaj Wine Region Historic Cultural Landscape is listed with Unesco World Heritage due to its "vineyards and long-established settlements" that "vividly illustrate the specialised form of traditional land-use [they] represent". To miss tasting this wine during a holiday in Hungary is something which should haunt your conscience, such are the amazing qualities of the tipple.
Brightly-coloured buildings, pedestrianised promenades and beautiful churches are scattered amongst the vast rows of vineyards which dominate the unspoilt landscape.
Hadju-Bihar county
Debrecen is the second-largest city in Hungary and the county seat of Hadju-Bihar. It is often overlooked as a destination, yet it is home to some of the most beautiful buildings in the entire country.
The city is perhaps best-known for the Protestant Great Church, the largest building for the Christian denomination in Hungary. Bright yellow and with two towers, the church dominates the main stretch between Kossuth and Calvin Squares.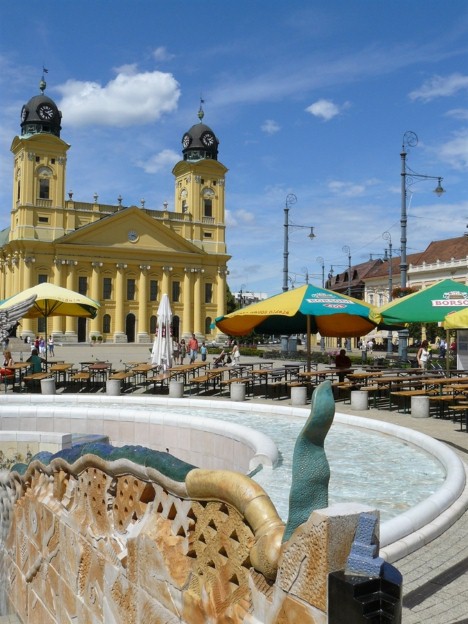 The University of Debrecen is also widely regarded as the best in Hungary and its huge campus is the country's equivalent of Cambridge or Oxford in terms of Hungary's academic community.
With an annual attendance of 30,000 students, Debrecen is also Hungary's largest university, which is no surprise once you see the main university building, which is the largest structure in the city.
Hadjuszoboszlo is a bit of an anomaly – a genuine resort town in a landlocked country. Those looking for the perfect spa holiday in Hungary will find it here. After all, it's the largest outdoor natural thermal spa in Europe, discovered by accident on a drilling mission for natural gas. The murky brown waters attract many people from around Europe, with Germans and Romanians having a particular taste for the nightlife and water parks, as well as miniature festivals which seem to run throughout the year.
It does have a slight toy-town feel to it, particularly given the difference in building styles between the town's centre and the outskirts, where more traditional bungalow-esque architecture exists. Still, it's wonderful to see the popularity of the resort on a hot day, even if a couple of the dozen or so pools are filled with people so old that it looks like a sequel to Cocoon.
Hortobagy National Park
On a holiday in eastern Hungary you have the chance to completely disengage from the modern technological world. And a trip to Hortobagy national park will also allow you to forget your worries – it's just so damn serene.
Hortobagy is the biggest and first of its kind in Hungary. Over 160,000 people visiting each year to see its potent mixture of arts, crafts, exhibitions, museums and great scenery.
It's also very friendly to English-speaking tourists, with guides and information points helping out those of all ages, making it a perfect destination for a family holiday in Hungary.
Nature fans will undoubtedly be impressed to know that 340 of the 500 or so protected animal species in Europe are found in Hortobagy national park, including the Great Bustard, which is the heaviest bird in the world with flight capacity, as well as Europe's largest bird of prey – the white-tailed eagle.
Ancient history is also apparent, with the vast number of burial mounds (kurgans) left behind by Huns and Mongols winning this area Unesco World Heritage status.
The region is well known for its diversity in terms of climate, ranging from grand deserts to lush, arable lands capable of supporting lilies.
Hortobagy is also important for the work it does in preserving the traditions of Hungary, operating 14 workshops with 24 master craftsmen and 34 workers, making it the biggest of its kind in the nation.
Catering for children above all, it aims to help people learn and retain traditional skills, thus promoting self-sufficiency across Hungary.
Perhaps the most amazing part of Hortobagy is in Mata, a wonderful station for horse-drawn carriages which travel out on the plains of eastern Hungary.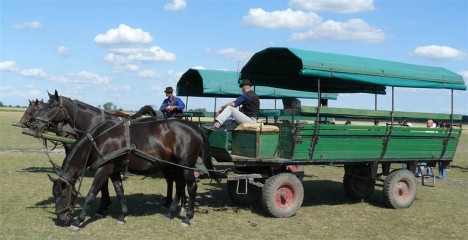 Here you can see for 20 or 30 miles in all directions and traditional herdsmen show their skills, with several able to drive up to 18 horses while stood with a foot on the backs of the final two steeds. Wearing traditional clothing, the herdsmen live in a completely different society and one which is great to see in a European country that continues to push for modernity and parity with its neighbours.
Hungary is not a country that has been dragged kicking and screaming into modern Europe, yet it's not a place that remains overprotective of its traditional side. That's because the country as a whole continues to be proud of its heritage, from Budapest to the smallest villages near the Ukrainian border.
This is especially true of eastern Hungary. While the country has many neighbours vying for the attention of British people looking for a cheap city break holiday in Budapest, the nation as a whole, and the east in particular, provides a cost-effective and eye-opening experience that is completely unrivalled in terms of relaxation, cultural awareness and an embrace with nature.
While we spend our time rustling through emails, making frantic phone calls and relying on other pieces of gadgetry to get through the day, in eastern Hungary you'll likely forget all this exists.
Wander through national parks, spas and vineyards and take in the beauty of the simplest things, preserved to perfection by an understandably proud nation.
Matthew Gardner