Top things to do when staying in villas in the Algarve
Tuesday, 27 March 2012 8:13 AM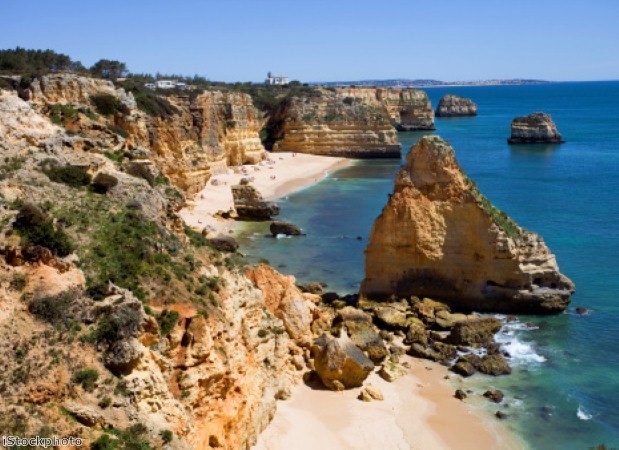 ---
While Portugal has long been a popular holiday destination for Britons, staying in a villa in the Algarve makes for a particularly wonderful getaway. Book a break in the southern region of the country and you'll find there are plenty of things to capture your interest, all while you soak up the Mediterranean sun.
The area really does offer something for everyone, so whether you're looking to take things easy or are keen to try some fantastic sports and activities, you'll have the holiday of your dreams once you have booked Algarve villas for rent. Here's a guide to some of the fabulous things you can do during a stay in the region.
Beaches
One popular draw for many people seeking rental villas in Portugal is having the chance to relax on a golden beach, and the Algarve is certainly no exception to this. With dozens of sandy stretches where you can work on topping up your tan, you will never be too far away from the shore.
Praia da Rocha, which is situated near Portimao, is one of the most popular beaches in the area. Not only will you find 2 km of golden sands to lie back on, but you can also look out at interesting rock formations and take in views of the glittering Atlantic Ocean.
Carvoeiro also contains some fabulous beaches, many of which are bordered by dramatic cliffs and feature towering stacks of stone that have been carved out by the water. This is a popular location for families and you can be confident your kids will be safe as they play in the sand.
Walking
The Algarve is awash with stunning scenery and it is well worth going on a walk to take in the fantastic terrain. Depending on where you go, you could see everything from tranquil forests and valleys filled with citrus trees to towering mountains and pretty beaches. Although there are many routes to choose from, if you want a real insight into the region's dynamic landscapes, walk along the Algarve Way.
This long-distance path stretches for some 255 km from the coastal town of Cabo de Sao Vicente to Alcoutim, so while it may be too far to complete in a single trip, walking along even a small part of it will be a fantastic experience.
Sports
Whether you're keen to stay in villas in Albufeira or elsewhere in the Algarve, there is plenty of opportunity to take part in exciting sports and activities. Given its position on the Atlantic shoreline, it should come as little surprise that it is a great place for water sport enthusiasts.
Surfers in particular will be in their element when visiting the region, as excellent swells and pleasant weather are virtually guaranteed all year round. You can ride the waves on either the south or west coast, with Carrapateira regarded as one of the best spots in the latter.
Kiteboarding is becoming immensely popular in the region too, with the Alvor estuary near Portimao home to a number of schools where you can take lessons in the sport. The region is a regular host of events organised by the Professional Kiteboard Riders Association, so you can be sure of enjoying first-class water sport action. You can also have a go at wakeboarding and windsurfing, so there's lots to keep you busy.
However, there are just as many things to do on dry land. If golf's your thing, play a round at one of the dozens of championship-quality courses – which include the award-winning San Lorenzo and the par 72 Quinta da Ria. Alternatively, have a game of tennis at the Carvoeiro Clube de Tenis, which has 12 well-maintained courts.