Top 5 beaches made famous by the big screen
Saturday, 16 April 2011 12:00 AM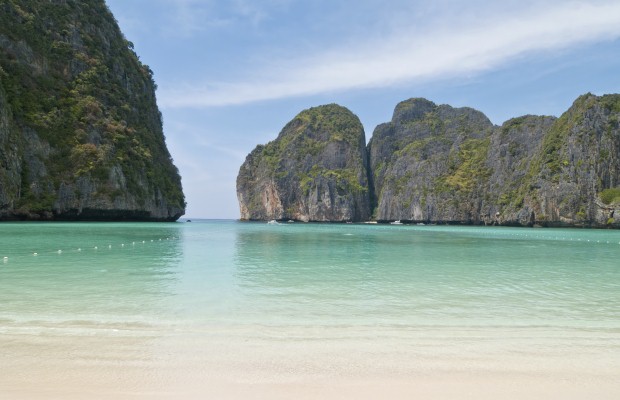 With plans for a Baywatch movie now underway, it is likely that many tourists will flock to Santa Monica beach to re-enact the famous slow motion run, perfected by beach babe Pamela Anderson. However Santa Monica is not the only beach made famous by the movies. Travelbite.co.uk reveals its top 5:
Monuriki Island – Fiji: Castaway
Tom Hanks' character battles storms, deals with loneliness and gets crafty with FedEx items in Castaway (2000), filmed on Monuriki Island, otherwise known as 'Castaway Island' in the Mamanucas – Fiji's westernmost Islands. With pristine palm-fringed beaches, great snorkelling and crystal clear waters, it is not surprising that it was chosen for the filming location. These days there's more than a football for company (Tom Hanks' 'substitute 'friend' whilst stranded) as it is now a popular tourist resort.
Hat Maya beach – Phuket, Thailand: The Beach
The stunning Hat Maya beach, in Ko Phi Phi Leh Island in Phuket, is the epitome of paradise and was the main location used in the film The Beach (2000) starring Leonardo di Caprio. An adaption of Alex Garland's iconic novel, in which a utopian society (which quickly turns nasty) is formed on a secret paradise island, the film has made this picturesque bay world-famous. A secret island no more, the beach can be visited on day trips from the Island's larger sister Ko Phi Phi Don as well as from Phuket and Krabi.
Halona Beach Cove – Oahu, Hawaii: From here to Eternity
The 1953 classic has probably the most famous beach scene in film history – Burt Lancaster and Deborah Kerr's iconic passionate embrace in the crashing surf of Halona Beach Cove. From here to Eternity – set in Hawaii- tells the story of the lives and loves of American soldiers in the weeks before the surprise attack on Pearl Harbour by the Japanese in 1941. These days, the beach has been dubbed 'Eternity Beach' after the movie and visitors can make their way down there after a steep hike. In reality, it is not perhaps as romantic as the film suggests since getting down there is slippery and steep the currents are strong!
Freshwater West- Pembrokeshire, Wales: Harry Potter; Robin Hood
Not just the location for one Hollywood blockbuster, Freshwater West – one of Wales' top surfing beaches – has been used for two! Sir Ridley Scott used this Pembrokeshire beach for his coastal battle scene in Robin Hood (2010) where Robin Hood (played by Russell Crowe) leads a cavalry charge against the French. The beach also featured in the seventh instalment of the Harry Potter series: Harry Potter and the Deathly Hallows and the 'shell cottage' (which features in chapter 25) was even built on location.
Ocho Rios – Jamaica:Dr No
The name is a bit misleading since it means 'eight rivers' in Spanish and there aren't that many in the area – but what it does have is great beaches and one of them won its fame for being the setting one of the most sexy sand scenes in film history -in Dr No, the first ever James Bond film. As Sean Connery hides in the mangroves, Ursula Andress comes sashaying out of the water in a bikini leaving the male audiences in 1962 with distinct James Bond envy.
Want to visit any of these locations? See the Skyscanner website for flights.
Follow us @travelbite