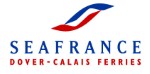 Things to see and do on a day trip to Calais
Tuesday, 8 March 2011 12:00 AM
---
Taking cheap ferries to explore the French port town of Calais can be a great way to have a fun day out with friends or family. Alongside its well-known shopping facilities, the town is also home to a number of other fascinating things to do and see.
Once you've boarded your Dover to Calais ferry, you can simply relax and enjoy the short crossing in style – whether you'd like to treat yourself to a coffee and croissant or simply admire the view of the waves.
Calais is perhaps most famous to us as a great value shopping destination – and indeed, it is easy to see why. Alongside sprawling shopping centres packed with fashion retailers, there are also the wonderful hypermarkets, which offer excellently priced groceries, wines and cheeses.
So, it's understandable that the town has fast become such a favourite shopping location. And by taking the ferry across, you can really make the trip a special day out for everyone involved.
However, it may be that you're eager to see a little more of the place, rather than simply exploring its amazing shops.
If so, you won't be disappointed by what you find. If you're interested in architecture, travel into the centre of town. Here you will discover the Flemish-style town hall, which is perhaps one of the most dramatic sights to see here.
Alongside the hall itself is a Rodin statue situated at its front, which is a life-sized sculpture entitled The Burghers of Calais depicting the final moments of the Hundred Years' War.
If you're particularly interested in history, you may want to carry on to the Parc St-Pierre, where you will find an informative and fascinating war museum.
Alternatively, those keen to simply relax and enjoy their surroundings might like to head down to the coast for a walk along the beach – especially if the weather is good.
With a range of pretty cafes along the beach front, you'll find this could be the ideal place for a post-lunch stroll and perhaps a coffee before you board your ferry home.