Enjoy the great English outdoors
Monday, 15 April 2013 8:03 AM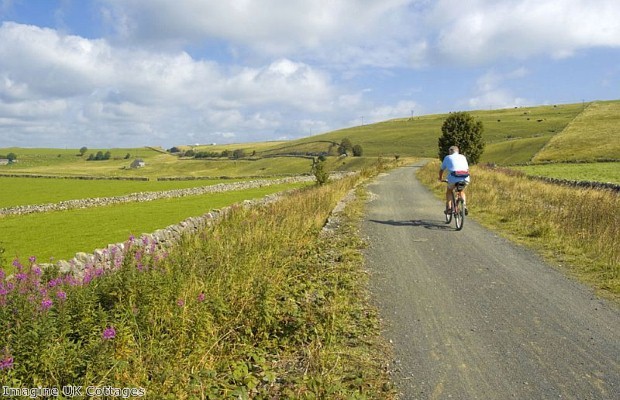 Spring has arrived and the sun has finally come out (hooray!). It's time to ditch the woolly hat and gloves, stop hibernating indoors and get out in the open. Here's where to get your culture fix al fresco style, from exhibitions in Europe's biggest sculpture park to a Roman festival in the country's biggest open air museum.
Sand sculpture festival – Brighton
Open until 30th September
Over 20 world class artists will create a sand sculpture theme park by sculpting tonnes of sand into an exhibition never to be forgotten. The Brighton Sand Sculpture Festival will feature sand sculpture workshops, live demonstrations, guided tours and a children's sand pit at Black Rock, near Brighton Marina. Tickets cost £6 for adults and £4 for children.

Roman festival at the biggest open air museum in England – Hadrian's Wall
May 25th – June 2nd
Who says museums have to be inside? No other attraction in the country can lay claim to being 72 miles long and spanning the width of the North of England. Visitors can experience the epic history of this 2,000 year old ancient monument, see stunning views from the forts and find out about life in Roman Britain. English Heritage is hosting open air re-enactment events, the highlight of which will be a Roman Festival, taking place at all four English Heritage forts on Hadrian's Wall from May 25th – June 2nd.
First ever summer screenings at Hedsor House
June
Not usually open to the public, Hedsor House, star of Dustin Hoffman's box office hit Quartet, is holding summer screenings of the movie in its grounds. The Georgian country house in Buckinghamshire is set to host a screening of Quartet on June 21st and Les Miserables on June 20th. Tickets for the open air cinema cost £12.50.
FABRIC-ATION at the biggest sculpture park in Europe – Wakefield, Yorkshire
Until September
Yorkshire Sculpture Park, the first of its kind in the UK and the biggest in Europe, will host the biggest UK exhibition to date by British-Nigerian artist Yinka Shonibare MBE. FABRIC-ATION features over 30 vibrant works including sculpture, film, photography, painting and collage, with many works never seen before in the UK. The exhibition is part of a series of events bidding to make Yorkshire the sculpture capital of Europe.
Follow in the footsteps of the world's most-performed 20th century opera composer – Aldeburgh, Suffolk
April and beyond
2013 marks 100 years since the English composer Benjamin Britten was born. To mark the centenary, a new Britten Trail opens this month, which will link Britten-associated sites in a walking tour around Aldeburgh, the Suffolk coastal town where he lived and worked for most of his life. Hotspots include The Maltings at Snape, Aldeburgh Parish Church, Blythburgh Church, Orford Church and Jubilee Hall.
Spot felt bats in trees – Eden Valley, Cumbria
April – November
A new and exciting visual arts exhibition will be displayed in the trees and woodland throughout the Eden Valley from now until November. Cumbrian-based arts organisation Eden Arts has launched CANOPY, which starts with an impressive large scale 'Woollen Woods' installation celebrating the wool craft industry and featuring knitted birds, felt bats and crochet dragonflies.
Open-air performances – Minack Theatre, Cornwall
May – September
Watch drama, musicals and opera at the Minack Theatre – a world famous open-air theatre in the most dramatic of settings. The theatre is carved into granite cliffs and set in glorious gardens with panoramic views of Porthcurno Bay. Make the most of that extra hour of daylight watching Wuthering Heights, Arabian Nights, The Taming of the Shrew and many more in this modern-day Roman amphitheatre.
Discover the art and craft of walking – The Cotswolds
August 24th – 31st
In its 20th year, Cotswold Walks is offering an Arts and Crafts guided walk to coincide with the reopening of Cheltenham's Art Gallery and Museum this summer. The Cotswolds has been synonymous with the Arts and Crafts Movement since the turn of the 20th century, and the Cotswold Walks guided tour will help visitors discover what inspired William Morris and Ernest & Sidney Barnsley to relocate here to champion traditional crafts, and how their influence remains to this day. This seven-night Arts and Crafts Guided Walk package costs £995 per person based on two people sharing, with breakfasts and dinners included.
Take in the sights that inspired the Godfather of British art – Yorkshire
All year round
Hockney's Yorkshire spans the width of the county from his ancestors' humble beginnings as agricultural labourers in East Yorkshire, to his childhood in Bradford, his long association with the Silver family at Salts Mill in Saltaire and the world famous East Yorkshire landscapes that have captured the hearts of millions of people around the world. The Hockney trail takes in 10 key sites, costs £20 per person and is bookable through Wold Travel.
Fossil hunting – Isle of Wight
All year round
Dinosaur fossils with no queues, no admission fee and no one telling you to turn your flash off. The beaches circling 'Dinosaur Island' are a treasure trove for amateur and professional palaeontologists alike. Follow in the footsteps of these Triassic creatures by taking a guided tour with 'The Fossil Man'. For just £4 per adult and £3 per child you'll be able to touch actual dinosaur footprints! 2013 sees the 20th anniversary of Jurassic Park. If that fact makes you feel rather ancient, then cross the Solent and search for more prehistoric remains on a fossil-finding holiday on the Isle of Wight.
For more ideas on things to do out in the open go to www.visitengland.com/morecountryside
Follow us @travelbite