Tempt your taste buds when eating out in Jersey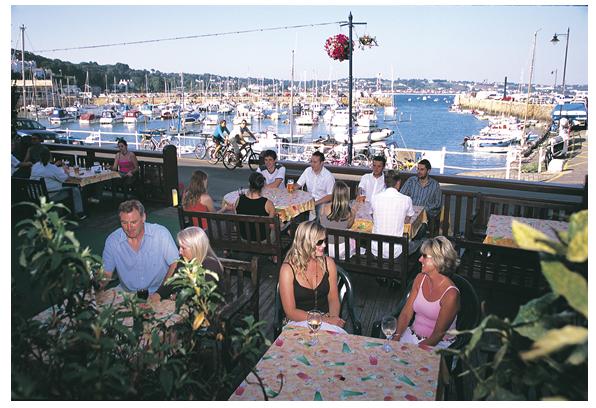 The food on Jersey has been influenced by a number of cultures, not least the French and the British.
When you travel to the island for a holiday, you will be spoilt for choice by all the Jersey restaurants available, with something to suit every taste and budget.
If you want to splash out, you could opt for a delightful evening at a Michelin-starred establishment, or if you are watching your spending, you may prefer to sample the hearty fare at a local pub – it really is up to you.
Here at Jersey.com, we can provide you with an extensive list of the restaurants on the island, as well as guidelines on their price and what's on the menu.
So, you can browse our list and begin planning your meals before you even head off on your holiday!
What can I expect when eating out in Jersey?
As the largest of the Channel Islands, you can be sure that you will have a wide variety of options when it comes to eating out in Jersey.
There are, of course, many places that serve traditional French and British cuisine, but you will also find restaurants specialising in Italian, Thai, Moroccan, Indian and even Portuguese meals.
Seafood is a popular choice and because Jersey is an island, you will be able to enjoy all manner of fresh fish and shellfish during a stay here. If you want a gourmet dining experience then you may want to consider booking a table at one of Jersey's restaurants that holds a Michelin star.
Bohemia has held the prestigious accolade since 2005, while Ocean Restaurant has also received such recognition since 2007.
And if you need to stick to a tight budget, you need not worry as there are many pubs, cafes and restaurants that serve good food at reasonable prices.
Specialities to seek out on a visit to Jersey
Although Jersey is something of a melting pot of cultures, you will find that there are one or two local specialities that you may want to try during your holiday on the island.
Most of the restaurants you encounter will make use of local produce to create their dishes, so you will certainly get a flavour of the isle wherever you eat – and expect Jersey royal potatoes to feature somewhere!
One speciality that you should try to find if you enjoy sampling new dishes is black butter. This unusual delicacy is made from cider, which is reduced down over many hours before apples, sugar, lemon, liquorice and spices are added to the mixture. Another recipe you may come across is Jersey's bean crock, which sees dried beans soaked overnight before being cooked up with onions, herbs and pigs' trotters.
If you enjoy your seafood and like trying new things then you may want to find a restaurant serving conger eel soup. This traditional Jersey meal is usually garnished with marigold petals.
Visit Jersey.com to learn more about eating out on the island
If you want to find out about all the foodie establishments on the island, visit Jersey.com.
You may find that our comprehensive list helps you narrow down your options before you arrive.
Meanwhile, the option to search by price band could prove very useful if you are intending to stick to a tight budget during your break.
And wherever you choose to eat, you will find that you have Jersey's beautiful scenery as your backdrop, whether you are on the coast or have ventured further inland.
---