Travel blog: Manchesters – Pennsylvania and Maryland
Sunday, 4 September 2011 10:01 AM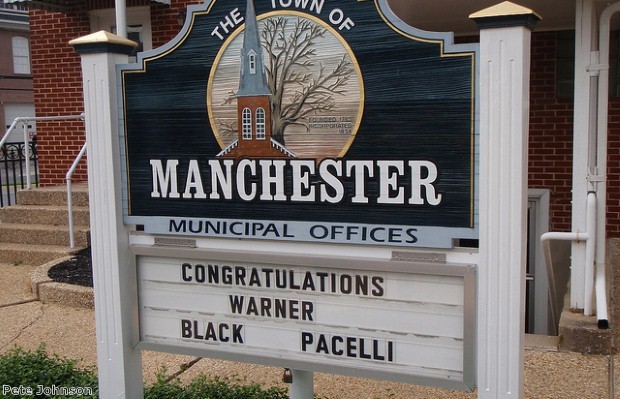 Manchester born and bred biker Pete Johnson is completing their dream trip of visiting all 33 Manchesters in the United States and Canada, courtesy of the Bennetts Biking Dream 80th anniversary campaign. We'll be bringing you regular updates from his trip…
Today's Manchester is probably the smallest destination on my list. It's really just a collection of buildings, a gas station, and a diner. It's so tiny it doesn't actually appear on the big US map I'm carrying, nor does it show up on my sat nav. I had an approximate location (on the intersection of R7 and R7a) and with this info (and an hour of hunting, asking directions, and being told vague things like 'roughly over there', I found it!
The diner is highly recommended – I enjoyed a late breakfast/early lunch of chicken and bacon wrap and coffee. America really is a country which loves its bikes and I met 10 riders at the diner. They were headed to Samllville, where there is a popular bikers' café, which I may check out tomorrow if I get the chance.
Within 10 minutes of me arriving at the diner, I'd counted 12 bikes either passing, stopping or leaving. I had to smile at an obligatory 'do you know my relative in the UK?' question. It came from a guy who thought I might know his wife's mother. Who lives in Doncaster. Er… no!
Tomorrow will take me to Pennsylvania, via Smallville. Stay tuned!
Manchester, Pennsylvania
I've taken my first 'day off' today (meaning I'm not focussing on heading towards my next destination). I've built one of these days per week into my trip. Anyway, what did I decide to do with my first destination-free day? Hmm… I got on my bike and went for a ride!
I set out at 6am with the intention of going to the diner recommended to me yesterday. After a couple of hours, I made a stop at a diner (but not 'the' diner) where I was told about a bike blessing taking place nearby! This was too good an opportunity to miss, so I arrived at the McKinley Mall, where there were already around 100 bikes waiting to be blessed. There were loads of HDs and within a few hours it seemed like around 1,000 bikes had turned up. My trip got a mention over the PA system thanks to a kind photographer and there was the usual interest and awe in my project.
After speeches and the National Anthem, the priest blessed the bikes and we all rode out a few miles to a BBQ n' beer at a nearby farm. I stayed a few hours before getting on my way to my next destination, 300 miles away in Pennsylvania.
The roads in this area are great and I eventually hit Hornell NY at about 6.30pm. I'll be doing 240 miles tomorrow to Manchester number eight, then carrying straight on to Maryland where I've got an appointment with some roast beef sandwiches – I hope they've got some English mustard to go with it!
Well, after some rainy days recently, the heat is finally on in Pennsylvania – it is scorching! This latest Manchester was a quiet town and the municipal buildings and firehouse were deserted.
I took some pictures and cooled down in the diner – the heat is kind of a shock to the system. I was only 40 miles from my next Manchester (in Maryland) so after my rest I saddled up again and set off.
Manchester, Maryland
In Maryland I received a lovely reception from a local fireman, who gave me a great badge, and from the staff at the own office. Everyone has been so kind throughout this trip – none of the people I've met have been daunted by the arrival of a huge 6ft 3" bloke, dressed head-to-toe in leathers and speaking in a Manchester accent which probably sounds like tongues to them.
Oh, and I got my roast beef, complete with a pint of English beer, thanks to two very kind ex-pats! Chris and Melissa live in Middletown, Maryland and had read my story on the BBC news website. They promised me dinner and beer in exchange for my tales from the road, and I was happy to oblige – if they'd known how I can talk, they might not have asked in the first place…
They welcomed me to their home with open arms, a can of Boddingtons, and a room for the night. Getting a home-cooked dinner and getting my laundry done was wonderful – I owe Chris and Melissa, their kids and the three dogs a big thank you. Funnily enough, it turns out Melissa and I have a friend in common – he lives in a village in Cheshire where she grew up. What are the chances of that? A real bonus was getting a great dinner, and my laundry washed and dried. Many thanks to C & M, the kids and the three dogs, who took me in and treated me like an old friend!
Visit www.bennettsbikerdreams.co.uk for more information.
Follow us @travelbite or 'like' our facebook page to keep up to date with Pete's trip.