Hot spot: Hazlitts, London
Thursday, 4 April 2013 9:26 AM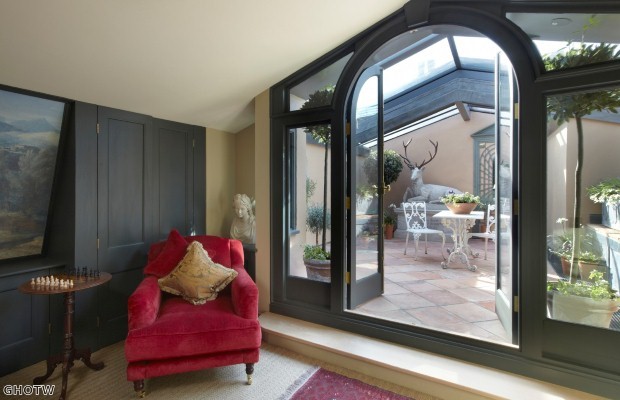 Having done my research prior to visiting Hazlitts, a characterful boutique hotel in the heart of London's Soho, I had an inkling that I was in for something special – but nothing could have prepared me for the sheer luxury of the Duke of Monmouth Suite.
Named after King Charles II's nephew, who was beheaded in 1685 for plotting to overthrow his uncle (who himself died later that year anyway – what a waste), the suite has all the trappings one would expect Soho Square's "most notorious resident" (as Hazlitts' website describes the Duke) to have surrounded himself with.
From the moment you walk in and see that a private staircase awaits you before you even open the bedroom door, it's apparent that this is a very, very exclusive space. Designed so that you can invite guests or colleagues in for a meeting without them seeing the actual bedroom, the suite features an upstairs sitting room complete with very well-stocked mini-bar (vintage Krug? Don't mind if I do) plus modern entertainment system and, in case conversation runs dry despite the music and champers, a chess table.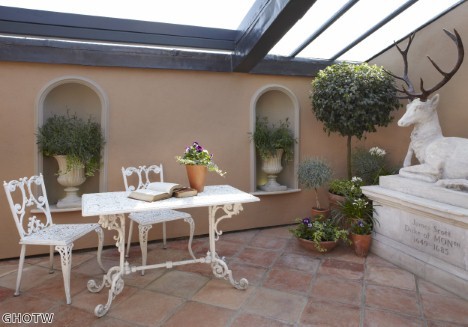 Also upstairs is a private roof terrace, presided over by a rather regal-looking stag statue. The terrace has a retractable glass roof, allowing you to sit beneath the stars whatever the weather – an opportunity that's particularly hard to come by in such a central London location.
But unsurprisingly for a suite with such a decadent namesake, it's the bedroom where the biggest delights await.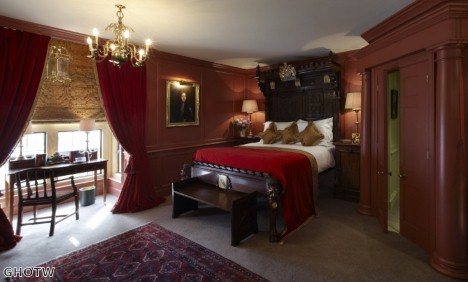 Decorated with rich reds and decadent golds, it is truly spectacular, with a raised bed which you almost need a stepladder to get on to and a detailed royal crest on the headboard. The Duke himself watches over proceedings from an original spotlit portrait, and quirky antiques and sumptuous wall hangings abound throughout the room.
Across from the bed is the suite's crowning glory, the bath – or, more accurately, the bath tap: if you fancy a soak during your Hazlitts stay, water will flow from the beak of a life-sized eagle sculpture. Yes, you read that correctly. The tub is also blissfully deep and roomy, making it perfect for two – and the REN bubbles are the icing on the already ludicrously luxurious cake.
All in all, if an incredible Soho location, a drop of decadence and oodles of suitably outrageous history are your bag, then the Duke of Monmouth Suite at Hazlitts is the spot for you.
By Ele Cooper
Fact box:
Hazlitts is a member of Great Hotels of the World Luxury Collection. Double rooms start from £210, and the Duke of Monmouth Suite starts from £594. For more information or to book, please visit http://www.ghotw.com/hazlitts or call 020 7380 3658.
Follow us @travelbite