Hawaii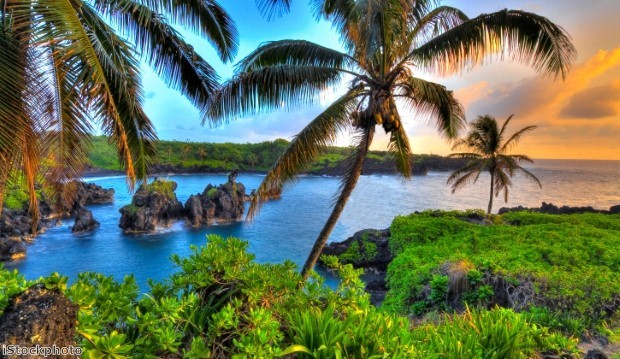 ---
Hawaii epitomises island paradise with its contrasting landscapes of mighty volcanoes, lush, fertile mountains and stunning, sandy beaches, not to mention its tropical climate and unique culture.
The island group of Hawaii lies 3,860km (2,400 miles) off mainland USA, comprised of 132 islands and atolls.
Hawaii has six major islands: Hawaii's Big Island, Molokai, Lanai, Maui, Oahu and Kauai.
Hawaii's Big Island: Nearly twice as big as the other main islands that make up Hawaii, 'Big Island' is a microcosm of different environments from the dramatic Hawaii Volcanoes National Park to the lush rainforests of the Hamakua Coast and the jet-black sands of Punaluu Beach.
Molokai: Adventure-seekers who want to get off the beaten track, should head to Molokai. From scuba diving in Hawaii's longest continuous fringing reef (45 kilometres) off Molokai's southern coast, to mountain-biking along the highest sea cliffs in the world along its northeast coast (1,100-1,200 metres), Molokai is an outdoor lover's paradise.
Lanai: The smallest island in Hawaii, Lanai is home to both luxurious resorts and untouched landscapes just waiting to be discovered, such as Keahiakawelo (Garden of the Gods) and Polihua Beach. The perfect place to get away from it all; you won't find a single traffic light here!
Maui: Referred to as the 'Magic Isle', Maui is a haven of waterfalls, world-class beaches and misty mountains, whose green, fertile slopes are home to an abundance of rare flora and fauna.
Oahu: The third largest Hawaiian island is home to the majority of Hawaii's diverse population as well as the thriving urban metropolis of Honolulu, the Pearl Harbour memorials and the famed crater Leahi (Diamond Head) – one of Hawaii's most famous landmarks. If you want a mix of great shopping, exciting cities as well as beautiful beaches and great hiking, Oahu is the place for you!
Kauai: Hawaii's fourth largest island, Kauai is sometimes called the 'Garden Isle'. It's not hard to see why: made up of tropical rainforests, cascading waterfalls and jagged cliffs – not to mention one of Hawaii's most spectacular beaches, Hanalei Bay, and Waimea Canyon, dubbed "The Grand Canyon of the Pacific" – Kauai showcases the power of Mother Nature in all her glory.
Hawaii Essential Information:

Capital: Honolulu
Places of interest: Mauna Kea for stargazing, Hawaii Volcanoes National Park, Waikiki, Leahi (Diamond Head), Waimea Canyon, Hanalei Bay
Time Zone: GMT – 10
Language: The official languages of Hawaii are English and Hawaiian, although Hawaiian is not commonly spoken.
Currency: Hawaii's currency is the US dollar. For up-to-date exchange rates see: www.xe.com/ucc
International dialling code: + 808