Go on a stunning safari in Nepal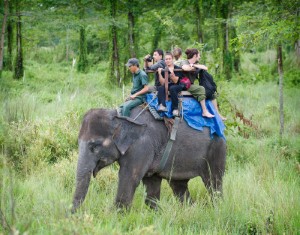 Nepal might be famous for being home to Mount Everest and the Himalayan mountain range, but the south Asian country also has an abundance of wildlife waiting to be explored.
You could catch a glimpse of the one-horned Asian rhino or even a beautiful Bengal tiger when on wildlife tours in Nepal. As you will be travelling in small groups, the experience will be much more personal and you might find you are likely to spot plenty of animals as they could be less intimidated to find you on their territory.
After taking in the sights of the busy and bustling capital Kathmandu on a Nepal Uncovered holiday – packed with Hindu and Buddhist temples, spice markets and palaces – retreating to Nepal's national parks could provide some peace and quiet if this is what you are looking for.
We believe the best holidays provide a mix of leisure, adrenaline, culture, city sights and nature – and our Nepal wildlife safaris certainly provide these!
To start planning your getaway today, our friendly, knowledgeable and experienced travel consultants are ready to answer any questions you might have and to help tailor your break to your requirements.
Go wild on safari
With the stunning Himalayas, intricate temples and colourful buildings, it can be easy to forget the vast wealth of wildlife that is on offer in Nepal.
The Bardia and Chitwan National Parks each have their own unique features, which means you will never grow tired of trying to spot some of the most beautiful creatures you might ever see.
Chitwan National Park is home to many animals including the Indian elephant. Located in the south-central part of the destination, the national park is subtropical and therefore has a diverse ecosystem.
As well as majestic mammals, there is plenty of flora, fauna and birds to try and catch a glimpse of. You might spot the endangered Bengal florican, grass warblers, white-throat kingfisher and egrets.
Bardia National Park is more remote but still affords plenty of opportunities to experience a safari. This is Nepal's biggest wildlife sanctuary and you can participate in guided jungle walks, elephant rides and jeep safaris.
Here, you can meet local people and take part in cultural shows so you can learn more about the rich history and diversity found in Nepal.
While in this part of the world, you might also be interested in the Nepal Uncovered Birds of Bhutan tour. This quiet, traditional and spiritual country hidden in the Himalayas offers bird-watching as one of its most famous attractions and will no doubt feel like a sanctuary away from your busy life and the modern world.
Nepal Uncovered – from birds to Bengal tigers
For a wildlife safari with a difference, head to Nepal. Away from the large crowds that nature reserves in other countries might experience and in a small group, you will no doubt feel as though you are the only person in the park – and at Nepal Uncovered, we believe your trip should be personal and intimate.
This is why we allow you to tailor the trip to your exact needs – and our travel consultants will be more than happy to try and create the perfect itinerary for you.
If you want to see the country's beautiful creatures for yourself – or perhaps you would like to visit nearby Bhutan – call our team on 0845 130 48 49 and you soon could be jetting off on a south Asian safari.
---