Enjoy luxurious Seychelles all inclusive holidays with Beachcomber
With a reputation as an idyllic holiday destination, the Seychelles offers fantastic weather and beautiful beaches sure to charm any holidaymaker.
By choosing a Seychelles all inclusive holiday, you can really make the most of your break to this paradise-like location.
Here at Beachcomber, we offer the chance to stay in a wonderful Seychelles all inclusive hotel that prides itself on excellent service, unparalleled facilities and luxurious spa treatments.
So, why not browse our site today and start planning your dream holiday?
Staying in the Sainte Anne Resort and Spa with Beachcomber
The Sainte Anne Resort and Spa provides a fabulous all inclusive package – so much so that we firmly believe it to be one of the best luxury packages on offer in this beautiful destination.
With the ethos of luxury and relaxation running through every element of the hotel, you will find that from the second you arrive you can enjoy the fantastic benefits that come hand in hand with our all inclusive package.
The Sainte Anne all inclusive package bestows you with a remarkable range of perks, from simple touches such as delicious meals to our characteristically luxurious offerings, like unlimited champagne.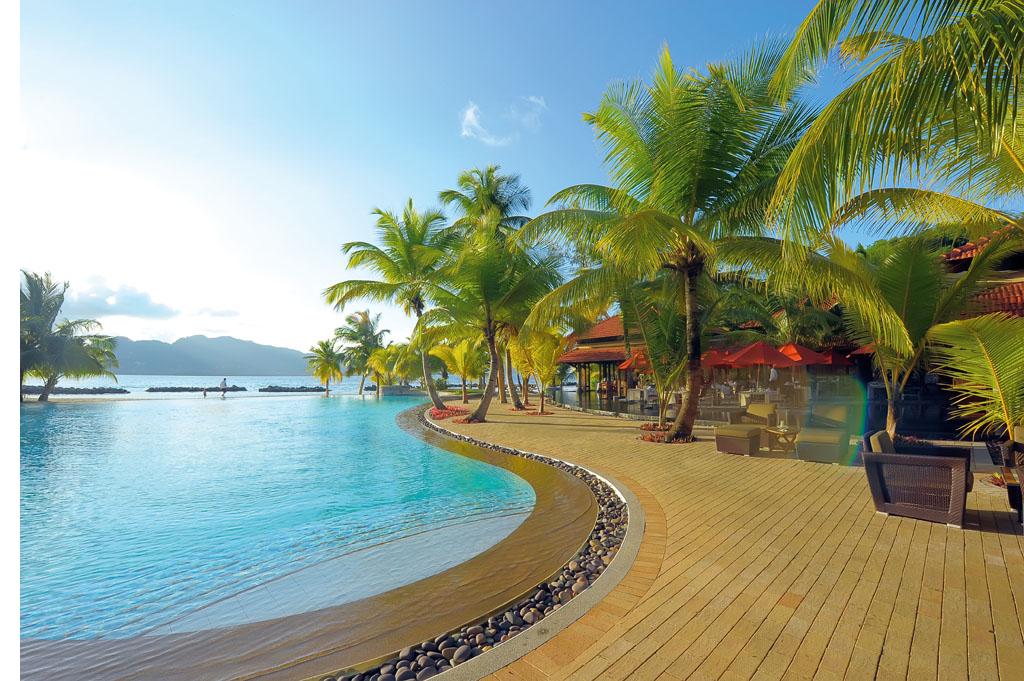 So, if you decide to stay at Sainte Anne for your luxury break, what exactly can you expect to enjoy?
With us, you'll find that you can indulge in a wonderful breakfast, lunch and dinner each day at the fantastic L'Abondance, while your drinks in all the restaurants and bars will be included until midnight.
And if you're eager to add a little decadence to your holiday, you could take advantage of our unlimited champagne by the glass, which is on offer every day from 18:00 onwards.
Or if you're spending a day curled up in your beautifully decorated room, why not indulge in a drink from the mini bar, which is also included in your break? And as it is replenished every day, you need not worry about running out of treats.
Spending time in the pool is a great way to unwind during your holiday, but you'll also find that our wonderful gym and sauna are available to use free of charge – so you could treat yourself before enjoying a sumptuous evening meal.
And with entertainment six nights a week included too, you will be able to enjoy performances from a number of bands and musicians while sipping your champagne.
Book a Seychelles all inclusive holiday with Beachcomber
If you're searching for a luxurious, all inclusive break to the Seychelles, look no further than Beachcomber.
We offer fabulous holidays designed with relaxation and luxury in mind, so you can look forward to enjoying the very best this glorious destination has to offer.
And because our Sainte Anne Resort and Spa is family friendly, you'll find that whether you are travelling with your children or simply planning a romantic break with your partner, you'll have the perfect holiday with us.
Bonded to ABTA – the Travel Association and a member of the Association of Independent Tour Operators, you can enjoy complete peace of mind when making your booking with Beachcomber.
To get a personalised quote for your luxury trip, visit our website or contact our friendly and efficient team on 01483 445 621.
For the very best luxury all inclusive breaks to the Seychelles, start planning your holiday with us today.
---