Help children by teaching abroad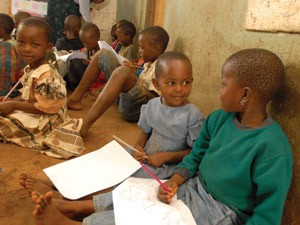 You may be looking for something to do on your gap adventure or want a career break, but if you're thinking of doing something worthwhile during your travelling experience, why not teach abroad?
Many people who wish to spend a few months exploring the world look for projects they can get involved in so that they can spend a portion of their break giving something back to communities who need their help.
One way to do this is to work abroad teaching in local schools and helping children develop reading and writing skills, which will help give them the best start in life.
So, if you're interested in teaching as part of your travelling experience, read on.
Take part in courses and teach English abroad
You don't have to have any previous experience or qualifications in order to be able teach internationally.
But, if you want to develop your skills, you can take part in Teaching English as a Foreign Language (TEFL) courses that will equip you with everything you need to know to be able to help schoolchildren whose mother tongue is different from your own.
Once you have the qualifications under your belt, you just need to decide what you want to do with your time away.
If you are planning to volunteer abroad as part of a longer travelling adventure, you'll find that there are a number of destinations around the world for you to teach in.
You can choose from teaching at Buddhist monasteries in Nepal, assisting at an orphanage in Goa or helping schoolchildren learn English in Lima, Peru, as well as various other projects.
This flexibility will give you the chance to use your voluntary project as a base for the rest of your worldwide expedition, whether you want to explore South America further or wish to see more of Asia or Africa.
Or, you may want to make the most of the chance to help youngsters who might otherwise not be able to develop their English skills and spend a longer period of time in one place. You can choose to stay up to 12 weeks, which you may find gives you more time to really make a difference in the children's lives.
Staying for a couple of months in one area will also give you the experience of becoming part of a community and establishing good relationships with the students – opportunities that you won't get if you simply backpack your way around the world.
Find your perfect volunteer teaching break with i-to-i
With the variety of options available to you for teaching abroad, you may want to join the thousands of other travellers who have chosen to spend their gap adventure helping others to develop their English skills.
By choosing i-to-i, you can be confident that you will be able to find a wide selection of opportunities abroad, from teaching on the beautiful Indian Ocean island of Zanzibar to volunteering in the exciting Brazilian city, Rio de Janeiro.
We are also members of the International Association of Teachers of English as a Foreign Language (IATEFL), showing that our programmes are supported by international organisations.
By calling us on 0113 205 4620 or visiting our website you can find out more about where in the world you can make the most of your new teaching skills, so why not get in touch today?
---