Book the perfect Jersey accommodation with JerseyTravel.com
Jersey might be a compact island, but this diverse destination is packed with accommodation options that cater to all tastes and budgets, whether you're looking for a low-cost room or something more luxurious.
Find your ideal hotel in Jersey with JerseyTravel.com, the specialists in holidays to the island. Our accommodation ranges from one to five-star establishments across Jersey, with or without travel, ensuring there will be something perfect for you.

Budget and mid-range hotels in Jersey
If price is a key consideration, you'll find many hotels to suit your budget in Jersey. The one-star Villa Isis Hotel, for example, is situated on the outskirts of St Helier and offers great value for money, as well as easy access to the centre of the capital.
Two-star hotels in St Helier range from the Marina Metro Hotel on the seafront to The Runnymede Court Hotel on the edge of town. If you can afford to spend a little more, the three-star Ommaroo Hotel and Norfolk Lodge Hotel are just two of the options further up the scale.
Of course, you can also find cheap hotels across the rest of Jersey. The Old Bank House Hotel could be ideal if you're staying on the east coast, as could The Maison Gorey Hotel. Budget accommodation is also available further north in St Mary and to the west in St Martin.
Luxury Jersey hotels
Staying in a luxury hotel is one of the best ways to make your holiday in Jersey truly unforgettable – and, luckily, the island has plenty of high-end options to offer.
Four-star accommodation includes the Savoy, Radisson Blu and Pomme d'Or hotels in St Helier, along with the Somerville, Golden Sands and Atlantic hotels in St Brelade. The Atlantic is worth considering in particular if you're something of a foodie, as it has a Michelin-starred dining venue, the Ocean Restaurant.
For the ultimate Jersey getaway, The Grand Jersey is one of St Helier's five-star hotels and also features a Michelin-starred restaurant, while the Longueville Manor Hotel in St Saviour offers a similarly luxurious experience.
Other accommodation
Of course, you don't have to stay in a standard hotel during your Jersey holiday. Three to five-star guesthouses can be found around the island, as can cottages and apartments, offering something for everyone.
If you want to take advantage of the fine weather in the summer, there are several high-quality campsites located across Jersey, most of which are family-friendly.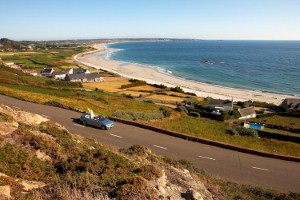 Book now with JerseyTravel.com
Whether you're looking for accommodation and flights or just a hotel, JerseyTravel.com provides an easy way to organise your break on the island. We offer a host of packages designed to appeal to all holidaymakers, and our special discounts mean you can make big savings if you book with us.
If you can't decide where to stay, our travel experts will be happy to help. Simply get in touch with us via our website or by calling 01534 496600 and you'll soon receive advice on the best hotels to book from someone who has personally visited the accommodation you're interested in.
All of our packages are financially protected via the CAA and ABTA schemes, ensuring peace of mind for our customers. So, if you're interested in holidays in Jersey and would like guidance from the experts, why not contact us today?

---