Boating holidays in Netherlands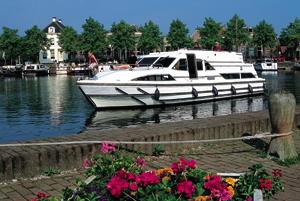 Well-regarded for its series of rivers and other waterways, Holland – or the Netherlands as it is sometimes known – may be the perfect place to go on canal holidays, whether you've never been on this type of vacation before or are a regular cruise traveller.
And the country is sure to be up there with the best boating holiday destinations when you consider the wide variety of things that you can see and do during the course of a boating vacation with Le Boat.
Whether your interests lie in sports, shopping, local culture or just watching the world go by, Netherlands boating holidays have it all.
So what can I do during a boating holiday in the Netherlands?
Whatever your idea of the perfect boating holiday in Netherlands is, Le Boat is bound to cater for your needs.
The country is packed with cosmopolitan cities, picturesque towns and gorgeous rural areas all just waiting to be explored.
And by going on a canal cruise, you could find that you can develop a good insight into this fascinating nation.
With some holidays you may just end up in one resort or town, never to see anything else that the destination has to offer. But with Le Boat this is not the case. The company's range of boating trips will take in a variety of places over the course of one trip, allowing you to get a fuller flavour of the country.
Of course you have the option of taking it easy during your break, but if you want to keep a bit active why not hire a bike and go for a ride?
Whether you choose to go for a pedal through the countryside or take in bustling cities such as Amsterdam on two wheels, a cycling excursion should make for a fun day out. As much of the country's topography is flat, you should find that cycling through Holland should not be too arduous a task. After all you are on holiday – so while some physical exertion may be a good thing, you're unlikely to want to work up a sweat spending hours cycling up steep hills and through valleys when you're supposed to be on vacation.
But don't worry if cycling isn't your thing, as there are a whole host of pursuits you can take part in.
Remember you're on a boating holiday, so why not cast a line and go fishing?
Don't forget to pack a swimming costume or two in your suitcase so you can go for a dip.
Amsterdam – a thriving city
One city you may well find yourself stopping off at during your Dutch boating holiday is Amsterdam – and with its large network of canals and waterways, navigating your way through the capital is bound to be a delight for sailing enthusiasts.
As you cruise along be sure to take in some of the astounding architecture that is on display.
Want to take a break? Why not stop off at a canal-side bar or cafe for a drink and something to eat before getting behind the wheel? If you're looking for a little bit of culture during your vacation then a trip to the capital is bound to have something for you.
Among the many museums and art galleries in the city is the Jewish Historical Museum – which documents the lives of the city's Jewish population – and the Van Gogh Museum, home to a number of works by the eponymous artist.
But this is not the only breathtaking city you can visit while on a boating break. Utrecht offers a number of captivating walking tours, while the Rietveld-Schroder house is one of the most iconic examples of the De Stijl art movement. Spakenburg, Lemmer and Strand Horst are just some of the other towns waiting to be explored.
What kind of boat can I choose?
If you're going on your first-ever boating holiday or are an experienced sailor, Le Boat has a wide range of vessels for you.
Whether you decide to travel with just a loved one or as part of a larger group, finding a boat that offers plenty of space for both passengers and possessions should not be a problem.
If you're on Netherlands boating holidays with a big group of friends the Grand Classique may be an ideal vessel to investigate, as it can hold up to 12 people. But if you're going away with just a partner or a couple of close friends, the Cirrus boat may be a more suitable option as it sleeps a maximum of four.
The variety of boats you can select for a canal holiday in the Netherlands is exhaustive, whether you want one that comes with all manner of luxuries and modern conveniences or something that, while more basic, is still comfortable.
Le Boat's anchor rating systems offers travellers a quick and effective way of finding out the features on offer with each vessel in its line-up.
No matter what your budget is, you should be able to find a boat that will not only suit your wallet but ensure that you have a fantastic vacation.
---