Become a Costa Rica volunteer with i-to-i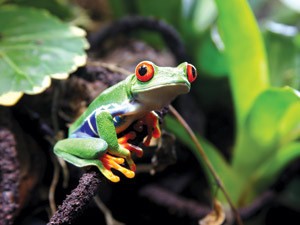 Central America may be one of those places you've always dreamed of visiting and if this is the case, you might be interested in a project where you can volunteer abroad while enjoying a travel adventure in Costa Rica.
The country is brimming with things to see, do and explore, with a landscape full of volcanoes, luscious rainforests and palm-fringed beaches.
But one of the most rewarding things you can do if you're planning on travelling around the Central American nation or taking a gap trip in Costa Rica is to undertake a voluntary project.
This will enable you to experience more in this nation, helping those who need it most and get under the skin of this beautiful location.
All about volunteering in Costa Rica
There are many opportunities to volunteer in Costa Rica with i-to-i that you can look into.
Whether you are keen on working with children, teaching English or taking part in conservation projects, we are sure to have something that will suit you and give you the most rewarding experience you could hope for.
As Costa Rica is teeming with wildlife, one of the most popular reasons why people head to this small nation is to help take care of its endangered species.
You may want to help with sea turtle conservation, which will involve you cleaning the beaches so that the animals have a good nesting area and partaking in beach patrols at night to make sure they continue to be protected.
During your stay, you can also visit Costa Rica's abundant jungles and come close to its other creatures, such as toucans, monkeys, anteaters and porcupines.
Those interested in helping to preserve these forests so that the habitat for the animals remains may wish to get involved in ecology conservation projects.
These will enable you to construct trails and develop education programmes about the woodland areas so that eco-tourism and reforestation can grow in its national parks.
If getting your hands dirty sounds more like your type of thing, then helping to build homes for underprivileged families may be perfect for you. Not only will you be able to assist those who need a place to live, but you will also have the opportunity to get close to a different culture and learn their way of living.
Volunteer in Costa Rica with i-to-i
Once you have set your heart on heading to Costa Rica, i-to-i can help you choose the best voluntary project to suit you.
Our team of experts have all been backpacking or volunteered abroad so are able to assist you in picking just the right experience.
We are a member of ABTA – The Travel Association and all our programmes are ATOL-protected, which means you can rest assured that anything you book with us will be covered.
And if you want to make the most of your trip to Costa Rica, why not take a look at the different add-ons you can choose? You may decide to stay an extra two weeks to learn Spanish or complete another project while you're out there.
With our range of programmes – lasting between one and 12 weeks – you're sure to find something you'll enjoy.
So, if you want to have fun while helping others less fortunate than you, take a look at our website and request a brochure. Or, why not call us today on 0113 205 4620?

---