The lush tropical island of Mauritius is outstandingly beautiful and only a decade ago most of us only ever dreamed of taking a holiday of a lifetime there. It is indeed an island where dreams are made of with powdery white sand, turquoise lagoons, breathtaking waterfalls, interesting wildlife and delightful flora and fauna. This wonderful Island is now visited by tourists from across the globe, that yearn for an upmarket, classy and idyllic paradise holiday destination and they are not disappointed.
Where is Mauritius located?
Mauritius can be found in the South West area of the Indian Ocean, north of the Tropic of Capricorn and lies 855 km east of Madagascar about 2400 km south-east of the mainland of Africa and around 3,900 km from southwest India. Direct flights are available from International airports in the UK and other European countries to Sir Seewoosagur Ramgoolam International Airport in Mauritius; it is located 48km (26 miles) southeast of the capital Port Louis.
In the last decade, the tourism industry in Mauritius has seen a significant growth. In 1970 there were around 18,000 visitors to the island by the year 2000 the number of tourists had risen to 656,450 and within the last decade, just shy of 1 million visitors stay there annually. It's not surprising when you think about it, it has everything one could possibly need in this truly magical haven covering a total area of 2,040sqm of pure bliss. A tropical climate with perfect palm-fringed beaches the crystal clear aqua Indian Ocean and a warm and friendly greeting from the multicultural locals.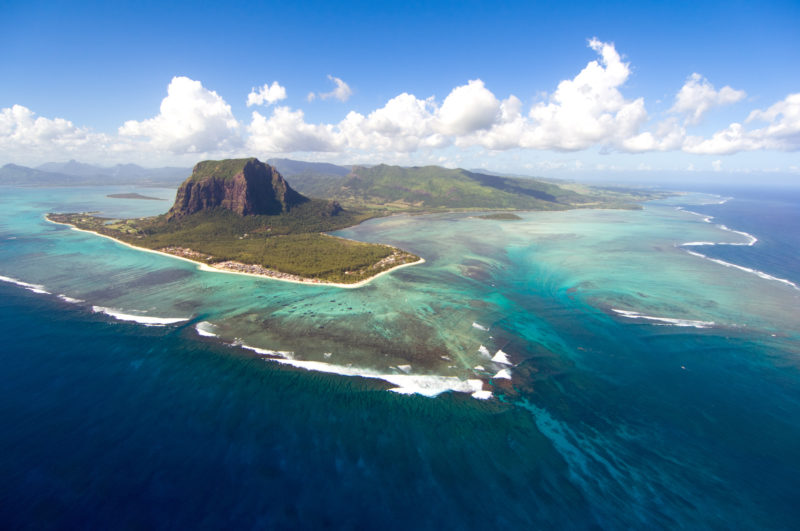 Why are people buying property in Mauritius?
Mere words alone cannot describe the beauty of Mauritius its safe to say it captivates you, once visited its never forgotten and that is why we are now seeing a surge in property sales as holiday home buyers and investors are buying property for sale in Mauritius to take advantage of extended holidays in luxury property whenever they wish and it also offers a lucrative investment that gives superb rental returns. The hotels in Mauritius are excellent however more holidaymakers prefer renting a beautiful apartment or luxurious villa for their stay, the reasons are simply due to more space, privacy that you cannot find in a hotel and the freedom to be able to come and go as one pleases.
Beautiful beaches has earned the prestigious title of the having the best beach in the world. Port Louis is the capital and the largest city on the Island and here you can visit the Natural History Museum and the Blue Penny Museum. Souvenirs and local crafts can be found at the busy markets along with a wide variety of fresh local produce The Le Caudan waterfront has a vibrant atmosphere and is a great place to enjoy a drink and a bite to eat as the sun sets. Fancy a flutter head to the Islands Casino and if you love sports, have a day at the Races. The restaurants will offer you a vast range of culinary delights; it's a mixture of Creole, French, Chinese and Indian.

The prominent tourism visitors are Europeans, mainly French and British who make up around 67% of the total of annual visitors and in recent years there has been a significant rise of holidaymakers from the Republic of China. The infrastructure and reliability of services are second to none and the tourism industry is upgraded every year offering international visitors a first class holiday. It's a clear indication that the annual upgrades catering for the holidaymakers every whim, is just one reason why property sales are on the increase as rentals in Mauritius are in high demand. The local economy is thriving and the tourism sector is playing a lead part with the creation of almost 40,000 full-time jobs.
Up to date tourist figures confirm an increase of 5.4% in September 2017 with 96,282 tourists compared to September 2016 with 91,384 visitors to Mauritius. Combined visitor arrivals from 1st January 2017 to 30th September 2017 were 934,679 against 880,890 arrivals for the same period in 2016 which is an increase of 6.1%. For the month of September 2017, The United Kingdom is on top with 14,009 visitors to Mauritius which equates to 14.5% of the market in second place was France with 12,186 tourists which is 12.7% share of the market and Germany at third place with 11,667 visitors with a market share of 12.1%. The figures showed the market share was the same for September 2016.
Right now Mauritius is on everyone's wish list.