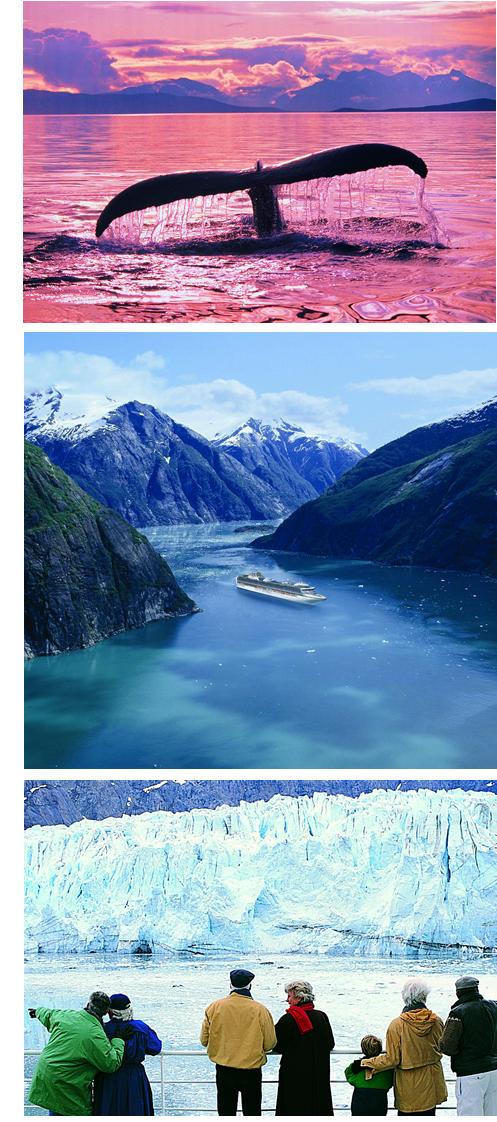 Alaska cruises are most popular during the summer months when the rest of North America is experiencing warmer temperatures and offers multiple experiences into one holiday package with a wide selection of interesting shore excursion choices, fine dining and rare opportunities to see migrating whales and other marine mammals.
It is also the perfect destination for travellers who love fishing and enjoying great seafood not readily available such as the Alaskan king crab, which can only be fished during a limited period of time.
For cruisers looking for adventure as well as luxurious comfort who are willing to brave the cold, and an Alaskan cruise is a treat with some of the most breathtaking views in the entire world.
It is a good idea to thoroughly research and discuss the plethora of options with either a cruise specialist or travel agent before booking an Alaskan cruise to ensure the perfect itinerary.
Dependent on which cruise is most suitable including cruise line, ship and duration, will determine the number of ports that you will be able to visit.
Cruisers should also consider the various cruise and land stay options available, taking part of the holiday at sea and travelling by train inland to view some of the spectacular scenery not accessible by ship.
Travelling throughout Alaska is often difficult as much of the land is covered in ice and snow 365 days a year and because of the harsh climate, much of the land is not accessible due to a lack of roads and infrastructure.
For this reason, taking a cruise is the best option to see some of the most pristine waters and glaciers in the world and the port towns offer many nature excursions to experience this unique corner of the world.
For the truly adventurous, research glacier hiking excursions before travelling along with a selection of other jaw dropping trips such as dog sledding and helicopter tours.
Alaskan cruises will always feature mouth watering king crab and Alaskan Salmon options on the dining menus so that guests will be able to taste the local foods.
Major cruise stops such as the popular Juneau port has a wide variety of bar and restaurant options and while the prices might be a little more expensive than further inland, the experience is well worth the price.
Try the Alaskan Amber Beer from the Alaskan Brewing Company at one of these pubs which is a favourite among locals and one of the cheaper drink options on most port restaurant menus.
Many pubs and restaurants in the port cities also offer entertainment attractions as part of the experience, featuring some of Alaska's most unique artists and musicians.
With many itinerary options available, an Inside Passage cruise is a great introduction to Alaska for cruisers who are first timers to this popular destination.
These cruises offer a mixture of pristine wilderness land, unforgettable wildlife and whimsical towns with an interesting history and provides an interesting change of pace for people accustomed to cruising tropical locations. A major highlight of the Inside Passage cruises is Glacier Bay which can only be accessed by boat or plane.
The park has 12 rare tidewater glaciers, spread over 3 million acres, and ships go through at a leisurely pace and wildlife lovers can spot grizzly bears, puffins, terns, whales, and sea otters.
Other popular ports of call include Juneau, which offers its own historical museum, and the capital building is considered a must-see. Shoppers can find plenty of stores and dog-musher's kennels are located nearby, giving tourists a good look at the world of dogsled racing.
Cruisers should also consider Ketchikan, an historic city that boasts a collection of some of the most impressive totem poles in the region and the Southeast Alaska Discovery Centre which offers visitors a good look at the geography, history, and wildlife of the area.
Another port included in many popular itineraries is the historic gold rush town of Skagway. Guided walking tours are available and the Skagway Streetcar Company gives tours in historic streetcars.
---