Adventure holidays to remember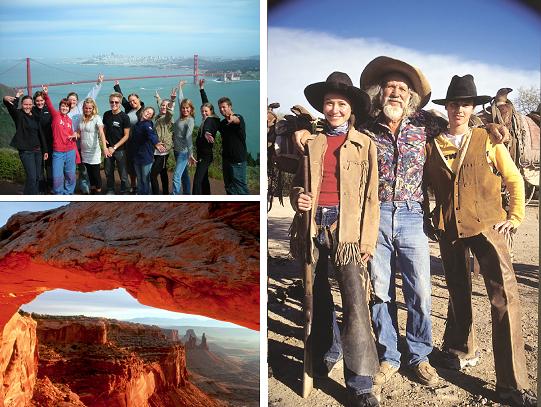 If you are looking for a bit of excitement in your life, it could be time to consider the benefits of adventure holidays.
Whatever it is you like doing to enjoy yourself, the USA is sure to cater for your every need. Being such a large country, the USA offers travellers a diverse range of options. You could end up walking in the footsteps of cowboys in the nation's wild west, climbing the Rocky Mountains that sprawl from north to south or exploring the national parks that America boasts in abundance. One company that allows you to choose any of these experiences for your adventure tour – as well as a vast array of other options – is TrekAmerica.
Head to the organisation's website and you will be greeted with a whole host of adventure holidays to pick from. All you need to do then is decide which ones suit you best.
Urge for adventure
The urge to explore and take an adventure holiday hits most people at some point in their lives.
Whether you have left school and do not know what to do next in life, or you have completed your degree at university but are not yet ready to make that leap into the world of work, no-one is immune from the adventure bug.
Some people even talk about 'finding themselves' on a big trip to foreign shores. Indeed, an increasing number of older people are deciding that they have worked too hard for their whole lives and feel they deserve an all-action holiday to a far-flung destination to relive their youth or regain that sense of adventure. If you fit into any of these categories, TrekAmerica will cater for you. There are plenty of options when it comes to holidays in America.
Make new friends
Telling everyone about your experiences when you return home is one of the best parts of the whole holiday experience, but it is important to share your adventures with like-minded people.
TrekAmerica ensures that you travel with a small, intimate group, which means you will instantly be able to get to know your fellow explorers and build a rapport with them that will last the whole trip.
People who go travelling always come back with stories of the people they have met and this set-up ensures you will make friends in an instant. If you head on adventure tours of America be sure to take a camera so that you return home with evidence of the fun you have had.
What to choose for your adventure holiday
With America being such a vast nation, there are inevitably plenty of options when it comes to an adventure holiday there.
You may want to try and experience a bit of everything by choosing an adventure tour that takes you to the most remote parts of the country such as the Nevada desert, but then transports you to the hustle and bustle of a large city such as Los Angeles.
If you are a nature lover, the Yosemite National Park may be more your style, but then how can you possibly miss the spectacular sights of the Grand Canyon or the bright lights of New York City?
Perhaps you are a film or political buff looking to follow the paths of your big screen or government idols.
If so, Hollywood, Las Vegas and the home of the American government, Washington DC, may make it on to your travel itinerary. Some travellers want to see places that no-one they know has ever visited before – and there are sure to be America holidays offered by TrekAmerica which cater for these bold explorers.
On the other hand, you may be yet to experience some of the most talked-about and heavily visited places on the planet such as San Francisco and Florida.
An adventure tour to the USA will allow you to tick a few of these off your to-do list. And there is a good reason why these places are popular: they are spectacular.
The land of the free
They say America is the land of the free, so why not see for yourself what it has to offer?
Adventure holidays provide a platform for fitting lots of things into a short space of time. If you want to experience diverse landscapes, electric city life or breathtaking sights, you can find it all on USA trips.
---